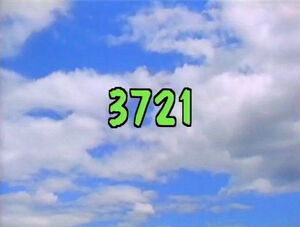 Picture
Segment
Description

COLD OPEN
Big Bird hears some wonderful music coming from Celina's dance studio. It makes him want to dance, so he does as he makes his way upstairs.




SCENE 1
Everyone watches as a couple does a ballet dance. Celina explains what a ballet is to Big Bird, adding there's even one about birds: Swan Lake. Big Bird wants to try that ballet, thinking it'll only take one lesson to learn. Celina advises him to come to the next lesson, along with the proper footwear.

Film
A dance class does some stretching exercises, then dance in their own ways, ending with the tango (instrumental: "Naughty Door Opera").
(First: Episode 3022)
cut from the HBO version

Cartoon
Letters gather in order, against the birds-eye view of a city.
(First: Episode 3267)

Muppets
Monsterpiece Theater: "Dances With Wolves"
(First: Episode 3234)

Cartoon
A pencil tries to write the word DANCE.
(First: Episode 1966)

SCENE 2
Big Bird attends today's ballet lesson, having borrowed his cousin Igor's ballet slippers. Since he's a beginner, Celina starts him off with the five basic ballet positions. Big Bird has trouble mastering them, though (stepping on his toes frequently).

Film
Feet wearing all different types of shoes dance.
(First: Episode 2601)

Animation
D / d (space paint)
(First: Episode 3213)

Song
"Big D and Little D"
(First: Episode 3270)

Animation
D Candles
(First: Episode 3085)

Muppets
Ernie sings "Dance Myself to Sleep."
(First: Episode 1705)

Cartoon
Shoes dance to a square dance tune.
(First: Episode 3450)

SCENE 3
Sporting a bandage on his foot, Big Bird now tries some ballet stretching. He struggles to get his leg on, then off, the barre.

Song
"You Can Get Right Up": a song about getting active to cheer up.
(First: Episode 3142)

Cartoon
A baby and father illustrate up and down.
(First: Episode 2687)

Animation
Kids narrate how a Navajo blanket is weaved.
(First: Episode 2976)

Muppets
Grover and Rosita explain the concept of "love" in 15 seconds. Grover exasperates about the assignment, but Rosita intervenes just in time.
(First: Episode 3527)

Cartoon
I Love You, in American Sign Language
Artist: Steve Finkin
(First: Episode 1170)

Film
A girl draws a picture of her friend Amelia.
(First: Episode 2784)




SCENE 4
Celina now teaches the students about running and leaping. Big Bird follows the others and leaps right into the hatrack.

Song
"Jump" (soul)
(First: Episode 3136)

Cartoon
Number Creatures #20
(First: Episode 2687)

Film
A judo class does 20 jumping jacks.
(First: Episode 3403)

Cartoon
The Bellhop is sent to the grocery store to get twenty grapefruits. He counts to 20 on the way there so that he can remember the quantity, but forgets what item he was sent for.
(First: Episode 2533)

Muppets
Kingston Livingston III sings "Just Happy to Be Me."
(First: Episode 3178)

Cartoon
Two cavemen argue, each chanting "Me!" A large monolith bearing the word ME puts fear in both of them. (new sound effects added)
(First: Episode 0793)




SCENE 5
Big Bird (now with a bandaged beak) is told he should sit out now as the rest of the kids rehearse their performance. Big Bird thinks he's in fine condition to dance, but crashes again. Big Bird reconsiders taking another lesson, though Celina says it takes years to learn the dances for Swan Lake. Furious, Big Bird storms out of the studio.

Song
"It's a Long Hard Road, But I'm Gonna Get There." (Vocals by Jerry Nelson)
(First: Episode 3398)
cut from the HBO version

Cartoon
Lillian is proud because she climbed a mountain all by herself.
Artist: Craig Bartlett
(First: Episode 2749)

Muppets / Celebrity
"Two Princes"
(First: Episode 3450)

Film
The McDouble twins know how to help each other.
(First: Episode 3213)

Cartoon
Edgar Turtle's three nephews demonstrate a round by singing "Redwood Tree."
(First: Episode 2506)

Animation
Kids talk about families, often mentioning having rhinoceroses as pets.
(First: Episode 2759)

Muppets
Harvey Kneeslapper approaches a man and says, "Knock, knock!" The man asks, "Who's there?". Harvey says, "Dion." The man asks, "Dion who?" Then Harvey slaps a letter D on the man's chest and says, "D on you!"
(First: Episode 0292)
cut from the HBO version

Cartoon
Ds are found on a city street
(First: Episode 3361)

Cartoon
D for Dance: Ladies on stage dance a can-can to the tune of "The Infernal Gallop" from Jacques Offenbach's Orpheus in the Underworld, the lyrics of which are all the letter D.
(First: Episode 3499)

Film
Children dance to different rhythms from around the world.
(First: Episode 2499)

SCENE 6
Celina catches up with Big Bird outside and tells him there is a dance he could do right now. She sings a song with some music that makes her feel like dancing. Big Bird and the other students join in too, then Celina announces the sponsors.

SCENE 6
cont'd
"And Slimey's spaceship is still on its way to the moon!"

COMING SOON
Coming Soon on Sesame Street: Snuffy dances with Gabi and the kids at a tap lesson.
Trivia
The HBO Kids airing of this episode includes the Friday ending credit sequence, despite having originally aired on a Monday.