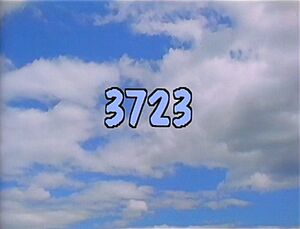 Picture
Segment
Description




SCENE 1
Big Bird welcomes the viewer to Sesame Street, and spots a cute little Scottish terrier by the Furry Arms Hotel. He goes over to investigate, but the terrier resents being treated like a little puppy. After all, she's Renata Scottie, the world-renowned dog opera singer. She sings operas, which are stories set to opera music. She's sung works by canine greats such as Poochini, Wag-ner, and Johan Sebastian Bark. She's come to Sesame Street to look for a piano player; her singing would sound better if she had one. She wants one who knows all kinds of music, and likes dogs. Big Bird wonders, "Who do I know like that?"

Cartoon
Bobby's dog narrates why Bobby is sad.
(First: Episode 3455)

Song
"It's All Right to Cry"
(First: Episode 3154)

Cartoon
Typewriter: S for spring
(First: Episode 0792)

Film
Kids hold an S and a square
(First: Episode 3278)

Animation
Airplanes carve the capital and lowercase S.
(First: Episode 3214)

Muppets
Telly hosts "Here and There" from the library, where it's quiet. His co-host, Debra Starr, is at the airport, where it's loud. The loud noises of the airport eventually make it hard for Telly to hear Debra, so he has to talk louder into the microphone for Debra to hear him, which results in his expulsion.
(First: Episode 2864)

Animation
The word AIRPORT (with photographs of such)
(First: Episode 3373)

Cartoon
An opera house is full when an operatic tenor sings, but it becomes empty when his partner (of lesser musical talent) attempts to sing. On their way home, the tenor and his partner become stuck on the freeway, where the lanes are full - but all it takes to make them empty is some bad singing.
Artist: Gene Barretta
(First: Episode 3556)




SCENE 2
Big Bird leads Renata to Finders Keepers, where they encounter Bob playing the piano, while he and Ruthie sing "C is for Cookie." They instantly recognize the famous dog singer, and Big Bird recommends Bob as a potential piano player. Renata puts him to the test by having him play the music to a selection from "Madame Butter-flea" while she sings an aria about needing to be scratched.

SCENE 2
cont'd
After the song, Renata makes sure Bob is a good scratcher. But, is he good with sticks? Stay tuned ...

Cartoon
A mosquito bites a man and a dog, who agree to scratch each other's backs.
Artist: ArtistMike
(First: Episode 3217)

Song
Somethin' Old Into Somethin' New
(First: Episode 3125)

Cartoon
Esme's wooden clown breaks, and she is about to throw it away, when it suggests she use glue to fix it.
Artist: Lisa Crafts
(First: Episode 2843)

Muppets
Elmo sings about how much he loves going "Round and Round in Circles" ... until he gets dizzy.
(First: Episode 3389)

Animation
Clown Honking #11
(First: Episode 3196)

Film
Milo Counting: 11
(First: Episode 3585)

Cartoon
Pinball Number Count #11
Artist: Jeff Hale
(First: Episode 0988)




SCENE 3
Bob's next test involves playing a selection from "The Barker of Seville," which is about a dog who loves to chase sticks and fetch them. Of course, stick-throwing is also part of the test, which Bob passes with flying colors.

SCENE 3
cont'd
Renata loves Bob's work so much, she gives him the job. He'll be touring with Renata around the world - which means "goodbye Sesame Street." Everyone is excited about this, but Big Bird doesn't like the "goodbye" part.

Cartoon
Orville the mouse (voice of Joey Mazzarino) feels proud of his new job as a lab rat for Dr. Igor. His job is to find a piece of cheese at the end of a maze, which proves to be difficult.
Artist: ArtistMike
(First: Episode 3655)

Animation
Dancing pepper pattern - which one is missing?
(First: Episode 3079)

Animation
S for shadow, soccer balls, sand, and slide
(First: Episode 3639)

Muppets
Prairie Dawn gives Grover 15 seconds to say an "S" word, but Grover has trouble concentrating due to the ticking of the clock.
(First: Episode 3551)

Film
S is for SPLASH!
(First: Episode 3639)

Cartoon
The story of Tommy LaPlaid, the painter so sad until he discovered the joys of kicking his paints on the canvas.
Artist: Mo Willems
(First: Episode 3208)




SCENE 4
Bob starts to pack for his big trip. Renata reassures Big Bird that Bob won't be gone from Sesame Street forever - he'll just be touring with her, visiting exotic places. Everyone on Sesame Street will still be able to keep in touch with him by mail and phone, and when he gets back, he'll have exciting stories to tell. Once Big Bird knows this, he feels better about Bob's leaving. He asks Bob if he can help him pack, which confuses Bob.

Film
Ducks swim and fly. (piano music)
(First: Episode 2510)




Muppets / Celebrity
Hoots tells Ernie to "Put Down the Duckie."
Celebrity version #2; this version replaces Paul Reubens's appearance with Phil Donahue and Gladys Knight and the Pips.
(First: Episode 3076)

Animation
Counting from 10-0 (Latin rhythm) (Spanish dub)
(First: Episode 3048)

Cartoon
An elephant, a zebra, a hedgehog, an ostrich, a frog and a ladybug create a rhythm with their footsteps.
Artist: Karen Aqua
(First: Episode 2794)

Cast
Savion sings "You Ought to Meet My Uncle," a song about different ways of dancing (and different uncles), and he dances with the kids.
(First: Episode 3140)

Cartoon
"Animal Books"
Artist: Steve Segal
(First: Episode 3396)

Muppets
Muppet & Kid Moment — Kermit asks Alphonso what sign he's holding.
(First: Episode 1562)

Video
Ann Marie DeAngelo and Skeeter Rabbit do their dance routine. The frame freezes whenever the word STOP comes on.
(First: Episode 2600)

Cartoon
A boy is drawn, but he doesn't have knees at first.
(First: Episode 0954)

Song
"Elbows and Knees"
(First: Episode 2641)

Muppets
Cookie Monster has a riddle: what do you get when you have one cookie between two cookies? A cookie sandwich!
(First: Episode 3209)

Song
"The African Animal Alphabet"
(First: Episode 3396)

Film
Wegman dogs: Batty as Little Bo Peep, seeking her sheep.
(First: Episode 3468)

Cartoon
A boy demonstrates why his dog's name is Happy.
(First: Episode 0537)




SCENE 5
Big Bird, Ruthie, Maria and Gordon bid Bob farewell. He feels reluctant to leave his home at first, but everyone encourages him to take this big chance. However, once he walks off with his suitcases, he realizes he'd miss all his friends on Sesame Street, and decides to stay. He tells Renata that he will get her in touch with a certain dog piano player he knows.

SCENE 5
cont'd
Big Bird announces the sponsors, and everyone says goodbye to Renata.

SCENE 5
cont'd
"And Slimey's spaceship is still on the way to the moon!"

COMING SOON
Coming soon on Sesame Street: Big Bird and Gabi star in an adaptation of "The Alligator King."