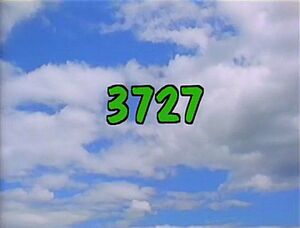 Picture
Segment
Description

COLD OPEN
Ruthie closes up Finders Keepers and tells the viewer today's her day off and that she bets whatever she'll be doing will be exciting.

SCENE 1
Oscar has to visit his mom to snap her out of her happy-feelings, but can't get a replacement Grouch to take his place. Ruthie doesn't understand why there needs to be a Grouch to replace him. He explains that without a Grouch, Sesame Street could turn friendlier than ever. Since Ruthie has the day off, she offers to take his place. He is reluctant, but lets her take his place and begins to pack.

Song
A salute to M-O-M.
(First: Episode 3564)

Cartoon
How they say "good night" in Haiti and in India.
(First: Episode 1824)

Muppets
When Frazzle is scared of going to the dentist, his mother tries to comfort him by telling him what a good time he will have. In the end, the dentist turns out to be scared of Frazzle.
(First: Episode 3519)

Song
"Write Your Name"
(First: Episode 3274)

Cartoon
Some animals want a boy to share his birthday cake with them, but he keeps changing his "No ______ allowed" sign, until they all offer him a glass of milk.
Artist: Gene Barretta
(First: Episode 3560)

SCENE 2
Oscar has made all his preparations and leaves Ruthie a "SCRAM" sign to remind her what to say to people who bother her. Before he leaves, however, he must teacher her the proper way of saying it.

Cartoon
Suzie Kabloozie and her cat Feff pretend to be each other.
Artist: Mo Willems

Muppets
Cookie Monster sings "What is Friend?"
(First: Episode 2840)

Animation
Sand K/k
(First: Episode 0645)

Film
Girls dance and chant about K.
(First: Episode 3012)

Cartoon
K for kick (football players)
(First: Episode 0463)

Muppets / Celebrity
Big Bird introduces ballet dancers Jock Soto and Lourdes Lopez, as they demonstrate up and down.
(First: Episode 3622)

Animation
Two frogs demonstrate up and down.
(First: Episode 3225)

Film
A girl narrates a segment about her friend, Billy, who swims with dolphins.
(First: Episode 3012)

Cartoon
"From Your Head"
Artist: Sally Cruikshank
(First: Episode 3474)

SCENE 3
Telly strolls over to Oscar's can, hoping he'll want to play today. He surprised to find Ruthie instead. He thinks she's too "pretty and nice" to be like Oscar and gives her suggestions on how to be Grouchier. Telly has a hard time believing her as a Grouch and leaves.

Animation
Teddy bears demonstrate opposites.
(First: Episode 3655)

Cast
Elmo, Big Bird and Gordon star in a commercial for the Alphabet (as if it were a bank).
(First: Episode 2972)

Film
Footage of kids playing professions, alternating with footage of analogous real-life jobs.
(First: Episode 2811)

Animation
17 derby hats drop onto a balloon head.
(First: Episode 2820)

Animation
Ornate 17s swing by.
(First: Episode 3319)

Cartoon
Rap #17
(First: Episode 2488)

Muppets
"Fat Cat"
(First: Episode 0536)

Cartoon
Alice Kadeezenberry has a hard time figuring out how to get around a mud puddle without getting dirty.
Artist: Paul Fierlinger




SCENE 4
Ruthie tells two kids to scram, but they find her unbelievable too and walk away. Telly comes back with Dear Crabby, a famous Grouch journalist, to help make Ruthie Grouchier. Crabby tells her to muss up her hair and get some dirt on her face. She has little time to help her out after, so she gives Ruthie a copy of her book: Everything You Ever Wanted To Know About Grouches, But Were Afraid To Ask Because Grouches Don't Like to Answer Questions, which will give her all the help she needs. Ruthie begins to read and Telly notices she's getting Grouchier.

Animation
"Animal Books"
Artist: Steve Segal
(First: Episode 3396)

Film
A visual representation of the nursery rhyme "Pat-a-Cake" with Wegman's dogs.
(First: Episode 3467)

Muppets
Ernie & Bert — Ernie stacks cups and saucers in order to count them, making Bert quite nervous. Luckily, they're glued together.
(First: Episode 0586)

Film
Kids narrate footage of toddlers learning to walk.
(First: Episode 3025)

Cartoon
A baby bird tries and tries again to fly from its nest.
Artist: Don Duga and Irra Verbitsky
(First: Episode 1510)

SCENE 5
As Ruthie continues to read, Maria comes by to question why Ruthie's in Oscar's can. She is promptly told to beat it. Telly is amazed at how closely she's beginning to sound like Oscar, despite being insulted.

Cartoon
Actor demonstrates anger towards casting director - literally!
(First: Episode 2061)

Song
14 Karat Soul sings about what's "Down Below the Street."
(First: Episode 2556)




Insert
"Professor Television" (Bill Irwin) tries to demonstrate near and far, with help from Maria's voice.
(First: Episode 3617)

Cartoon
A girl notices some footprints near and far to her. They belong to a giant purple bird.
Artist: Fred Garbers
(First: Episode 3134)

Muppets
Grover applies to be a lifeguard, demonstrating to the employer that he has what it takes. He soon learns that there's only one thing he needs: swimming lessons.
(First: Episode 1951)

Film
The letter K dances at the beach.
(First: Episode 3554)

Cartoon
A lowercase "k" kisses everything.
(First: Episode 0131)

Animation
"k" for king, kiss and key
(First: Episode 3084)

Cartoon
A pig sings "Pig's Love Song." (new sound effects added)
(First: Episode 0462)




SCENE 6
Ruthie finishes telling "Music-Puss" to beat it, when Oscar arrives back from his mother's. He is amazed at Ruthie's progress and offers her a night-shift position. Ruthie declines, saying that being nice is just who she is. She and Oscar engage in a Grouchy argument, while Telly announces the sponsors and Slimey's progress to the moon.

COMING SOON
Coming soon on Sesame Street: As part of a pageant, Elmo sings about strawberry ice cream.
Community content is available under
CC-BY-SA
unless otherwise noted.