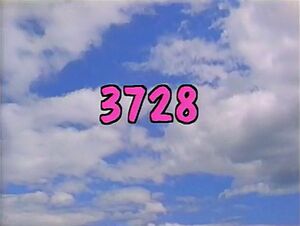 Picture
Segment
Description

COLD OPEN
While walking past Hooper's Store, Prairie Dawn cannot think of any ideas for her next pageant. She spots Ruthie, Elmo and Carlo inside, wondering if they can help. She also mentions the sponsors.

SCENE 1
Prairie asks Ruthie and Elmo for an idea, but they're too occupied playing a guessing game about the foods they're going to have. Ruthie gets a pickle and Elmo gets an ice cream cone, while Prairie leaves to consult somebody else. The two offer to help now, but it's too late.

Cartoon
A man tries to get directions to a parking space, and eventually uses a map to get there.
Artist: Paul Fierlinger
(First: Episode 2734)

Film
Kids draw a map of their neighborhood, and then learn how maps are really made.
(First: Episode 2760)

Muppets
The Count, dressed up as Elvis, sings "You Gotta Count My Blue Suede Shoes."
(First: Episode 3231)

Cartoon
In the "Land of No Shoelaces," people find it difficult to play basketball, swing and run, until Edna Lovelace comes along.
Artist: ArtistMike
(First: Episode 3102)

SCENE 2
Prairie finds Big Bird, Bob and Natasha and hopes they can give her an idea. Instead, they discuss how they each prefer different types of food. They offer to help just as she darts off.

Song
Joe Raposo sings "Everybody Eats."
Re-filmed version
(First: Episode 2855)

Cartoon
A concert pianist shows up in a construction worker's lunchbox, singing the alphabet.
(First: Episode 0449)

Muppets
"Some Enchanted Lunchtime"
(First: Episode 3230)

Cartoon
Number creatures #17
(First: Episode 2745)

Animation
Growing Numbers #17
(First: Episode 2975)

Animation
Parade of Numbers #17
(First: Episode 3368)

Insert
Chicago and Zoe present Celina doing the Vegetable Day Dance, dressed as a broccoli. Chicago sings a song about the vegetable.
(First: Episode 3292)

Animation
Pencil box G / g
(First: Episode 3042)

Film
Kids on a jungle safari spot an ornate G swing through the trees.
(First: Episode 3498)

Cartoon
A gorilla names "G" words.
(First: Episode 1831)

Muppets
In parody of The Brady Bunch theme, Telly Monster goes to the refrigerator to make himself a healthy "Telly's Lunch."
(First: Episode 3510)

Animation
In stop-motion, sandwich ingredients square-dance in a ring and arrange themselves into a sandwich, which gets a bite taken out of it in a refrigerator.
(First: Episode 3080)

SCENE 3
Prairie vents her frustrations outside Oscar's trash can, where Oscar is pleased to see her in an angry state. He then gives her an idea for her pageant and offers to even participate in it. Prairie runs off, happy and inspired.

Cartoon
Different emotions are drawn on a face, until the character grabs the pencil.
(First: Episode 3531)

Film
The Tokyo String Quartet and some kids show how important it is to practice, as Big Bird provides voiceover.
(First: Episode 3290)

Cartoon
Letter G drawing with kid voice-over.
(First: Episode 0306)

Film
G for go, girls, guitar, goldfish etc.
(First: Episode 3269)

Animation
Planet G / g
(First: Episode 2844)

Muppets
Muppet & Kid Moment — Megan and Grover discuss the moon and some of Chinese stories surrounding it.

Song
Kevin Clash sings "(I Eat With) Chopsticks" over a film of kids doing so.
(First: Episode 3270)

Cartoon
Campers don't want to play ring toss with Zork, until their counselor reminds them about being judgmental.
(First: Episode 2761)

Muppets
Mr. Snuffleupagus sings "Somebody Come and Play"
(First: Episode 3401)

Cartoon
Millie and Molly take a walk, and have different perspectives of their surroundings.
(First: Episode 1309)

Muppets
The Two-Headed Monster reads the sign atop a miniature school building, and observes a small group of children that run out of it. Once they've left, the monster picks up the now empty building, and declares, "School's out!"
(First: Episode 1907)

Film
Lindsey practices her basketball shooting with Steph.
(First: Episode 3517)

Animation
All, some, one and none fish swim around.
(EKA: Episode 2109)




Muppets
In Search of Fish - Wolfgang the Seal tries to look for fish at the New York Aquarium.
(First: Episode 3528)

Cartoon
Kids sing about the joys of celery.
Artist: ArtistMike
(First: Episode 2976)

Film
Cooperation: A girl gets a coconut handed down to her from a tree, by people on different-size stilts.
(First: Episode 3404)




SCENE 4
Prairie begins her show all about people's favorite lunches - with Bob as a peanut butter sandwich, Ruthie as a pickle, Big Bird as a bag of birdseed, Natasha (assisted by Lexine) as baby food, Elmo an ice cream cone and Oscar combines all the foods to make a Grouchy lunch for himself.

SCENE 4 cont'd
Everyone takes a bow as Carlo announces the sponsors and the status of Slimey's spaceship.

COMING SOON
Coming soon on Sesame Street: Telly leads the group in a rendition of the Monster Moon Tune (a spoof of the Marcels' "Blue Moon").
Community content is available under
CC-BY-SA
unless otherwise noted.