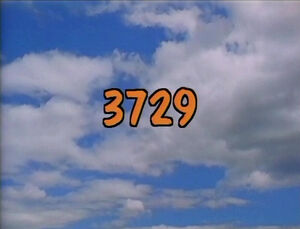 Picture
Segment
Description




SCENE 1
Ruthie walks out onto Sesame Street from the Subway Station on her way to Finders Keepers. Several monsters are buzzing about chanting "Moon," including Mimsy, who asks Ruthie if she's the moon. Telly explains to Ruthie that they're all getting ready for the Monster Moon Watch, an annual event scheduled for that night on the rooftops. It's being held on Sesame Street this year in honor of Slimey the Worm, who is currently on a long trip to the moon. Telly leaves to find his tuba so he can play the Monster Moon Tune, while Mimsy appears looking for the moon again.

Cartoon
An alien asks a boy for directions to the baseball diamond.
Artist: Bill Davis
(First: Episode 1877)

Film
Kid jungle explorers find a wild letter C.
(First: Episode 3519)

Muppets
"C Drives Me Crazy"
(First: Episode 3339)

Film
Various "C" words are found throughout a yard.
(First: Episode 3590)

Muppets
Big Bird and Baby Bear visit the Museum of Modern Art in New York City, and interpret a painting by Jackson Pollock.
(First: Episode 3631)

Cartoon
A domestic cat paints various wild feline versions of himself on his owner's canvas.
(First: Episode 1521)

SCENE 2
Miles is sitting on the steps of 123 Sesame Street as Gordon arrives home with a bag of groceries. They plan on watching the stars tonight, so Miles is making a list in his space journal of all the stars and planets he wants to look at. The journal also chronicles WASA's launch of their moon program, which they recap. Gordon is looking forward to a nice, quiet night with just the two of them looking at the stars, moon and Slimey. Miles goes to get the telescope ready as Gordon prepares to make some sandwiches.

SCENE 2
cont'd
Mimsy runs up to the camera: "Moon moon moon moon moon?"

Cartoon
The crew on spaceship CU2 looks for signs of life in space. They spot signs such as ONE WAY, STOP, and EXIT.
Artist: Fred Garbers
(First: Episode 3663)

Muppets
Cookie Monster sings "If Moon Was Cookie." (underscore added to intro)
(First: Episode 1789)

Film
Amelia pretends she's an astronaut.
(First: Episode 2918)

SCENE 3
Mimsy continues to look for the moon.

Cartoon
Madrigal Alphabet
Artist: Jeff Hale
(First: Episode 0615)

Muppets
The Martians: Book
(First: Episode 2731)

Cartoon
Jerry Nelson sings "In My Book"
(First: Episode 2983)

Film
In Trinidad, Asha and her friends practice and dance on stilts in preparation for a carnival.
(First: Episode 3427)

Cartoon
Various alien creatures perform in an otherworldly music performance conducted by a trumpet-nosed creature.
(First: Episode 1181)

SCENE 4
Back at Finders Keepers, Telly, Rosita, Herry, Elmo and Zoe have gathered with all their supplies for the Monster Moon Watch. Zoe has pillows to lay on, Herry has a flashlight and watch to keep time, Telly has his tuba and Rosita has enough onions for everyone (it's tradition). The only thing they don't have is a grown-up to go with them, so they recruit Ruthie to do it.

Animation
"C in Space"
Animator: Gene Barretta

Film
Girls do a hand-clap game about friends whose names start with C.
(First: Episode 3277)

Animation
A strange poem with C words.

Muppets / Celebrity
Hoots the Owl challenges Yo-Yo Ma to make the same sounds with his cello that Hoots makes with his saxophone. (ending cut)
(First: Episode 2221)

Film
A rhythm is made of breaking eggs, door slams, cans dropping, ice, and feet stepping.
(First: Episode 3682)




Muppets
Spaceship Surprise
The crew lands on the Planet TR, where they are greeted by Trevor Trout.
(First: Episode 2607)

Cartoon
Flash Gizmo, Space Cadet
Over, under, around and through
(First: Episode 3698)

Song
"Around and Around"
(First: Episode 2753)

SCENE 5
Mimsy walks by Finders Keepers, still looking for the moon.

Animation
Space frogs count to 10.
(First: Episode 3109)

Muppets
Muppet & Kid Moment — Grover and Patrick observe that the moon doesn't talk.
(First: Episode 3697)

Cartoon
Jerry Nelson sings "Moonshine."
(First: Episode 2775)

SCENE 6
Mimsy appears in front of The Furry Arms looking for the moon, even asking Benny Rabbit if he's the moon. He just wiggles his teeth.

Cartoon
Alien parents tuck their child in at night, and he counts 13 spaceships.
Artist: Bill Davis

Animation
Growing Numbers #13
(First: Episode 2924)

Animation
13 hamburgers dance around.
(First: Episode 2785)




Muppets
Ernie & Bert — The Count sleeps over at Ernie and Bert's (Part 1)
The Count sleeps in Bert's bed while Bert sleeps on the couch. Ernie tells The Count that he can count sheep to get to sleep, but it never dawned on Ernie that the Count never gets tired of counting. He stays up all night counting sheep, to Ernie's detriment.
(First: Episode 0941)
Only Part 1 is shown in this episode.

Cartoon
Monster in the dark (finding a light switch)
(First: Episode 0493)

Film
Kids narrate footage of toddlers learning to walk.
(First: Episode 3025)

Cartoon
Noodles & Nedd: Noodles tries to get Nedd to feed him while Nedd is fixated on looking at the stars through his telescope.
(First: Episode 3701)

SCENE 7
Miles and Gordon are on the roof enjoying their quiet time together.




SCENE 7
cont'd
Abruptly, Ruthie and the monsters barge through the door chanting "moon, moon, moon!" Mimsy thinks Gordon's head is the moon at first, but Ruthie points her to the real moon. Telly leads the group in a rendition of the Monster Moon Tune (a spoof of the Marcels' "Blue Moon").




SCENE 7
cont'd
Miles and Gordon identify the letter C and the number 13 as constellations, which they figure must mean that they've sponsored the episode. In closing, they wonder where Slimey is by now, figuring it's someplace at least a lot quieter.

COMING SOON
Coming soon on Sesame Street: Big Bird and Baby Bear present a bouquet of flowers to Goldilocks, who sneezes.
Alterations
Picture
Segment
Description

INTRO
In the 1999 rerun, the season 30–32 intro sequence is used in place of the season 29 opening.

Film
Fay Ray dresses up as different animals. ("It's Kermit the Dog!")
(First: Episode 2639)
This segment replaced "Around and Around" in the 1999 rerun.

Muppets
Ernie & Bert: The Count Sleeps Over at Ernie & Bert's (Part 2)
It's the next morning. The Count had a good night, but he didn't sleep. His counting kept Ernie up, and now Ernie is walking and counting like a zombie.
(First: Episode 0941)
This segment replaced the film of toddlers learning to walk in the 1999 rerun.
Notes
This episode was among a select group of Season 29 episodes that were reran during the last few weeks of 1999, shortly before Season 31 began airing the following January. This particular episode aired on November 25 and December 16.
Additional performers include Joey Mazzarino (light blue monster).