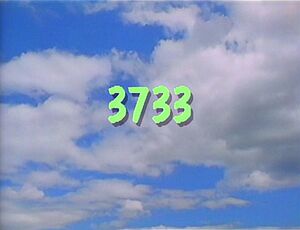 Picture
Segment
Description

SCENE 1
Big Bird, Gabi, Miles and Lexine play "Follow the Leader" in the park (with Big Bird leading), and suddenly spot a butterfly. Big Bird thinks the butterfly wants to play with them, but the kids don't think a butterfly could play the game. Big Bird argues that they shouldn't be prejudiced against butterflies, and so the kids agree to let the butterfly be the leader.

Song
Everyone has the same feelings, "No Matter What." Kids of all types play with a huge beach ball.
(First: Episode 2782)

Cartoon
A female head is drawn as its voice-over lists its parts, ending with earrings that "do nothing" ... and promptly wiggle around.
Artist: James Rizzi
(First: Episode 0821)

Muppets
Ernie and Elmo sing about the parts that make up "One Fine Face."
(First: Episode 2220)

Film
L is for look, legs, light, lemonade, and ladybug.
(First: Episode 3427)

Cartoon
L - shooting stars
(EKA: Episode 2237)

Film
Wegman's dogs form the letter L.
(First: Episode 3270)

Muppets / Celebrity
Little Richard sings "Rosita," a song about feelings, to Rosita.
(First: Episode 3225)

Cartoon
A heart that says "I love you" is drawn.
(First: Episode 1971)




SCENE 2
Big Bird and the kids follow the butterfly into a different section of the park they've never visited before. While they aren't looking, it lands on a statue, and they suddenly hear sad violin music playing. They inspect the statue, and see that the statue is playing the violin. It can also talk, and the figure reveals that she feels useless being a statue. Lexine thinks the statue is pretty to look at, and Big Bird points out that the birds can sit on her. Now she feels happy to be a statue, and plays happy-sounding music.

SCENE 2
cont'd
The butterfly flies away, so Big Bird and Lexine say goodbye to the statue before they go after it. Miles and Gabi are perplexed.

Song
"Dancin' Shoes"
(First: Episode 2949)

Cartoon
A penguin repeats the rhythms of the sounds it hears, which include a drum, a door knock, a saw and a typewriter.
Artists: The Hubleys
(First: Episode 0239)

Film
Penguins take a bath.
Music: Joe Raposo
(First: Episode 0233)

Cartoon
Number creatures 18
(First: Episode 2668)

Film
Kid mural painting #18
(First: Episode 3582)

Cartoon
The Bellhop is told that somebody at table 18 has a phone call, and after he struggles to get to the table, he is told to take a message.
(First: Episode 2549)

Muppets
In parody of The Brady Bunch theme, Telly Monster goes to the refrigerator to make himself a healthy "Telly's Lunch."
(First: Episode 3510)

Animation
In stop-motion, sandwich ingredients square-dance in a ring and arrange themselves into a sandwich, which gets a bite taken out of it in a refrigerator.
(First: Episode 3080)




SCENE 3
The butterfly leads Big Bird and the kids to yet another section of the park. Miles still doesn't believe that the butterfly is really playing with them, but Gabi and Lexine are starting to agree with Big Bird - after all, if an 8-foot tall bird can play "Follow the Leader," why not a butterfly? Big Bird starts naming the people he'll tell about his experience when he gets back to Sesame Street, and remembers that Linda is deaf. He realizes he doesn't know how to say "butterfly" in sign language, and Miles and Gabi doubt that the butterfly knows either. Just then, the butterfly flies up to the screen and shows a film sequence of a girl saying the word "butterfly" in sign language.
(First: Episode 3341)

SCENE 3
cont'd
Everyone saw the sequence except Miles, who still doesn't believe them. They follow the butterfly elsewhere ...

Cartoon
A baby climbs up the stairs all by himself.
(First: Episode 1717)

Muppets
Zoe sings "My Name Is Zoe."
(First: Episode 3387)

Film
Dory and her mom learn how to rollerblade.
(First: Episode 3270)

Animation
L / l (space paint)
(First: Episode 3216)

Muppets
Ernie and Bert sing "La, La, La."
(First: Episode 0321)

Cartoon
A salesman (voice of Martin P. Robinson) hawks the letter L in a commercial.
Artist: Mo Willems
(First: Episode 3306)

SCENE 4
Big Bird and the kids follow the butterfly into a littered section of the park. Big Bird assumes that maybe the butterfly led them there so they could pick up all the trash.




SCENE 4
cont'd
As a joke, Miles pretends the trash can is a basketball hoop, and "scores" 2 points. Right then and there, Wrap Master Squirrel pops up and delivers a rap about making a game out of picking up litter and throwing it away, as its corresponding film is shown. (First: Episode 2646) By the end of the rap, the entire section of the park has been cleaned by Big Bird and the kids! Now Miles believes in the power of this butterfly. They follow it elsewhere ...

Cartoon
Musicians in a painting learn to cooperate to play music.
(First: Episode 3460)

Muppets
"Street Garden Cooperation"
(First: Episode 1956)

Cartoon
A man talks about how much he loves his bones.
Artist: Bruce Cayard
(First: Episode 2628)

Film
Jodi goes to the doctor for a check-up.
(First: Episode 3526)

Muppets
Bip Bipadotta sings about "Air."
(First: Episode 2568)

Cartoon
Don't cross the street alone.
(EKA: Episode 1974)

SCENE 5
Big Bird and the kids suddenly lose track of the butterfly, and realize that they're lost. They seek the aid of a nearby policewoman and firefighter, who know Sesame Street by its theme. They proceed to lead the kids home, and Big Bird asks the concessions lady for a pretzel before he follows them.

Cartoon
Where does the cow live? (Maria voiceover)
(First: Episode 3396)

Muppets
Sesame Street News Flash
Old MacDonald's Health Farm
(First: Episode 2688)

Cartoon
A map of Africa morphs into the shape of animals that are found there.
(First: Episode 2627)

Film
A boy draws a picture of his friend, Kerry.
(First: Episode 2776)

Muppets
The Mostly Monster Festival Choral Society presents "The Alphabet, Theme and Variations," by Mozart.
(First: Episode 3525)

Film
Fay Ray rolls balls near the camera.
(First: Episode 3061)




SCENE 6
The kids come home to their relieved parents, and explain what they were doing in the park. They thank the policewoman and firefighter, and go home. Ruthie announces the sponsors, ending with the butterfly.

SCENE 6
cont'd
"And Slimey's spaceship is still on the way to the moon!"

COMING SOON
Coming soon on Sesame Street: Telly and Zoe think they'll be able to put Sleeping Beauty to sleep if they dress up like sheep and she counts them ... but she starts sneezing.
Community content is available under
CC-BY-SA
unless otherwise noted.