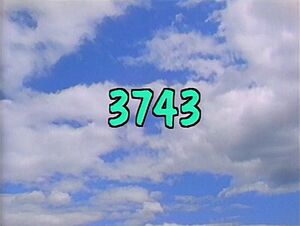 Picture
Segment
Description

SCENE 1
Big Bird and Snuffy display a letter than Snuffy has written (or rather, dictated to his mother) to his grandmother, asking when she'll come for a visit. Along with the Birdketeers, they go off to mail it. Big Bird feels as though they've forgotten something, though.

SCENE 1 cont'd
At the mailbox, Maria prevents them from sending the letter, pointing out they need to put it in an envelope. Snuffy goes to get one and Big Bird goes to smooth out the wrinkled letter. Maria believes their situation isn't not going to get any easier.

Cartoon
A boy learns to put his mom's letter in the mailbox all by himself (with a little help).
(First: Episode 1497)

Song
To the original Fats Waller recording of "I'm Gonna Sit Right Down and Write Myself a Letter," a group of kids act out the song in a throwback to the silent film era.
(First: Episode 3659)

Cartoon
A pencil tries to write the word DANCE.
(First: Episode 1966)

Song
"Look Who's Dancing"
(First: Episode 3665)

Muppets
Elmo and Winston, a beluga whale, demonstrate the word LOVE.
(First: Episode 3526)

Animation
The word "LOVE" in various situations.
(First: Episode 3569)

Film
A boy loves learning about fish. He reads books about them, and even catches them.
(First: Episode 3689)

Cartoon
A little boy tries to use a tall water fountain
(First: Episode 0954)

SCENE 2
The two have placed the letter in a giant envelope, though Big Bird has a hard time closing it. He realizes they need to wet the glue and Snuffy does so, getting stuck in the process. Big Bird rips it off and crashes, but seals the envelope in the process.

SCENE 2 cont'd
As the the two reach the mailbox, Lexine stops them from mailing it, pointing out they need to put the address on it. Snuffy goes to his mommy to get it, with Big Bird trailing behind (as Snuffy forgot the letter).

Film
A girl writes to her grandmother about going to summer camp.
(First: Episode 3270)

Animation
Pencil box K/k
(First: Episode 2876)

Film
The letter K dances at the beach.
(First: Episode 3554)

Cartoon
K for keyhole, ketchup, kitten
(First: Episode 0489)

Muppets / Celebrity
Celia Cruz sings "Songo's Song."
(First: Episode 3279)

Cartoon
"We Are Kids From Far and Wide" - Colombia
(First: Episode 2769)

Song
"Me, M-E, Me!"
(First: Episode 3578)

Muppets
Monsterpiece Theater: "The Postman Always Rings Twice"
(First: Episode 2729)

Film
Kids walk IN and OUT of a school.
(First: Episode 3561)

Cartoon
Two girls sing a reggae rendition of the alphabet.
(First: Episode 3269)

SCENE 3
Big Bird and Snuffy write the receiving address on the postcard and believe they are now officially ready to mail. Big Bird wonders why the "K" in the address (as in "K Street") is emphasized. Snuffy explains because all the street in that town are named after letters and names them all (reciting the whole alphabet). There's even a song, which follows "The Alphabet Song."

SCENE 3 cont'd
Soon after Big Bird sees no one near the mailbox, Mr. Handford stops them, saying that the letter isn't finished without a stamp. Overwhelmed, the two go off to retrieve a "Snuffle Stamp" to stick on the envelope. After they leave, Mr. Handford wonders whose picture is on a Snuffle stamp.




Cartoon
George Washington cannot cross the Delaware unless some of his men are in the FRONT and some are in the BACK.
Artist: Gene Barretta
(First: Episode 3726)

Song
"The First Time" - Children try various activities (riding tricycles, tying shoes, etc.) and progressively improve.
(First: Episode 2950)

Cartoon
The Ringmaster presents four lions.
(First: Episode 1309)

Film
Ornate 4s fly through the air.
(First: Episode 3317)

Film
Chinese acrobats balance 4 plates on sticks in each hand.

Song
Jeff Redd sings "Between"
(First: Episode 2738)

Cartoon
CLOSED (sheep running through door)

Film
Wegman's dogs: Batty as Little Bo Peep, seeking her sheep.
(First: Episode 3468)

Muppets
Elmo bumps into Kermit the Frog on the way to the post office, begging to help him with one of his demonstrations, during which the post office closes - a perfect prompt to demonstrate open and closed.
(First: Episode 2473)

Cartoon
The secret drawing is a mailman.
(First: Episode 0220)




SCENE 4
The mail carrier (Anthony Clark) waits as Snuffy licks the stamp and attaches it to the envelope. The mailman says that there's just one thing left: mail it. He delivers it to the post office as Big Bird and Snuffy jump in joy. Just then, Granny Snuffle arrives and greets them. They two give her hugs, speaking very highly of how fast the mail system is.

Cartoon
Dinah from South Carolina exchanges letters with her friend Ling Lu in China.
Artist: ArtistMike
(First: Episode 2727)

Song
Kevin Clash sings "(I Eat With) Chopsticks" over a film of kids doing so.
(First: Episode 3270)

Cartoon
Flash Gizmo, Space Cadet
Near and far
(First: Episode 3714)




Muppets
Worms in Space: Slimey and his fellow worm astronauts make a letter K.

Film
Girls dance and chant about K.
(First: Episode 3012)

Cartoon
K for kick (football players)
(First: Episode 0463)

Film
The floating kids form a rectangle.
(First: Episode 3131)

Muppets
As ominous music plays, The Count walks around his castle, checks out the mirror (he has no reflection), and greets his bats. The mailman (Jim Henson) arrives, with a bunch of letters for Count. The mailman wonders why there are so many letters. The Count says that he wrote them all himself, so he could count them... and then he does.
(First: Episode 0420)

Cartoon
The moon listens to everyone say "Good night" in different languages.
(First: Episode 2243)

SCENE 5
Granny Snuffle finishes reading everyone a story and Snuffy encourages her to read his letter once she gets back home, so she can reply as to when her next visit will be. Telly then announces the sponsors.

COMING SOON
Coming soon on Sesame Street: Tarah is the popular attraction for this year's grouch float.
See also
Community content is available under
CC-BY-SA
unless otherwise noted.