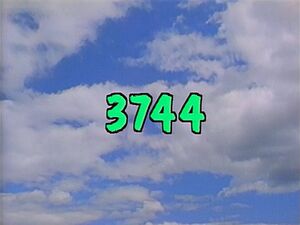 Picture
Segment
Description




SCENE 1
Today is the day of the annual Grouch Parade, where grouches "listen to awful music and throw smelly socks". Oscar has his assistants bring several items for verification (including Slouchy the Clown), as Gina and Tarah arrive. Tarah has never seen the Grouch Parade and is very interested.

Cartoon
Two pirates plan a voyage.
(First: Episode 1591)

Muppets
Telly sings "Everything Goes" as he packs his backpack for a day in the park.
(First: Episode 3461)

Animation
Computer G / g
(First: Episode 3112)

Film
Kids on a jungle safari spot an ornate G swing through the trees.
(First: Episode 3498)

Cartoon
The Typewriter gets stuck in a spot of glue, and types "G: Glue".
(First: Episode 0774)




Song
"What's Inside?" (Cookie Monster cameo)
(First: Episode 3134)

Muppets
Ernie & Bert — Ernie and Bert have pizza and grape juice. Bert complains that Ernie has more of each, so Ernie tries to make it even by eating some of his pizza and drinking some of his grape juice, but then Bert has more. And so on.
(First: Episode 0256)

Animation
A pizza is made, and the slices form the word PIZZA.
(First: Episode 3393)

SCENE 2
Next, Oscar makes sure the "Grouching Band" is in terrible shape. The Grouchketeers arrive and practice making a loud, awful noise. Gina can't stand it, though Tarah is even more intrigued.

Animation
A string quartet tunes up before it plays "Mary Had a Little Lamb."

Muppets
Zoe, Prairie Dawn, Rosita and Betty Lou sing "Girl of the World."

Film
Two girls clap out five.
(First: Episode 3007)

Animation
"Five Waltzing Chairs"
Artist: Jane Aaron
(First: Episode 2983)

Cartoon
A chorus of 5s come out of a 5 painting.
(First: Episode 3300)

Muppets
Super Grover asks Baby Natasha, as Super Baby, to help him demonstrate big and little, but Super Baby won't sit still long enough -- she keeps flying around, and ends up crash-landing on his head.
(First: Episode 3698)

Cartoon
Alice Kadeezenberry tries to water the plants, but notices the hose doesn't go far enough for her to do so. After several harebrained attempts, she uses a nearby watering can.
Artist: Paul Fierlinger
(First: Episode 3713)




SCENE 3
The parade still can't begin, as they're missing the main element - the big, Grouch float. A delivery man arrives with a float decorated with hearts, flowers and balloons, none of which is Grouchy. It turns out he's made a mistake; that float is for the Happy Elf Parade. The man won't be able to construct Oscar's float in time, so Oscar decides to call off the parade. Tarah volunteers to be the float, thinking her wheelchair can be decorated with some Grouchy items.

Cartoon
"I Have a Purple Bucket"
(First: Episode 3467)

Celebrity
The Count (in voiceover) counts the number of times Angel Corella spins.

Cartoon
A turtle recalls a time he fell in love with a seashell, before realizing it's not alive.
Artist: Fred Garbers
(First: Episode 3715)

Muppets
Kermit the Frog sings "It's Alive."
(First: Episode 2029)

Film
A girl narrates a film of herself taking the bus home with her dad. They play a game where she points to things and identifies them.
(First: Episode 3302)

Cartoon
A little girl shows the building and apartment where she lives -- both with the number 6.
(First: Episode 0783)

SCENE 4
The Grouches get to work on decorating Tarah and her wheelchair behind a large, dirty sheet. Gina tries to take a peak, but Oscar shoos her away until the parade begins.

Film
A ONE WAY sign switches sides. (Maria voiceover)
(First: Episode 3268)

Cartoon
We Are Kids from Far and Wide: India
(First: Episode 2758)

Film
An Indian boy narrates how Chapati bread is made.
(First: Episode 3204)

Animation
Pencil box G / g
(First: Episode 3042)

Song
"Big G and Little G"
(First: Episode 3397)

Cartoon
Letter G drawing with kid voice-over.
(First: Episode 0306)

Muppets
Elmo, Zoe, Rosita, Telly, Baby Bear, Herry Monster and Frazzle sing "You Tickle Me."

Film
Two kids play drums as animated kid-drawn figures clap with the beat.
(EKA: Episode 2847)

Cartoon
The dancing birds dance fast and slow.
Artist: Karen Aqua
(First: Episode 3072)




SCENE 5
A crowd of humans and Grouches have assembled to watch the Grouch Parade just outside 123 Sesame Street. Oscar, chair-grouch of the parade, opens with a brief speech before the parade begins. He's followed by the king and queen, Slouchy the Clown and the Grouching Band. The crowd starts chanting for the Grouch float to arrive.

SCENE 5 cont'd
Sure enough, Tarah rolls in as the Grouch float, covered in trash. The crowd boos and jeers, signaling it's a success!

Cartoon
A parade of toys illustrates first and last.
(EKA: Episode 2857)

Muppets
Prairie Dawn and Cookie Monster demonstrate first and last with cookies, but Cookie Monster is hesitant to eat the last cookie because he thinks it's the last cookie in the world.
(First: Episode 3224)

Cartoon
Jazz Alphabet: male vocalists shout each letter.
(First: Episode 0619)

Song
"Elbows and Knees"
(First: Episode 2641)

Cartoon
A boy is drawn, but he doesn't have knees at first.
(First: Episode 0954)

Muppets
Big Bird knocks over some block towers, but he puts them back through reverse footage.
(First: Episode 3407)

Cartoon
A little girl sings "There Is Only One Me."
(First: Episode 1942)




SCENE 6
Tarah gives her autograph out to some Grouches, who thought she made the worst float they've ever seen. Gina tells her how proud she is of her work and Oscar reluctantly thanks her for saving the day. He also reluctantly helps clean up Tarah's wheelchair. The Grouch King and Queen announces the sponsors and the status of Slimey's spaceship.

COMING SOON
Coming soon on Sesame Street: Snuffy and Alice do "the Snuffleupagus."
Community content is available under
CC-BY-SA
unless otherwise noted.