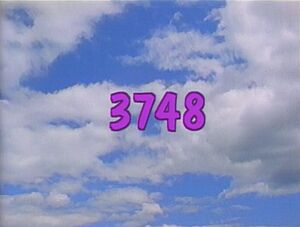 Picture
Segment
Description

SCENE 1
Gordon has the day off from work today and plans on spending it reading a good book. Big Bird moans nearby, as he has a playdate with Snuffy, but has to be taken to the doctor to have a band-aid removed. Gordon suggests leaving a note and volunteers to help write one. Big Bird begins dictating a very detailed note...

Song
To the original Fats Waller recording of "I'm Gonna Sit Right Down and Write Myself a Letter," a group of kids act out the song in a throwback to the silent film era.
(EKA: Episode 3659)

Animation
Fans reveal the letter O.
(First: Episode 2905)

Animation
Planting Letters: O
(First: Episode 3010)

Cartoon
A woman sings the "O" sound in a brief opera.
(First: Episode 3323)

Muppets
Phil Harmonic introduces Ernie and Placido Flamingo, who sing "Up and Down Opera" to demonstrate up and down.
(First: Episode 2440)

Cartoon
An arrow doesn't know which way is up.
Artist: Fred Garbers
(EKA: Episode 3681)

SCENE 2
Gordon finishes the note and tapes it to Big Bird's doors. However, Big Bird explains he must stay nearby so he can read it to Snuffy when he shows up.

Cartoon
Mi kat iz ... gone
(EKA: Episode 2059)

Song
"In the Library"
(First: Episode 3423)

Cartoon
A boy shares his bubbles with some kids dancing in a field.
(First: Episode 1926)

Celebrity
"Rubber Duckie" with Little Richard.
(First: Episode 3263)

Film
A boy draws a picture of his friend, Katie.
(First: Episode 2760)

Cartoon
"In My Book" (sung by Jerry Nelson)
(First: Episode 2983)

SCENE 3
Telly finds Gordon reading outside Big Bird's doors and joins him with his own book, "The No Frills Alphabet Book." However, Telly's reading proves to be very loud.

Film
Kids sing the alphabet on an island.
(First: Episode 3154)

Cartoon
Spike's Scribble Theatre Presents: "Island"
(EKA: Episode 2673)

Muppets
"The Sneeze Song," with Kathleen the Cow with a Pig, a Sheep, and Fred the Wonder Horse.
(First: Episode 2784)

Film
A gymnastics team practices tricks for the circus.
(First: Episode 2889)

Cartoon
Clown Honking #8
(First: Episode 3224)

Film
Ornate 8s stroll through a gate and pose in other remarkable places.
(EKA: Episode 3231)

Film
Eight children dance in a colorblock grid.
(First: Episode 3115)

Film
D.J. goes to the doctor, gets weighed and measured, and gets a shot.
(EKA: Episode 3595)

Cartoon
Dr. Annie Eyeball, PhD., looks at breathing.
Artist: Bruce Cayard
(EKA: Episode 2615)

SCENE 4
Snuffy finally arrives and Gordon reads the note to him. Snuffy decides to write a thank you note in response, which Gordon will have to write.

Animation
The word LOVE is formed on paper.
(EKA: Episode 3586)

Muppets
Cookie Monster sings "You Made Me Love You."
(First: Episode 3456)

Cartoon
An O rolls over and over a horse. The horse eats the O.
(EKA: Episode 0198)

Muppets / Celebrity
"WXYZ Highlights" celebrates the letter O with special guest Rebecca Lobo, who faces off against Big Bird in a brief round of basketball.

Cartoon
Sand O/o
(EKA: Episode 2253)

Muppets
"Some Enchanted Lunchtime"
(First: Episode 3230)

Cartoon
African quilt pattern
(EKA: Episode 3145)




SCENE 5
Gordon goes to mail the finished letter. Big Bird returns and wants to play at the schoolyard, which is across the street. The two start calling for Gordon.

Song
"I'm Holdin' Your Hand" (while crossing the street)
(First: Episode 3658)

Animation
In a Van Gogh painting, a baby takes its first steps to Papa.
(EKA: Episode 3492)

Muppets
Elmo and Zoe sing "Share."
(First: Episode 3489)

Film
The McDouble twins know how to help each other.
(EKA: Episode 3213)

Animation
Colored tools build a house out of colored rectangles, squares and triangles.
(First: Episode 3263)

Song
"Playground Map Song"
(EKA: Episode 2680)

Cartoon
Words that rhyme with BALL
(First: Episode 0773)

SCENE 6
Gordon helps the two cross the street and they announce the sponsors, as well as the progress of the Wiggleprise.

COMING SOON
Coming Soon on Sesame Street: How do flowers grow? Big Bird tries to answer using various hand gestures.
Community content is available under
CC-BY-SA
unless otherwise noted.