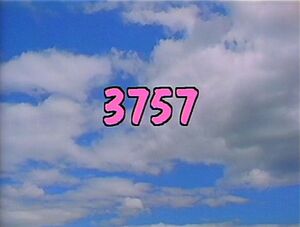 Picture
Segment
Description

SCENE 1
Big Bird greets Snuffy in the arbor, asking if he's ready to go to the park. Snuffy reminds him that today is Alice's first day at the Day Care Center, and must drop her off before he and Big Bird play together. Big Bird decides to tag along, while Snuffy expresses his concern about her having a happy time. Alice enters, seemingly delighted and ready to head to day care. Big Bird thinks there's nothing to worry about, but Snuffy says she could be hiding her true feelings.

Cartoon

Two viewers with Picasso-esque facial features in an art gallery critically examine the portrait of a viewer.
Artist: Mo Willems
(First: Episode 3442)

Muppets
The Count sings about "The First Day of School".
(First: Episode 1736)

Cartoon
A girl bring her pet iguana to school for show and tell.

Film
"We have a nice school"... with ducks.
(First: Episode 3144)

Muppets
Muppet & Kid Moment — Grover asks Katie to hug him and scratch his tummy.
(First: Episode 1653)

Cartoon
A little boy asks his big brother questions about what happens at school.
Artist: John Korty
(First: Episode 1877)

SCENE 2
The three arrive at the Day Care center; Big Bird waits on the bench outside while Snuffy takes Alice inside.




SCENE 2
cont'd
Inside, Gina and the kids greet the two. Snuffy explains to Gina how he wants to make sure Alice has everything she needs, but Gina assures they have everything set for her. Zoe furthers the assurance by pointing out the big easel, crayons, and blanket they have. Snuffy starts to leave, but hears Gina utter the word "attendance", so he decides to stay in case Alice has trouble with her name.

Song
"Some Things Are Little, Some Things Are Big"
(First: Episode 3537)

Cartoon
At a construction site, a blue man builds a cuckoo clock, which gives him his lunch.
(First: Episode 1924)

Cast
Gordon and the word "wand." (new music added)
(First: Episode 1491)

Film
Ornate Ws spin around in accompaniment to a song.
(First: Episode 2952)

Animation
Characters on a quilt form the letter W.
Artist: Karen Aqua
(First: Episode 3366)




Muppets
A series of trailers for school-related dramas are shown on WCTW's "School in the Afternoon" block.
(First: Episode 2223)

Film
"SCHOOL!" (high speed footage)
(First: Episode 3278)

Animation
A group of round crayons draws a house, and is hesitant to let a square yellow crayon join, until it draws the sun. They all cooperate to make a rainbow.
(First: Episode 3105)

SCENE 3
Big Bird waits by the door, now confused as to why Snuffy hasn't come out yet. He starts getting a little impatient.

SCENE 3
cont'd
Meanwhile, Alice has joined the others in doing "down-up" exercises. Gina, again, assures Snuffy that she's having a good time, so he leaves. Gina then leads the group into singing the Alphabet. Knowing Alice has a little trouble with the alphabet (particularly the U, V, and W), Snuffy stays again. After they all sing the alphabet together, Gina asks if anybody would like to sing by themselves. Alice volunteers, and sings through all the way without difficulty. Snuffy starts to leave again, but pauses when he hears they're playing a game...

SCENE 3
cont'd
Looking through the door, Big Bird notices Snuffy coming towards the entrance, then stopping, and ultimately stays. "What's going on in there, anyway?", Big Bird asks.

Cartoon
Kids see animals in their alphabet soup.
Artist: Michael Sporn
(First: Episode 1976)

Film
Olivia sleeps over at Iesha's house, and spend the morning together. Olivia is white and Iesha and her family is black. Next time, Iesha wants to visit Olivia's family.
(First: Episode 2756)

Cartoon
Two boys, one with brown skin and one with Caucasian-colored skin, are compared as being both same and different, by an examination of their appearance in profile, in full lighting, and in x-ray.

Muppets
Ernie and Bert: "That's What Friends Are For": Ernie sings to Bert about friends being tolerant of each other's differences, while Bert just wants to sleep.
(EKA: Episode 2073)

Cartoon
Noodles & Nedd
Noodles accidentally breaks Nedd's toy airplane, but Nedd glues it back together, and all is forgiven.
(First: Episode 3690)

Film
A girl narrates a film of helping her dad, a pilot, fly a small plane. They fly through New York City, past the World Trade Center and the Statue of Liberty.
(First: Episode 3431)

Cartoon
African quilt pattern
(First: Episode 3160)

Muppets / Celebrity
Tracy Chapman sings with the Muppets about asking questions.
(First: Episode 3702)

Film
Kids fly and form the letter W.
(First: Episode 3181)

Film
Jaws spoof with the letter W.
(First: Episode 3366)

Animation
W for water, wind, wave and wet
(First: Episode 3198)

Muppets
Little Chrissy and the Alphabeats sing "Gonna Rock You to Sleep."
(First: Episode 2980)

Film
Jodi goes to the doctor for a check-up.
(First: Episode 3526)

Cartoon
Shoes dance to a square dance tune.
(First: Episode 3450)




SCENE 4
Snuffy returns outside, where the two of them witness everyone play "Three of These Things" with a toy squirrel, teddy bear, penguin, and a drum. Snuffy knows the answer, and heads back in without hesitation. By the time Alice figures it out, Snuffy rushes in, asking her to say "the drum." She answers right away.

Cartoon
Hortense beats one drum.
Artist: Michael Sporn
(First: Episode 2570)

Muppets / Celebrity
The Count has difficulty arranging the numbers from 0 to 9 in order, because the number 1 won't keep still. Patrick Stewart helps solve his problem by commanding, "Make it so, number 1!" The line doesn't work when The Count uses it, however.
(First: Episode 3515)

Cartoon
Kids count one duck in the pond.
(First: Episode 3095)

Song
"There's a Lot of Different Ways to Get to School" (sung by Jerry Nelson)
(First: Episode 2751)

Muppets
The Two-Headed Monster reads the sign atop a miniature school building, and observes a small group of children that run out of it. Once they've left, the monster picks up the now empty building, and declares, "School's out!"
(First: Episode 1907)

Cartoon
Flash Gizmo, Space Cadet
Fast and slow
(First: Episode 3705)

Film
Fast and slow on the Shpritzer.
(First: Episode 3455)

SCENE 5
Big Bird waits outside alone again, disappointed how his friend is back inside watching Alice. Thinking they won't go to the park today, he might as well just join them, and walks in.




SCENE 5
cont'd
Big Bird greets everyone inside, where Gina explains that they're talking about their first experiences at day care. Zoe, Joe, Samantha, and Snuffy all share their stories, the latter of whom talks about how nervous and afraid he was. Snuffy further explains how after he went, he started making friends, playing games, and learning new things, and ended up feeling happy. Alice feels happy, too, so Snuffy and Big Bird finally head for the park. Gina announces the sponsors and the status of Slimey's return to Earth.

SCENE 5
cont'd
Snuffy and Big Bird walk to the park, with Snuffy commenting how Alice'll probably be all done once they get there!

COMING SOON
Coming soon on Sesame Street: Slimey celebrates his birthday in space, while the folks on Sesame Street try to connect and wish him a happy one.
Community content is available under
CC-BY-SA
unless otherwise noted.