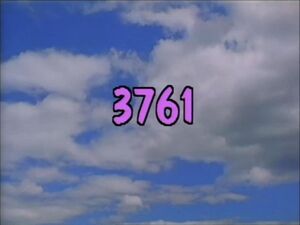 Picture
Segment
Description




SCENE 1
At Gina's Day Care center, she welcomes the viewer to Sesame Street, and reveals that Baby Bear will be spending the night at her place after daycare today, while his Mama Bear and Papa Bear go on an overnight business trip. Right now, he's going over everything in his suitcase, making sure he has his special porridge bowl and spoon, his comb and brush, and his stuffed dog Ralph. When he remembers they're going away, he starts to cry. To make him feel better, his parents also gave him a family portrait to look at while they're away tonight.

Cartoon
A family goes over their camping checklist before they leave for the woods.
(First: Episode 3411)

Muppets
Elmo sings about "Emotion in the Ocean."
(First: Episode 3532)

Cartoon
A boy puts together a fishbowl, and watches his fish swim around in it.
(First: Episode 2030)

Film
A girl helps her father train for a wheelchair race.
(First: Episode 3275)

Muppets
The Two-Headed Monster reads the word "Pop" and blows up a balloon so they can pop it.
(First: Episode 1569)

Animation
OP words (Drop / stop / top / hop / pop)
(First: Episode 2886)




SCENE 2
Zoe asks Gina why Baby Bear is sad, and Gina informs her why. Zoe understands, and so does Lexine, who tells Baby Bear that she once stayed with her grandmother when her parents went away. Everyone agrees that Gina would be fun to stay with, since she's fun to be around during the day, and she's known Baby Bear long enough to know what he likes. Baby Bear and his parents say their final goodbye, and everyone gives him another hug once his parents leave.

Song
"It's All Right to Cry"
(First: Episode 3154)

Cartoon
B for bathtub, ball, boat, boot, boomerang, brush and bison
(First: Episode 3154)

Celebrity
Patrick Stewart, in Shakespearean garb, ponders "B or not a B."
(First: Episode 3508)

Film
B for ball, bat, base and baseball
(First: Episode 3266)

Muppets
The Amazing Mumford waves his magic wand over a transparent glass cookie jar and makes the jar become full of cookies and then empty (over and over) as an anxious Cookie Monster watches.
(First: Episode 0287)

Cartoon
"The Room Is Full of Chickens"
(First: Episode 2971)




SCENE 3
Gina starts the day at daycare by taking attendance. After calling everyone's name, she leads them in counting how many people are at daycare today. Baby Bear now feels like getting another hug.

Cartoon
"Captain Spacey" counts 8 planets until the 25-cent rocket machine runs out of juice.
(First: Episode 3554)

Muppets
Big Bird displays what he did when trying to open a door he thought was stuck.
(First: Episode 3461)

Cartoon
Lightning bugs make shapes.
Artist: Fred Garbers
(First: Episode 3150)

Song
"I'm in Great Shape": Kids dance with triangles, circles and squares.
(First: Episode 3277)

Cartoon
Lots of bunnies are needed to pull the huge carrot from the ground. (new music added)
Artist: Irra Verbitsky
(First: Episode 1473)

Muppets
Muppet & Kid Moment — Jordan sings the alphabet for Grover.
(First: Episode 3563)

Animation
African quilt pattern #2
(First: Episode 3134)

SCENE 4
After another long bear-hug, Gina leads the daycare group in doing "The Arm." When the song is over, Baby Bear feels like drawing.

Cartoon
A face is drawn, but the mouth complains when it is drawn last.
(First: Episode 1897)

Muppets
Kermit sings "I Love My Elbows."
(First: Episode 2582)

Cartoon
A British man narrates how chewing gum is made in Guatemala.
Artist: ArtistMike
(First: Episode 2830)

Song
"One of These Things" (with Wegman's dogs and a poodle)
(First: Episode 3114)




SCENE 5
While the kids take a nap, Gina receives a call from Papa Bear, and she fills him in on how his son is doing. Once they hang up, Gina notices Baby Bear going "baaaa" in his sleep.

Cartoon
Number Guy: "How Many Sheep Will Jump Over My Bed?" The answer is 9.
(First: Episode 3364)

Muppets
The Count sings about how he loves counting clouds, because when he does, he's "on Cloud Nine" (literally).
(First: Episode 3382)

Cartoon
Clown Honking #9
(First: Episode 3219)

Film
A girl named Shirley performs in the circus; her father is a clown. Other acts in the circus include elephant training and elephant jumping.
(First: Episode 3529)

SCENE 6
When it's time for everyone to go home, Zoe points out to Baby Bear that they all had a good time today. Everyone leaves to get picked up by their parents, and Baby Bear starts to feel sad again. Gina mentions the things she usually does if she feels sad, which makes him realize that they're the same in a lot of ways as they both head off together.

Animation
Kids talk about families, often mentioning having rhinoceroces as pets.
(First: Episode 2759)

Film
An Indian boy narrates how Chapati bread is made.
(First: Episode 3204)

Cartoon
B for banana and ballerina
(First: Episode 2515)

Film
Alphaquest: B
(First: Episode 2706)

Cartoon
Letter B/b (bouncing circles)
(First: Episode 2222)

Muppets
Ernie sings "Dance Myself to Sleep."
(First: Episode 1705)

Cartoon
Mr. Tweak can't sleep because his neighbor above snores, and his neighbor below sneezes.
Artist: Abe Levitow
(First: Episode 0528)




SCENE 7
After a good bath, Baby Bear settles down to sleep in Gina's guest bed. He begins to miss his parents again, when Gina digs out a letter that they wrote to him to be read tonight. He looks at the family portrait while Gina reads the letter (in Papa Bear's voice), and he feels a lot better after hearing it, knowing they'll be back tomorrow. Gina kisses him and tucks him in, and he goes to sleep as she announces the sponsors.

SCENE 7
cont'd
"And Slimey's spaceship is still on its way back to Sesame Street!"

COMING SOON
Coming soon on Sesame Street: Baby Bear has a happy reunion with his parents.
Community content is available under
CC-BY-SA
unless otherwise noted.