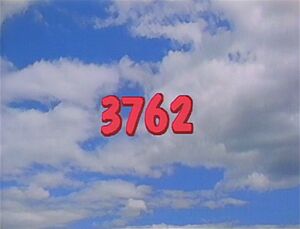 Picture
Segment
Description




SCENE 1
Gina greets the viewer, and wakes up Baby Bear to remind him that he spent the night at her place, and that his Mama Bear and Papa Bear are coming home from their business trip today! She reads another letter from them (in Papa Bear's voice), which makes Baby Bear enthusiastic to start the day.

Cartoon
Dinah from South Carolina exchanges letters with her friend Ling Lu in China.
Artist: ArtistMike
(First: Episode 2727)

Muppets
Baby Tooth and the Fuzzy Funk - Chinese dragon dance
Part 1
(First: Episode 3390)

Film
"One Thousand Faces"
(First: Episode 2894)

Muppets
Baby Tooth and the Fuzzy Funk - Chinese dragon dance
Part 2
(First: Episode 3390)

Film
The letters of the alphabet are found in signs all over the city. (ska music, child voiceover)
(First: Episode 3652)

Muppets
Grover and Mr. Johnson
Mr. Johnson asks Grover the concession stand monster for a box of popcorn. Grover asks him if he would want the big, bigger, or biggest box of popcorn. Mr. Johnson wants the big popcorn, but Grover suggests the bigger popcorn. The two have a tug-of-war over the popcorn, resulting in the biggest popcorn box falling over Mr. Johnson's head.
(First: Episode 3489)

Cartoon
Big, bigger, biggest (strongmen)
(First: Episode 0792)

SCENE 2
Baby Bear is so excited about his parents coming home, that he doesn't want to eat breakfast. The first thing he's going to do is run up to them, then hug and kiss them, but Gina tells him that he won't have the energy to do any of that if he doesn't eat his porridge ... which he then does.

Song
"You Don't Have to Be a Grizzly" explains that kids and animals can like the same foods.
(First: Episode 3398)

Animation
Characters on a quilt form the letter O.
Artist: Karen Aqua
(First: Episode 3375)

Muppets
Big Bird shows that the letter O looks the same upside-down.
(First: Episode 3479)

Cartoon
Soul O
(First: Episode 3375)

Film
A boy named Anthony and his parents are trapeze artists in a circus.
(First: Episode 3579)

Cartoon
Two cartoon cacti sing "Here We Are".
(First: Episode 3153)

Muppets
Ernie is tossing and turning in bed. He sings to the viewers how he feels "When Bert's Not Here."
(EKA: Episode 2208)

Cartoon
The story of Tommy LaPlaid, the painter so sad until he discovered the joys of kicking his paints on the canvas.
Artist: Mo Willems
(First: Episode 3208)

SCENE 3
At the daycare center, Baby Bear describes to Zoe what it was like staying overnight at Gina's, and is so excited he can't contain himself. Gina suggests they all draw something, and Baby Bear decides to draw a picture to give to his parents when they come home. Gina shows them a picture of the letter O, which is the first thing they'll draw.

Cartoon
O for open, off, owl, ocean
(First: Episode 3091)

Muppets
Director Kermit is filming Oklahoma with Forgetful Jones as the star. Forgetful is supposed to enter sing "Oklahoma!" but sings "Aklahoma!", "Eeklahoma!" and "Iklahoma!" instead. When he finally gets it right, the production assistant says it's time for lunch.
(First: Episode 2544)

Animation
Horses appear in the clouds as Vivaldi music plays.
(First: Episode 3637)

Animation
Cecille sings "The Game of Make Believe."
(First: Episode 2864)

Film
A girl writes to her grandmother about going to summer camp.
(First: Episode 3270)

Song
"Counting Alarm Clock"
(First: Episode 3090)

Muppets
Muppet & Kid Moment — Samantha talks to Grover about what she does when she gets angry.
(First: Episode 3531)

Cartoon
"Mad Goat Song"
Artist: Derek Lamb
(First: Episode 0771)




SCENE 4
Baby Bear has finished his drawing, and becomes impatient for his parents to return, then angry. Gina tells him it's okay to be angry, then whips out yet another letter from his parents, who let their son know they love him even when he's angry. Baby Bear feels a lot better after hearing that, and decides to keep the letter forever. Next, they're all going to draw the number 15.

Cartoon
Rap #15
(First: Episode 2567)

Film
15s on sticks cascade toward the camera as boats race by on a river on the background.
(First: Episode 3280)

Film
Kid mural painting #15
(First: Episode 3649)

Animation
Can you find the birds in this picture?
(First: Episode 3514)

Film
Joe Raposo sings "Dressed Up."
(First: Episode 0302)

Muppets
The Two-Headed Monster sounds out the word "hop" and starts hopping.
(First: Episode 1482)

Song
"Jump" (soul)
(First: Episode 3136)

Cartoon
A girl fantasizes what she could do without leaving her room if her nose, ears, legs, and arms got bigger.
(First: Episode 3285)

Song
An ode to D-A-D.
(First: Episode 3583)




SCENE 5
All the kids leave to be picked up by their parents, but Baby Bear's still haven't arrived yet ... until now! They greet each other with open arms. Baby Bear feels proud of what he's accomplished, and thanks Gina for helping him through it all.

Film
A group of girls do a playground cheer ("Ooh I'm so happy!").
(First: Episode 3017)

Muppets / Celebrity
Jim Carrey shows Elmo and Telly how he expresses his emotions - with his feet (in speed-induced footage, no less).
(First: Episode 3023)

Cartoon
Christopher Clumsy demonstrates the things feet can do.
(First: Episode 0455)
Artist: Cliff Roberts

Song
"Papermaking Song"
(First: Episode 3563)

Cartoon
A girl imagines being next to a tree, a house and a car. "Now I'm going over there," she says. "There's nothing here to be next to!"
(First: Episode 0782)

Muppets
Cookie Monster sings "You Made Me Love You."
(First: Episode 3456)

Animation
The word "LOVE" in various situations.
(First: Episode 3569)

SCENE 6
Gina finishes tidying up the daycare center, and finds another letter from Papa Bear, this time for her. She reads it in his voice, and the letter thanks her for taking care of their son, and mentions today's sponsors.

SCENE 6
cont'd
"And Slimey's spaceship is still on its way back to Sesame Street!"

COMING SOON
Coming soon on Sesame Street: Oscar and Grundgetta appear on the Sally Messy Yuckyael show, as "Grouches who love too much." Grundgetta reveals that next, Oscar sang her ... a love song!