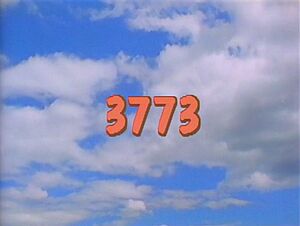 Picture
Segment
Description

SCENE 1
A grumpy Benny Rabbit is on his way back to work at the Furry Arms Hotel, when he overhears everyone having fun in Gina's day care center. He never went to day care himself (rabbits don't have it), so he looks through the window, and seems to enjoy what he sees.




SCENE 1
cont'd
Gina comes outside and, noticing he looks sad, invites him into day care. He declines at first, but then summons his inner child and accepts the invitation (but first he has to go get his crayons).

Cartoon
Soul A!
(First: Episode 3359)

Muppets
Big Bird gives Grover 30 seconds to find the Letter A. Grover has a hard time, especially with the "big pink thing-a-ma-jig" in the way.
(First: Episode 3640)

Cartoon
A man is allergic to the letter A.
(First: Episode 3311)

Film
A girl narrates a film of herself taking care of her horse, Strawberry.
(First: Episode 2641)

Muppets
Two flowers, a bird, and two bunnies sing "That's How I Got Here."
(First: Episode 2983)

Cartoon
How Andy Fritz Ate the Sun.
Artist: ArtistMike
(First: Episode 2730)

SCENE 2
Gina introduces Benny to her day care group, which includes Baby Bear and Frazzle. Gina explains why Benny is joining them today, and notices that Frazzle is nervous because of the size of Benny's ears. She gets everyone to agree that Benny's ears are neat, and so is everyone else's ears. Benny is especially looking forward to the rabbit story Gina will be reading later.

Film
How to say "bunny rabbit" in sign language
(First: Episode 3300)

Muppets
Guy Smiley hosts "What's Prairie's Problem?" in which contestants try to figure out why Prairie Dawn can't use one of her senses (i.e., which part of her face is covered).
(First: Episode 2466)

Cartoon
Ralph asks Marvin what would happen if he didn't have a mouth, a nose and ears.
(First: Episode 0468)

Song
Everyone has the same feelings, "No Matter What." Kids of all types play with a huge beach ball.
(First: Episode 2782)

Animation
"We Are Kids From Far and Wide": A girl describes the preparation for the Galungan festival in Bali, Indonesia.
(First: Episode 2750)

Film
A boy dances his way into his family's portrait.
(First: Episode 3129)




SCENE 3
It's "Family Show and Tell Time," which is when everyone shows pictures of their families. Baby Bear shows a picture of his family, and then Benny tries to remember how many siblings he has, so the others help him count them as he names them. He then displays pictures of some of his other relatives, and everyone notices that Frazzle is still freaked out by long ears.

Song
"Bunny Shadow"
(First: Episode 3699)

Muppets
The Two-Headed Monster looks at its own SHADOW.
(First: Episode 2578)

Song
Joe Raposo sings "Take a Breath." (re-filmed version)
(First: Episode 2518)

Muppets / Celebrity
Kadeem Hardison says the alphabet with Natasha.
(First: Episode 2787)

Cartoon
A baby and father illustrate up and down.
(First: Episode 2687)

Film
A three-year-old African boy narrates a film about a day in his life.
(First: Episode 3267)

Animation
A/a (Gordon voice-over)
(First: Episode 2240)

Muppets
Muppet & Kid Moment — Cookie Monster asks Jawhara what letter they're holding.
(First: Episode 3234)

Film
A for action, acrobat, art, artichoke, and applause.
(First: Episode 3266)

Cartoon
Lillian discusses the adjustments she had to make when her parents had a new baby. She ultimately appreciates her sister.
Artist: Craig Bartlett
(First: Episode 2746)




SCENE 4
Gina serves cookies and milk to everyone, and Benny is very reluctant to try them at first, but he really enjoys them when he does, so much that he jumps for joy.

Song
"You Don't Have to Be a Grizzly" to eat some honey!
(First: Episode 3398)

Muppets
Elmo uses his cardboard bus to demonstrate front and back, when the bus crashes.
Part 1

Film
A group of girls do a playground cheer ("One step forward, one step back").
(First: Episode 3031)

Muppets
Elmo puts his bus back together, this time to demonstrate fast and slow, but he crashes the bus again.
Part 2

Cartoon
The dancing birds dance fast and slow.
Artist: Karen Aqua
(First: Episode 3072)

Muppets
Cookie Monster sings "Eating Cookie" -- there's another reason every season.
(First: Episode 3467)

Cartoon
African quilt pattern
(First: Episode 3145)

SCENE 5
After Gina has read the rabbit story, everyone is wearing paper rabbit ears, and Frazzle has overcome his fear of them. Gina counts the "rabbits," including herself, and everyone starts hopping around.

Cartoon
POP loves to BOP.
Artist: Joey Ahlbum
(First: Episode 3519)

Film
Ernie & Bert — Ernie plays a game of tag with Bert, who is reading his book.
(First: Episode 1026)

Cartoon
"Fourteen Desert"
Artist: Joey Ahlbum
(First: Episode 3267)

Muppets
Worms in Space make the number 14.
(First: Episode 3736)

Cartoon
Abstract count to 14
(First: Episode 2811)

Film
Kids draw a map of their neighborhood, and then learn how maps are really made.
(First: Episode 2760)

Muppets
"It is I, Captain Vegetable!"
(First: Episode 1741)

Cartoon
The Carrot (censored version)
Artist: Bruce Cayard
(First: Episode 1132)




SCENE 6
Gina treats everyone to carrots, and asks Benny how his day was. Benny loved it, even though he's grown up, and asks her if he can come back sometime ... like tomorrow. Gina announces the sponsors, and Benny reports the status of Slimey's spaceship.

COMING SOON
Coming soon on Sesame Street: Baby Bear wakes Ruthie up so that everyone can surprise her.
Community content is available under
CC-BY-SA
unless otherwise noted.