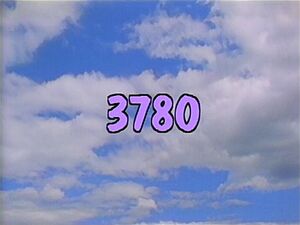 Picture
Segment
Description




SCENE 1
Telly looks inside his Triangle Lovers Club newsletter, and sees something incredible. Maria wonders what it is, and he shows that it's an announcement for a tongue-twisting contest, which Telly wants to enter so he can win a triangular trophy. Maria explains to him what a tongue-twister is, and he learns that he has to be able to say "Ten tiny triangles tip-toed through the tulips." They both say it slowly, but when he tries saying it faster, he fumbles all over the place.

Cartoon
Alice Kadeezenberry learns how to throw a ball by watching others do it.
Artist: Paul Fierlinger
(First: Episode 3714)

Muppets
Elmo sees a butterfly, and wants to give it a kiss.
Part 1
(First: Episode 3658)

Song
Lillian sings "Face Facts."
(First: Episode 2760)

Muppets
Muppet & Kid Moment — Cookie Monster asks Jahwara to point to parts of her head.
(First: Episode 3260)

Animation
Two girls who jump rope look the same until they get colored with different skin, but they have the same reaction when their hair gets pulled.

Muppets
Elmo continues chasing the butterfly.
Part 2
(First: Episode 3658)

Cartoon
L for Laugh (new music added)
Artists: Vincent Cafarelli & Candy Kugel
(First: Episode 2767)

Film
L is for look, legs, light, lemonade, and ladybug.
(First: Episode 3427)

Cartoon
"L" for "Large" and "l" for "little" (new music and sound effects added)
(First: Episode 1455)

Muppets
Ernie has Grover assist him in demonstrating opposites in song, but Grover suffers more than Ernie does.

Film
The floating kids form a triangle.
(First: Episode 3122)

Muppets
Elmo continues chasing the butterfly, vowing not to give up.
Part 3
(First: Episode 3658)

SCENE 2
Rosita learns about the tongue-twisting contest Telly is practicing for, and reveals that she coached her mommy in a similar contest, so she's more than willing to help him out. She starts by having him practice saying the tongue-twister slowly.

Cartoon
Flash Gizmo, Space Cadet
Fast and slow
(First: Episode 3705)

Muppets
Elmo notices that the butterfly is chasing him now.
Part 4
(First: Episode 3658)

Song
"Exploring in Your Closet"
(First: Episode 3132)

Muppets
Elmo continues chasing the butterfly.
Part 5
(First: Episode 3658)

Cartoon
Letter L Animals' Limerick
(First: Episode 3740)

Muppets
Worms in Space: Slimey and his fellow worm astronauts make a capital "L" and a lowercase "l."

Cartoon
A strange poem with L words.
(First: Episode 3740)

Muppets
Elmo looks for the butterfly, not knowing it's landed on his head.
Part 6
(First: Episode 3658)

Film
How to say "butterfly" in sign language
(First: Episode 3341)

Muppets
Right when Elmo gives up chasing the butterfly, it gives him a kiss, which makes Elmo want to give it a hug.
Part 7
(First: Episode 3658)

SCENE 3
Telly has become good at saying the tongue-twister slowly, so she tells him to say it a little faster every time. He does so, and becomes more confident.

SCENE 3
cont'd
Rosita leaves, and Maria checks up on Telly. He tries saying the tongue-twister again, but fumbles like he did before. He realizes that he needs Rosita around in order to say the tongue-twister while at the contest, so Maria tries to find her, while Telly rushes off to the contest.

Cartoon
A girl practices to roller skate over many days.
(First: Episode 3556)

Film
A boy named Anthony and his parents are trapeze artists in a circus.
(First: Episode 3579)

Cartoon
Donnie Budd sings about three trios of animals who live on a fat lady's lap.
Artist: Bud Luckey
(First: Episode 0299)

Film
Three kids dance for the number 3.
(First: Episode 3167)

Cartoon
The One Two Three Dogs do circus stunts.
(First: Episode 1480)

Muppets / Celebrity
Count von Count and his team of coaches count how many times David Robinson can dribble the basketball.
(First: Episode 3472)

Cartoon
Ball-dribbling characters count the feet on a wall ruler.
Artist: Bill Davis
(First: Episode 3227)

Film
A girl narrates a film of herself swimming.
(First: Episode 3611)

Muppets
Kingston Livingston III sings "Just Happy to Be Me."
(First: Episode 3178)

Cartoon
At the Pride Day Ceremony, Donald is waiting to describe his proudest accomplishment, and is initially unsure of himself next to other impressive students. He finally proudly acclaims his achievement, tying his shoes all by himself.
Artist: John Korty
(First: Episode 2085)

SCENE 4
Telly has arrived at the contest, and nervously awaits Rosita. The Grand High Triangle Lover makes a grand entrance with the noisy Norman, and welcomes all contestants and spectators. He tries telling the contestants which tongue-twister they have to say, but Norman has to help him out.




SCENE 4
cont'd
The GHTL introduces Tyrone from 110th Street, and Elizabeth from Flatbush, and has them say the tongue-twister. Tyrone says it flawlessly, but Elizabeth doesn't.

SCENE 4
cont'd
Telly, the last contestant, is nervous, until Rosita shows up. After Telly says the tongue-twister flawlessly, he and Tyrone are now the two finalists. Whoever says it the fastest (after the break) will win the triangular trophy!

Cartoon
Lillian is proud because she climbed a mountain all by herself.
Artist: Craig Bartlett
(First: Episode 2749)

Muppets
Cookie Monster has a riddle: what do you get when you have one cookie between two cookies? A cookie sandwich!
(First: Episode 3209)

Animation
On a computer, a boy draws a sun setting between the mountains.
(First: Episode 3059)




SCENE 5
The second round of the contest commences, and Tyrone takes his turn. Telly then takes his turn, and is declared the winner! When he goes up to receive his trophy, Rosita follows him and congratulates him on saying the tongue-twister, but when she says it herself, Norman notices how fast she said it, and the GHTL gives her the trophy instead! Each time Telly and Rosita say the tongue-twister faster than the other (by accident), the GHTL hands the trophy back and forth. Norman then says it (by accident), and gets the trophy handed to him, but then Telly and Rosita say it together, and are given the trophy to share.

Cartoon
The dancing birds dance fast and slow.
Artist: Karen Aqua
(First: Episode 3072)

Film
Jerry Nelson, Roscoe Orman and Fran Brill narrate "Great Moments at the Sink," in which Timothy brushes his teeth.
(First: Episode 3689)

Cartoon
In a circus setting, a girl becomes excited about getting her first loose tooth.
Artist: Steven Fonti
(First: Episode 3266)

Muppets
Big Bird practices playing "catch" with himself, using a basket full of tennis balls. When he throws the last ball in the basket, he catches it!
(First: Episode 3492)

Video
Fay demonstrates addition by placing 3 balls on a table.
Artist: William Wegman
(First: Episode 2615)




SCENE 6
Maria and a girl wait for Telly to come back from the contest. They come back and tell Maria all about their crazy experience. The GHTL announces the sponsors and reports the status of Slimey's spaceship, and the credits roll.

COMING SOON
Coming soon on Sesame Street: Snuffy and Carlo are amazed when they see Alice pointing to a pinwheel and making it spin with air!
Community content is available under
CC-BY-SA
unless otherwise noted.