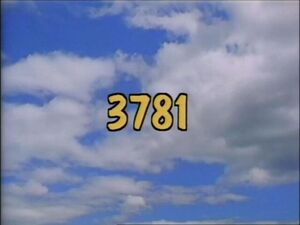 Picture
Segment
Description




SCENE 1
Gordon welcomes the viewer in the arbor as he plays the Sesame Street Theme on his flute, when he hears a large gust of wind. Gordon finds out (the hard way) that it's Alice, who blows down Gordon and his sheet music. Snuffy arrives, and explains that Alice is learning how to blow through her snuffle. Gordon recommends that Snuffy be the one to teach her how to control it.

Cartoon
Dr. Annie Eyeball looks at air.
Artist: Bruce Cayard
(First: Episode 2592)

Film
On a windy day, Maria (in voice-over) asks a man (Bill Irwin), "Does air move things?" The wind speaks for him.
(First: Episode 2876)

Muppets
Caribbean Anything Muppets sing about "Caribbean Air."
(First: Episode 2688)

Cartoon
G For Giggle (new sound effects added)
(First: Episode 0357)

Muppets
Zoe spots a group of letters galloping by, and wonders which letter it is. She tells Celina what it looks like, and Celina says it's the letter G.
(First: Episode 3377)

Film
G for go, girls, guitar, goldfish etc.
(First: Episode 3269)

Cartoon
A boy's friends bring him flowers to cheer him up, not knowing that he's allergic to them.
(First: Episode 1524)




SCENE 2
At the park, Snuffy gives Alice her first lesson: pointing her snuffle towards her front. Since she doesn't know how (she keeps pointing her other body parts out), Snuffy demonstrates what a snuffle is. Alice gets it, but then turns around and points her snuffle in the wrong direction.

Cartoon
A girl dances with a tiger.
Artist: Karen Aqua
(First: Episode 3387)

Muppets
Elmo, Zoe, Rosita, Telly, Baby Bear, Herry Monster and Frazzle sing "You Tickle Me."
(First: Episode 3744)

Cartoon
A concert pianist shows up in a construction worker's lunchbox, singing the alphabet.
(First: Episode 0449)

Song
"Some Things Are Little, Some Things Are Big"
(First: Episode 3537)

Cartoon
The story of Tommy LaPlaid, the painter so sad until he discovered the joys of kicking his paints on the canvas.
Artist: Mo Willems
(First: Episode 3208)




Celebrity
Nadja Salerno-Sonnenberg spots Big Bird and Miles looking sad, and interprets how they feel by playing the violin. When she finishes playing, she reveals that she has the baseball they lost.
(First: Episode 3580)

Animation
Cecille sings "The Game of Make Believe."
(EKA: Episode 2864)

Film
Wegman's dogs make their own peanut butter and jelly.
(First: Episode 3749)

Muppets
Ernie & Bert — In order not to disturb Bert while reading, Ernie wears headphones to listen to the radio. Now Bert can't hear anything... except Ernie singing along very loudly.
(First: Episode 3193)

Film
Kids play loud and soft notes on the Shpritzer.
(First: Episode 3428)




SCENE 3
Alice is still turned the wrong way, so Snuffy teaches her the difference between "front" and "back" by turning around. Alice picks up on it, but she begins blowing her snuffle out of control, and knocks down a penguin in her path!

Animation
Luxo Jr. displays its front and back, eventually getting exhausted.
(First: Episode 3279)

Muppets
Little Chrissy and the Alphabeats sing "Cluck Around the Clock."
(First: Episode 2817)

Cartoon
Fish form G and g.
(First: Episode 3112)

Film
Kids on a jungle safari spot an ornate G swing through the trees.
(First: Episode 3498)

Animation
G / g Gregorian chant
(First: Episode 3328)

Song
Jerry Nelson sings "I'm the Big One Now."
(First: Episode 2876)

Cartoon
A girl tries on big, bigger, and the biggest shoes. (new music added)
Artist: Bruce Cayard
(First: Episode 0252)




SCENE 4
Carlo has noticed that Alice has been blowing leaves around the park, and Snuffy tells him what he's been trying to teach her, and that he's giving up; she's getting on his nerves. Carlo encourages him to keep trying, and Snuffy has two kids, including Lexine, bring a pinwheel. Snuffy uses the pinwheel to demonstrate the "point-and-blow" method. Alice does the same, and gets her blowing right! Snuffy remarks, "You go, girl!"

Cartoon
"Big Sneeze" - a man destroys everything in his path when he sneezes.
Artist: Paul Fierlinger
(First: Episode 1579)

Muppets
Elmo watches as Grover tries to demonstrate next to with a wily mailbox which keeps moving away from Grover. When they can't catch it, Elmo points out that he and Grover are next to each other.

Cartoon
An elephant, a zebra, a hedgehog, an ostrich, a frog and a ladybug create a rhythm with their footsteps.
Artist: Karen Aqua
(First: Episode 2794)

Film
Kid mural painting #17
(First: Episode 3639)




Muppets
Worms in Space
The worms form the number 17.

Cartoon
Number creatures 17
(First: Episode 2745)

Song
Leon Redbone sings "What Do They Do When They Go Wherever They Go?"
(First: Episode 3312)

Cartoon
"I Have a Purple Bucket"
(First: Episode 3467)




SCENE 5
Back at the Arbor, Snuffy and Alice show Gordon what Alice has learned. Alice demonstrates by blowing Gordon's sheet music away, but not by accident; this time, she meant to do it. Snuffy offers to pick the music back up, and announces the sponsors, which Alice blows away.




SCENE 5
cont'd
Snuffy also mentions that Slimey's spaceship is still on its way back to Sesame Street. Alice spies the penguin again, and aims her snuffle to blow him down.

COMING SOON
Coming soon on Sesame Street: Elmo recalls a time when he and Slimey danced with each other.
Community content is available under
CC-BY-SA
unless otherwise noted.