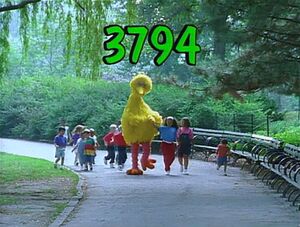 Picture
Segment
Description




SCENE 1
Big Bird greets the viewer, then greets Luis, who has his guitar. Little by little, everyone on Sesame Street gathers around and joins him as he plays and sings "Sing." Once everyone leaves, Rosita tells Luis that she is enchanted by his guitar playing, and wants to learn how to play the guitar. Luis says he'll loan her one of his spare guitars, and she becomes excited.

Cartoon
A mouse riding an armadillo sings a song about 13, his lucky number.
(First: Episode 2828)

Film
Milo Counting #13
(First: Episode 3553)

Animation
Abstract count to 13.
(First: Episode 2809)

Film
Kids play loud and soft notes on the Shpritzer.
(First: Episode 3428)

SCENE 2
While waiting, Rosita imagines making beautiful music on the guitar and earning praise from Big Bird, Baby Bear, Zoe, Oscar the Grouch and some kids.

Animation
A string quartet tunes up before it plays "Mary Had a Little Lamb."
(First: Episode 3744)

Muppets
Sesame Street Goes to Day Care
Elmo and Martel sing the alphabet.

SCENE 3
Rosita invites everyone to listen to her play the guitar as she sings "Sing," but she sounds awful when she does so. She realizes that she needs to practice, and runs off.

Animation
In a Van Gogh painting, a baby takes its first steps to Papa.
(First: Episode 3492)

Insert
The Tokyo String Quartet and some kids show how important it is to practice, as Big Bird provides voiceover.
(First: Episode 3290)

Cartoon
A hand draws a guitarist serenading a maiden, as well as the background.
(First: Episode 0791)

SCENE 4
Rosita has difficulty sounding like Luis when she practices the guitar, and thinks that the guitar must be damaged.

Muppets
Ernie and Bert sing "La, La, La."
(First: Episode 0321)

Cartoon
A strange poem with L words.
(First: Episode 3715)

Song
"L Rings My Bell"
(First: Episode 3580)

SCENE 5
Rosita gives the guitar one last chance to make good music, then calls Luis for help.

Film
Wegman's dogs: Old King Cole
(First: Episode 3448)

SCENE 6
Rosita tells Luis that the guitar doesn't work, but he finds it works when he plays it. Rosita is frustrated that she can't play as good as Luis. He explains to her that he's been practicing for years, and has had guitar lessons. He offers to teach her how to play, and she feels better.

Cartoon
Suzie Kabloozie sings "Sing."
Artist: Mo Willems

SCENE 7
Luis gives Rosita her first guitar lesson. He starts by teaching her how to play a chord and strum. Having learned that, she runs off.

Song
"It's a Long Hard Road, But I'm Gonna Get There."
(First: Episode 3398)

Muppets
Grover recites a poem about a bubble.
(First: Episode 3155)

Film
L is for look, legs, light, lemonade, and ladybug.
(First: Episode 3427)




SCENE 8
Gina displays the letter L to Big Bird, Zoe and Baby Bear, and they name some L words. Rosita shows up, announces that she can now play the guitar, and then forgets where to place her fingers to make the chord. She runs off to Luis, whose name also begins with L.

Cartoon
L for Laugh (new music added)
Artists: Vincent Cafarelli & Candy Kugel
(First: Episode 2767)

Film
At the harbor, kids learn about dolphins, and how to communicate with them using signals.
(First: Episode 3010)

Cartoon
Musicians in a painting learn to cooperate to play music.
(First: Episode 3460)




SCENE 9
Rosita feels like she'll never play the guitar as good as Luis, but he offers to let her try playing part of a song along with him. They cooperate while playing "Sing," and everyone cheers her on as she does her part.

Muppets
Elmo's World: Shoes
(First: Episode 3791)

SCENE 10
At night, Luis sings a Spanish version of "Sing," and Rosita plays her part on the guitar. Big Bird announces the sponsors.
Alterations
Picture
Segment
Description

Film
A girl uses an instant camera to take pictures of her friends, who demonstrate several emotions.
(First: Episode 3582)
This segment replaced the film about dolphins during summer reruns.

Muppets
Elmo's World: Music
(First: Episode 3824)
This segment replaced Elmo's World: Shoes during summer reruns.
Notes