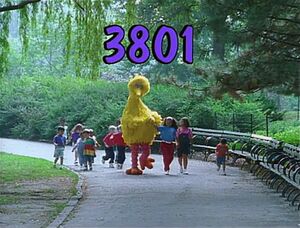 Picture
Segment
Description

SCENE 1
Telly and Rosita admire Maria working at the Fix-It Shop. They're inspired to become fix-it monsters and ask to borrow her tools. She refuses (they're too dangerous), so Rosita gets her toy tools instead.

Song
"When You Grow Up"
(First: Episode 2912)

Muppets
Big Bird announces it's T time, segueing to...

Cartoon
T for Turtle (new music added)
Artist: Jeff Hale
(First: Episode 1146)

Film
Kids dance with the letter T, which is for triangle.
(First: Episode 3271)

Animation
A picture puzzle of the letter T is put together. A man walks up to it, and calls a taxi.
(First: Episode 2933)

Muppets
Big Bird: "T is for tool...Maria taught me that."

Animation
Colored tools build a house out of colored rectangles, squares and triangles.
(First: Episode 3263)

SCENE 2
Telly and Rosita set up their own Fix-It Shop in the arbor. They make sure they have everything they need...except customers.

Muppets
Ernie & Bert — Bert says that he's going to demonstrate quiet by talking quietly to Ernie. But when he tries, Ernie claims that he can't hear what Bert is saying. Finally, Bert gets frustrated and shouts at Ernie; Ernie tells Bert not to be so loud.
(First: Episode 0150)

Cartoon
Household appliances count 1-10 and 10-0.
(First: Episode 2840)

SCENE 3
The Count happens by the monster's shop, which is just what he needs: he counts their ten toy tools. He bids them farewell ("Fix well and prosper.") and heads off. The monsters decide they need find someone who needs something fixed.

Animation
"Hammer Time with Hammer"
(First: Episode 3179)

SCENE 4
Rosita and Telly check if Marcus' tricycle needs fixing (it doesn't).

Cartoon
Two girls sing a reggae rendition of the alphabet.
(First: Episode 3269)

Muppets
Elmo and Zoe watch Jock Soto and Lourdes Lopez cooperate to dance ballet, and dance with them.
(First: Episode 3621)

Cartoon
Esme's wooden clown breaks, and she is about to throw it away, when it suggests she use glue to fix it.
Artist: Lisa Crafts
(First: Episode 2843)

SCENE 5
The monsters find out Nicole's watering can isn't broken either.

Film
The people in your neighborhood, as demonstrated by Wegman's dogs. Today, the auto mechanic, whose treatment of a customer's car is dubious.

Film
The floating kids form a capital T.
(First: Episode 3121)

Cartoon
Gordon's Voiceover 'T/t': Two caterpillars form T and t.
(EKA: Episode 2223)




SCENE 6
The monsters offer to fix Gordon's broken toaster, but he thinks that should be left to professionals and suggests they find something simpler to fix. A man comes by, needing his T fixed. The monsters are eager to help, until they see his T is a complex machine. Big Bird passes by on his way to Maria's to get his birdhouse door fixed and the monsters call out for him.

Song
"Zero Song": A female voiceover sings about the food that keeps being taken away to make 0.
Arist: Jane Aaron
(First: Episode 3003)

Muppets
Muppet & Kid Moment — Cookie Monster asks Lexine what 0 is.
(First: Episode 3249)

Cartoon
A coach gives a pep talk to the number zero.
Artist: ArtistMike
(First: Episode 3725)




SCENE 7
Big Bird explains how Maria fixes his birdhouse: five gentle taps of her hammer on the hinges. He leaves it with them, since their business hasn't been thriving. The monsters think they'll do well, but demolish the house with one hit of their squeaky hammer. They desperately try to piece it back together.

Song
"It's a Long Hard Road, But I'm Gonna Get There." (Vocals by Jerry Nelson)
(First: Episode 3398)

Cartoon
A little boy describes a time when he got angry after his toy truck was destroyed by a big kid. (new sound effects added)
Artist: ArtistMike
(First: Episode 2764)

SCENE 8
Big Bird comes to check on his birdhouse, only to find it in shambles. He feels upset over its condition, as do the monsters for doing a poor job. Maria comes by and offers to help the situation.

Song
Leon Redbone sings "What Do They Do When They Go Wherever They Go?"
(First: Episode 3312)

Cartoon
Bud the Bird flies above and below in a bumper car.
Artist: Lisa Crafts
(First: Episode 2901)

SCENE 9
Maria puts the birdhouse together and instructs Telly and Rosita as they hammer the hinges (while taking turns). They decide to stick around to get some on-the-job training.

Muppets
Elmo's World: Dancing

SCENE 10
Maria helps Rosita with a screwdriver as Telly announces the sponsors.
Community content is available under
CC-BY-SA
unless otherwise noted.