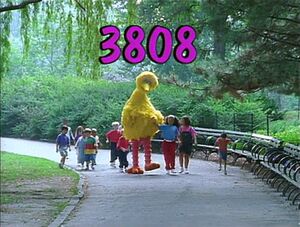 Picture
Segment
Description

SCENE 1
Big Bird wants to play with Snuffy, and Baby Bear wants to play with Telly. However, Snuffy and Telly can't come.

Cartoon
Suzie Kabloozie sings "Somebody Come and Play".
(First: Episode 3786)

Muppets
Ernie and Rubber Duckie say hello to the viewer.

Film
Two sisters make their own buildings, both with paper and blocks.
(First: Episode 3686)

Cartoon
A concert pianist shows up in a construction worker's lunchbox, singing the alphabet.
(First: Episode 0449)

SCENE 2
On the stoop of 123 Sesame Street, Bob and the kids sing "Sing After Me" with Big Bird and Baby Bear. Big Bird and Baby Bear part ways.

Film
Kids play loud and soft notes on the Shpritzer.
(First: Episode 3428)

Muppets
Ernie asks about The Number of the Day.
(First: Episode 3786)

Cartoon
In Egypt, three lemons make lemonade.
(First: Episode 3285)

Muppets
Muppet & Kid Moment — Grover learns that Carrington is 3 years old.
(First: Episode 3261)

Cartoon
A little girl counts the reasons why she likes the number 3.
(First: Episode 3532)

SCENE 3
Baby Bear and Big Bird come to Hooper's and tell Alan about their problems. Alan suggests an obvious solution, and the two are skeptical about playing with each other -- but not for long.

Cartoon
Two boys, one with brown skin and one with Caucasian-colored skin, are compared as being both same and different, by an examination of their appearance in profile, in full lighting, and in x-ray.
(First: Episode 3757)

SCENE 4
Big Bird pretends to be Telly for Baby Bear, and Baby Bear pretends to be Snuffy for Big Bird. They enjoy saying hello.

Cast
Luis and Maria sing "You Say Hola and I Say Hola."
(First: Episode 2062)

Film
Counting from 10-0 (Latin rhythm) (Spanish dub)
(First: Episode 3048)

SCENE 5
Since Big Bird can't pogo stick, the two consider giving up. Instead, however, Baby Bear pogos and Big Bird counts the boings.

Song
"Jump" (soul)
(First: Episode 3136)




SCENE 6
Snuffy's book of nursery rhymes is too big for Baby Bear, but he tries it anyway. He can't hold it, but he can still read it from underneath it.

Film
Wegman's dogs: Little Jack Horner
(First: Episode 3460)

Muppets
Ernie reads a poem about big and small, introducing a Teeny Little Super Guy segment.

Animation
Teeny Little Super Guy notices his friend Alice wanting to join a baseball game. He gives her the idea to go over there and ask them if she can play.
Artist: Paul Fierlinger
(First: Episode 1900)

Muppets
Robin Williams asks Elmo and the kids whether they would allow a nonsense talking, horned two-headed stranger to play baseball with them. The Two-Headed Monster shows up to play.
(First: Episode 2795)

Cartoon
"b" is for bat and ball (and break). A girl imagines herself playing baseball. (new sound effects added)
(First: Episode 1131)

Film
(song) Ornate Bs around the neighborhood and at the beach.
(First: Episode 3266)

Cartoon
B for banana and ballerina
(First: Episode 2515)

SCENE 7
After discussing their Telly-related and Snuffy-related activities, they hear Miles leading a letter B cheer. Now they have their own game to play: "Buh Buh Buh Buh Big Bird! Buh Buh Buh Buh Baby Bear!"

Cartoon
The citizens of Begonia Park have the blues, until a bus with flying Bs arrives. The Bs make everyone happy with some foods that start with B.
Artist: ArtistMike

Film
Alphaboy: B - A bumpy bicycle ride.
(First: Episode 3401)

Muppets
Ernie and Rubber Duckie laugh out loud, thinking the previous segment was funny.

Film
Kids in Jamaica play bongo drums.
(First: Episode 3160)




SCENE 8
Telly and Snuffy can't play the Letter B cheer game, until they discover they're the Bestest Buddy and Biggest Buddy.

Muppets
Elmo's World: Jackets
(First: Episode 3806)

SCENE 9
Taking turns, Baby Bear, Big Bird, Telly and Snuffy read the sponsors and play the Letter B Cheer game.
Alterations
Community content is available under
CC-BY-SA
unless otherwise noted.