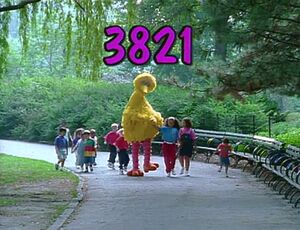 Picture
Segment
Description

SCENE 1
Big Bird and Snuffy look for something to do today, when they spot Nicole giving a crayon drawing to Maria. She intends to hang it on her fridge and shows it to Gina as she passes by. The two friends are inspired to make a fridge-worthy picture for Gina and go to get their art supplies.

Animation
Pencil box G / g
(First: Episode 3042)

Film
G for go, girls, guitar, goldfish etc.
(First: Episode 3269)

Cartoon
Letter G drawing with kid voice-over. (new music added)
(First: Episode 0306)

Film
A boy draws a picture of his friend, Kerry.
(First: Episode 2776)

SCENE 2
The kids help Big Bird and Snuffy set up their large piece of drawing cardboard in the arbor. The two argue over using a red crayon, when they decide to take turns.

Animation
"We Are Kids From Far and Wide": A girl describes the preparation for the Galungan festival in Bali, Indonesia.
(First: Episode 2750)

Muppets
Ernie & Bert — Ernie tells Bert to stand still in front of the camera so that he can "trace" Bert's face on the screen. (new sound effects added)
(First: Episode 0536)

Film
Wegman's dogs portray one of The People in Your Neighborhood: The House Painter

SCENE 3
Big Bird and Snuffy have finished drawing some apples and a bus, but Snuffy isn't sure how to write the word "BUS." Big Bird points him toward the following film:

Animation
The word BUS is displayed, followed by a graphic of a school bus leaving.
(First: Episode 3052)

SCENE 3 cont'd
Big Bird is impressed with Snuffy's writing. Snuffy then adds himself and Gina into the bus, while Big Bird makes a dinosaur eating the apples.

Cartoon
A dinosaur tries to eat an apple on a tree. A group of kids keep telling him to "GO HIGHER!"
(First: Episode 2908)

Film
Eight children dance in a colorblock grid.
(First: Episode 3115)

Animation
"The King of Eight"
(First: Episode 0225)

Cartoon
Eight buttons are counted on a monkey's shirt.
Artist: Owe Gustafson
(First: Episode 1452)

Muppets
Elmo sings "Right in the Middle of My Face" while walking through an animated art gallery.
(First: Episode 3130)

Cartoon
Where does the cow live? (Maria voiceover)
(First: Episode 3396)

SCENE 4
Big Bird and Snuffy run out of room on their cardboard, meaning the drawing is finished!

Muppets
Cookie Monster paints a cookie so that he can compare for the audience how true the likeness is to the real thing. After he shows how he even got every little macaroon, he eats both the cookie and the painting.
(First: Episode 3746)

Cartoon
The story of Tommy LaPlaid, the painter so sad until he discovered the joys of kicking his paints on the canvas.
Artist: Mo Willems
(First: Episode 3208)

SCENE 5
Big Bird, Snuffy and the kids bring the drawing to Gina's apartment and point out the different landmarks included in it (including The King of 8's castle). Gina says it's too big for her living room, but they say it's for her fridge.

Animation
G / g Gregorian chant
(First: Episode 3328)

Animation
Computer G / g
(First: Episode 3112)

Cartoon
Fish form G and g.
(First: Episode 3112)

Muppets
Ernie's Show and Tell: Nicole shows Ernie a picture she made with SpinArt.

Cartoon
A heart that says "I love you" is drawn.
(First: Episode 1971)

SCENE 6
The drawing turns out to be too big for the fridge, as well as obstructs the couch. "What about your bathroom?," Big Bird asks.

Cartoon
A boy talks about his big dog, that will be his best friend no matter what size it will have.
(First: Episode 3791)




Muppets / Celebrity
Angel Corella dances the Ballet Alphabet, while Telly, Zoe and Elmo name the letters.
(First: Episode 3785)

Cartoon
"In and Out Crowd"
Artist: Sally Cruikshank
(First: Episode 2612)

SCENE 7
Since there's no proper place for the picture, they decide to bring it outside so everyone can see it. This also lets Gina think of a proper solution.

Cartoon
Parts of a face are drawn in black on-screen before forming a picture.
(First: Episode 3320)

SCENE 8
As everyone admires the drawing in the arbor, Snuffy decides it can hang on his fridge back in his cave and Gina can visit anytime she wants.

Muppets
Elmo's World: Jackets
(First: Episode 3806)

SCENE 9
Gina admires the picture some more as Big Bird and Snuffy announce the sponsors.