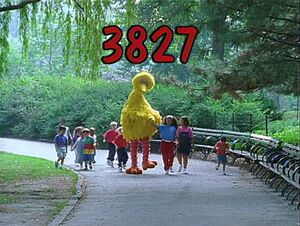 Picture
Segment
Description

SCENE 1
Prairie Dawn is watching Rosita, Elmo, and Telly bouncing up and down shouting "Wubba Wubba Boing Boing!" Maria joins them and welcomes the viewers to Sesame Street. Prairie tells Maria she wishes that she (Prairie) could play, but it is a monster game and she is not a monster. Elmo and the other monsters invite Prairie to join them, and demonstrate to her how it's done. Despite encouragement from Maria, Prairie can't quite get the hang of it.

Animation
A group of round crayons draws a house, and is hesitant to let a square yellow crayon join, until it draws the sun. They all cooperate to make a rainbow.
(First: Episode 3105)

Muppets
Big Bird introduces the letter of the day.

Film
Alphaboy fans his father's feet with feathers.
(First: Episode 3442)

Cartoon
Letter F words are found on the street.
(First: Episode 3353)

Animation
F / f (space paint)
(First: Episode 3215)

Muppets
Ernie sings "Imagine That" about things that he sometimes imagines to be: first a knight in shining armor who battles a dragon, then a sailor, and finally, himself.
(First: Episode 2142)

Cartoon
African quilt pattern
(First: Episode 3145)

SCENE 2
Prairie still doesn't have the hang of "Wubba Wubba Boing Boing." Maria tries to help by suggesting that in her imagination, Prairie could pretend to be a monster. When that doesn't help, Maria suggests that Prairie ask the monsters for help.

Song
"The First Time" - Children try various activities (riding tricycles, tying shoes, etc.) and progressively improve.
(First: Episode 2950)

Muppets
Big Bird recites a poem by Radar, introducing Cecille the Ball.

Animation
Cecille sings "The Game of Make Believe."
(First: Episode 2864)

Muppets
Cookie Monster surprises the viewers by not eating a plate of cookies. Once the audience understands surprise, he then reverts to form and eats the cookies.
(First: Episode 3528)

Cartoon
Kids and animals alternate in passing letters over themselves, in an alphabet song.
Artist: Karen Aqua
(First: Episode 3740)

SCENE 3
Prairie asks Elmo, Rosita, and Telly for help with "Wubba Wubba Boing Boing." To demonstrate how to feel monstery, the monsters show her how to do the "Monsterena."

Cartoon
A girl fantasizes what she could do without leaving her room if her nose, ears, legs, and arms got bigger.
(First: Episode 3285)




Muppets
Monsters in Day Care: Herry learns "I'm a Little Teapot" and teaches it to the other monsters in Monster Daycare.
(First: Episode 3789)

Muppets
Big Bird and Radar introduce the Number of the Day.

Cartoon
A cartoon mouse riding an armadillo sings "Lucky Thirteen."
(First: Episode 2828)

Film
Milo Counting: 13
(First: Episode 3553)

Cartoon
Rap #13
(First: Episode 2547)

SCENE 4
Prairie is frustrated by her inability to do the Monsterena, since its popularity extends beyond monsters. She realizes that she doesn't have fur, so Elmo, Telly and Rosita decide to give her a monster makeover.

Film
"Fixin' My Hair"
(First: Episode 2734)

Cartoon
The letter F morphs into cartoon faces. (new sound effects added)
(First: Episode 2916)

Film
The letter F appears, Jaws-like, out of a swimming pool.
(First: Episode 3353)

Cartoon
Typewriter: F for Fly
(First: Episode 0781)

Muppets
Big Bird asks the viewer to come closer because he's glad you're here. He and Radar decide they want to watch a dancing segment next.

Film
A girl dances a butterfly dance.
(First: Episode 3681)

Cartoon
A woman serves milk to her cat. Several other cats join him, including a lion. (new music added)
Artist: Bruce Cayard
(First: Episode 1017)

SCENE 5
Prairie emerges from her monster makeover as Prairie Monster. When that still does not improve her "Wubba Wubba Boing Boing", they suggest that she watch "The Monster in the Mirror."

Muppets
Grover sings "Monster in the Mirror" assisted by several celebrities including The Simpsons, Whoopi Goldberg, and Ray Charles.
(First: Episode 2835)




SCENE 6
Prairie becomes so frustrated at her inability to feel monstery that her anger finally releases her inner monster. She joins Rosita, Telly, and Elmo in singing "Monster in Me." When the song's finished, she starts shouting "Snifflemeyer!" over and over, while Elmo heads for his world.

Muppets
Elmo's World: Books
(First: Episode 3817)

SCENE 7
Telly and Rosita join Prairie in expressing their inner monsters by shouting "Snifflemeyer," while Maria announces the sponsors.