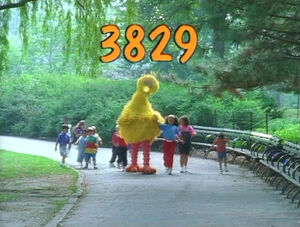 Picture
Segment
Description




SCENE 1
Gina and the kids come up with rhymes for "pet" by Oscar's trash can. Oscar wants them to leave, but encourages Gina to give Fluffy a turn. She comes up with a good rhyme - "wet," as she sprays Gina with water.

Cartoon
What Do You Do With a Pet?
(First: Episode 0465)

Film
A child in a classroom draws a picture of her dog Puck, and goes over the care required to keep a pet. A Bert and Baby Fozzie plush can be seen in the little girl's bedroom.
(First: Episode 2853)

SCENE 2
Baby Bear, Rosita and Zoe cheer for the letter I.

Cartoon
Pencil box I/i
(First: Episode 2890)

Muppets
Monsterpiece Theater: The King and I
(First: Episode 2727)

Film
The McDouble twins know how to help each other.
(First: Episode 3213)

Muppets
Ernie's Show and Tell: Patrick shows Ernie his rubber duckie collection.

Cartoon
A story/song about a duckling who wants to join the others playing at the water's edge.
(First: Episode 2852)

Film
What sound does a duck make?
(First: Episode 3298)

Muppets / Celebrity
R.E.M. sings "Furry Happy Monsters."

Cartoon
Two viewers with Picassoesque facial features in an art gallery critically examine the portrait of a viewer.
Artist: Mo Willems
(First: Episode 3442)

SCENE 3
The cheerleaders now recite a cheer about the number 12.

Film
Ornate 12s sail through the air.
(First: Episode 3274)

Animation
Clown Honking #12
(First: Episode 3210)

Film
A girl named Shirley performs in the circus; her father is a clown. Other acts in the circus include elephant training and elephant jumping.
(First: Episode 3529)

Cartoon
Ball-dribbling characters count the feet on a wall ruler.
Artist: Bill Davis
(First: Episode 3227)




SCENE 4
Stinky the Stinkweed and Susan watch as Gina measures the kids and Big Bird (the latter of whom she needs to break out the measuring tape for). Stinky gets measured next and finds he's a mere one foot tall, which doesn't please him; he wants to be bigger! He begins stretching to try to get taller.

Song
"We're All Growin'"
(First: Episode 3141)

Animation
Flower pattern - what goes in the middle?
(First: Episode 3802)

SCENE 5
Stinky goes out to eat at Hooper's Store, hoping some water will help him grow. Elmo then rushes in with a problem - his ice cube is getting smaller. Alan explains that the ice melted and offers to refreeze it. Instead, Stinky drinks it up and ponders other ways he could grow.

Animation
The word ICE is formed with ice cubes, which melt.
(First: Episode 1177)

Cartoon
Two hippie kids wonder how to make their droopy plant grow.
Artist: Len Glasser
(First: Episode 1484)

Song
"They're Not Alive"
(First: Episode 3661)

SCENE 6
The cheerleaders now introduce an Ernie and Bert scene...

Muppets
Ernie & Bert — Before going to bed, Ernie prepares a long list of items he may need in the middle of the night. However, he covers his bed with so many things, there's no room for him to sleep, so he pushes Bert out of his bed.

Animation
Sand I/i
(First: Episode 0619)

Animation
Ornate I's swing through the air to a song.
(First: Episode 2921)

Cartoon
CGI sheep graze out I and i.
(First: Episode 2896)

SCENE 7
Stinky now gets some sunshine. Zoe and Baby Bear rush to Alan with a "cheerleader crisis" - Rosita's gone to the bathroom, leaving them one cheerleader short! Alan recommends Stinky, who thinks he's too small. Baby Bear points out the only criteria is being loud, which Stinky can manage just fine. Together, they all cheer for an upcoming aardvark film...

Song
Joe Raposo sings "I'm an Aardvark."
Re-filmed version
(First: Episode 2520)

Muppets
Grover asks Elmo to help him remember part of the alphabet. Elmo gets all the way to Y, but Grover at least knows the letter Z.
(First: Episode 3783)

Cartoon
"The Wasteroon Song" - three water drops complain about people wasting water, calling them "Wasteroons."
Artist: ArtistMike
(First: Episode 2851)

SCENE 8
Stinky and the gang continue to cheer, until Stinky grows a new flower!

Muppets
Elmo's World: Books
(First: Episode 3817)

SCENE 9
Everyone recites the sponsors with a cheer.