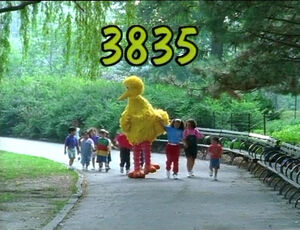 Picture
Segment
Description




SCENE 1
Alan decides to deliver Gina her lunch, but Baby Bear comes ordering porridge. Zoe offers to make the delivery in her Zoemobile.

Cartoon
Name That Food, hosted by Don Carrot. The object of the game is to identify foods that appear on a screen and then eat that food. One of the contestants is willing to eat every food shown, while the other contestant refuses.
(First: Episode 1491)

Muppets
Big Bird tells a poem by Radar which introduces Cecille the Ball.
(First: Episode 3827)
cut from the Noggin version

Animation
Cecille sings "Up Down, In Out, Over and Under."
(First: Episode 2746)
cut from the Noggin version

SCENE 2
Zoe tells Gina how she wants to be a delivery monster, so Gina makes her a "Deliveries" sign.

Film
The word TAXI drives a mother and daughter home.
(First: Episode 3589)

Muppets
Big Bird asks Radar what he wants to watch next.
(First: Episode 3828)
cut from the Noggin version

Song
To the original Fats Waller recording of "I'm Gonna Sit Right Down and Write Myself a Letter," a group of kids act out the song in a throwback to the silent film era.
(First: Episode 3659)
cut from the Noggin version




SCENE 3
Zoe the Delivery Person Monster mails a letter for Miles, who helps her to use the mailbox.

Cartoon
Dinah from South Carolina exchanges letters with her friend Ling Lu in China.
Artist: ArtistMike
(First: Episode 2727)
cut from the Noggin version

Muppets / Celebirty
Telly, Elmo and Baby Bear congratulate Terrell Davis on his great game, but he learns that he isn't quite done, since he hasn't yet said the alphabet.

Cartoon
A number of kids named Joe play sports. Joanne plays kickball.
Artist: John Korty
(First: Episode 1871)

SCENE 4
Zoe delivers the viewer the Letter of the Day, Z, and a Z word.

Film
Kid jungle explorers sight a wild Letter Z.
(First: Episode 3496)

Cartoon
Chant Z/z
(First: Episode 3332)

SCENE 5
Zoe delivers Jim, a lost worm, to Oscar. The worms are building a playground. Slimey left his hammer at Hooper's, so Zoe gets another task.

Song
"Playground Map Song"
(First: Episode 2680)

Muppets
Big Bird says that Radar is ready to see the Number of the Day.
(First: Episode 3827)

Cartoon
The jungle creatures dance and form a 20.
Artist: Karen Aqua

Film
Growing Numbers #20
(First: Episode 2967)
cut from the Noggin version

Cartoon
Number creatures 20
(First: Episode 2687)

SCENE 6
Zoe is tired of being the Delivery Monster, so Telly volunteers to take over using his pogo stick. However, Zoe falls asleep before she tells him who the tiny hammer is for.

Cartoon
Mr. Tweak can't sleep because his neighbor above snores, and his neighbor below sneezes.
Artist: Abe Levitow
(First: Episode 0528)




Muppets
Herry and Rosita sing a monster lullaby to their dolls. The lullaby works on Herry, who grows eyelids.

Cartoon
A man (Marty Robinson) has a small octopus on his head, but a little boy (Joey Mazzarino) has a big octopus.
Artist: Mo Willems
(First: Episode 3270)

SCENE 7
Even though Maria can't find her own hammer, it's clear that the hammer Telly is delivering isn't for her.

Cartoon
"Hammer Time with Hammer".
(First: Episode 3179)

SCENE 8
Even though Baby Bear plays with a wee little toolset, the hammer is too small to be his.

Cartoon
A television reveals many Z words.
(First: Episode 3699)

Muppets
Muppet & Kid Moment — Cookie Monster and Lexine identify a letter Z.
(First: Episode 3296)

Cartoon
The Letter Z in various typefaces.
(First: Episode 2855)

Muppets
Big Bird asks the viewer to come closer because he's glad you're here. Next: dancing.
(First: Episode 3827)

Cartoon
A lizard, a girl and a dog dance.
Artist: Karen Aqua
(First: Episode 2795)

Film
William Wegman: The Ten O'Clock Scholar
(First: Episode 3529)

SCENE 9
Telly goes looking for Zoe, who delivers Slimey to Telly and apologizes.

Muppets
Elmo's World: Water
(First: Episode 3831)

SCENE 10
The Delivery Monsters bring Slimey back, who returns to his hard work. Zoe announces the sponsors.
Community content is available under
CC-BY-SA
unless otherwise noted.