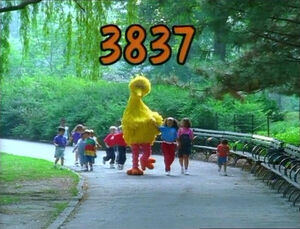 Picture
Segment
Description

SCENE 1
Gina tries to announce the sponsors, but before she can mention today's number, Baby Bear, Telly and Elmo appear in costume. They claim to be "The Three 3-Keteers," who devote their lives to the number 3 and declare it the number of the day. They head off looking for more number 3s.

Song
"Explore With Me" (reggae)
(First: Episode 3531)

Muppets
Ernie and Rubber Duckie are ready to count.
(First: Episode 3813)

Cartoon
"Three Waltzing Chickens"
Artist: Bruce Cayard
(First: Episode 1183)

SCENE 2
The Number 3 enjoys a nice drink, when she's approached by the 3-Keteers. They're starstruck and assist her in throwing away her juice box.

Film
Song: It's number 3 (on trike/on hike)
(First: Episode 3136)

Animation
Three taxi chairs
(First: Episode 3119)

Muppets
Ernie loves and is tickled by Rubber Duckie.
(First: Episode 3786)

Film
A boy recites his poem, "Rabbits, Trees and Water."

SCENE 3
Prairie Dawn reminds the viewer that today is also sponsored by the letter U, for words such as umbrella...

Cartoon
The Typewriter: U for Umbrella
Artist: Jeff Hale
(First: Episode 0808)

SCENE 3 cont'd
Prairie continues boasting about the letter U, claiming it should even be honored with a song...
This scene is immediately repeated between the next two segments.

Celebrity
Melissa Etheridge sings "Like the Way U Does."
(First: Episode 3529)

Muppets
Ernie & Bert — Ernie sings "Happy Birthday" to a letter U, which blows out the candle on the cake.
(First: Episode 1306)

SCENE 3 cont'd
Prairie concludes her letter U celebration and thanks the viewer for their attention.

Film
Wegman dogs: The Ten O'Clock Scholar
(First: Episode 3529)

Muppets
Count von Count holds a counting class in his castle, where he teaches students the different ways they can count. The kids are very enthusiastic, but the Count goes too far when he forgets to dismiss class as he counts the school bell's rings.

Film
Kids walk IN and OUT of a school.
(First: Episode 3561)




SCENE 4
The 3-Keteers show off various items they've found in threes, but can't seem to find any others. Telly points out there's three of them, so they count themselves. They find new ways to count themselves by changing positions.

Animation
Cecille sings "I Wanna Be Me."
(First: Episode 2791)

Muppets
Sesame Street Goes to Day Care
Big Bird and Navona sing the alphabet song.

Animation
African quilt pattern #2
(First: Episode 3134)

Muppets
Ernie and Rubber Duckie introduce Suzie Kabloozie, especially because they enjoy saying her name.
(First: Episode 3786)

Cartoon
Suzie Kabloozie sings "Sing."
Artist: Mo Willems
(First: Episode 3794)




SCENE 5
Telly's a little tired of counting themselves and wants to find something else to count. Mama Bear and Papa Bear arrive, allowing them to count three bears. They come across a problem: no matter which group Baby Bear is in, the other group will have only two. To solve the problem, they recruit Gina to be an honorary 3-Keteer and they count the bears.

Cartoon
A seal and a bear fight over a circus ball, but learn to cooperate.
Artist: Frank Gresham
(First: Episode 3282)

Muppets
Ernie and Rubber Duckie introduce the next segment.

Film
Puzzle pieces make a video of a bear.
(First: Episode 3085)

Cartoon
Students raise their hands and name words that begin with "U."
Artist: Fred Garbers
(First: Episode 3553)

Song
"My Friend U"
(First: Episode 3705)

Cartoon
U knocks on the door of P's apartment. When she answers the door, they go UP.
Artist: ArtistMike
(First: Episode 3658)

SCENE 6
The 3-Keteers come to Hooper's Store for lunch, but they can't agree on a meal they can all have (since they have to do things in threes). Alan helps out by suggesting they have "three snacks," so each one can have what they want. But now, they don't know what to drink...

Song
"Drink of Water"
(First: Episode 2545)

Animation
"Step right up and find my voice!" A girl plays a carnival game in which she pushes buttons to identify which sound each animal makes.
(First: Episode 3736)

Film
Cooperation: A girl gets a coconut handed down to her from a tree, by people on different-size stilts.
(First: Episode 3404)

SCENE 7
The 3-Keteers each realize they have other obligations and replace themselves with Miles, Gabi and Tarah.

Muppets
Elmo's World: Books
(First: Episode 3817)

SCENE 8
Gina introduces the "new 3-Keteers," who announces the sponsors.
Community content is available under
CC-BY-SA
unless otherwise noted.