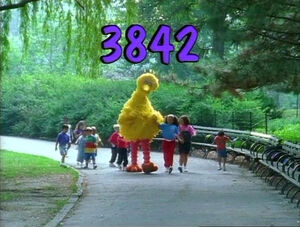 Picture
Segment
Description




SCENE 1
Rosita and Telly arrive at the Fix-It Shop for their checker game with Maria, only to find she's now swamped with toasters to fix. Maria then proposes the monsters go on a scavenger hunt and bring back three unique items, but must do so before she finishes fixing all the toasters. The first item on the list is a saxophone. They realize their only sax-playing friend, Hoots the Owl, is on tour, so it's off to find a different saxophone!

Song
"Explore With Me" (reggae)
(First: Episode 3531)

Muppets
Zoe, in her Zoemobile, introduces the letter of the day.
(First: Episode 3819)

Animation
Pencil Box B / b
(First: Episode 3040)

Muppets
Sesame Street Goes to Day Care
Big Bird and Navona chat about the letter B.

Animation
B / b candles
(First: Episode 3111)




SCENE 2
The monsters decide to split up and look for a saxophone. Rosita looks all over the arbor and Telly looks around 123 Sesame Street. They even ask Alan and Susan, who seem confused by their requests. They regroup, empty-handed, and continue their search together...

Cartoon
Musicians in a painting learn to cooperate to play music.
(First: Episode 3460)

Muppets
Zoe introduces a sketch with Cookie Monster.

Muppets
Cookie Monster sings "Eating Cookie" -- there's another reason every season.
(First: Episode 3467)




Film
Flamingos walk around to classical music. (new child voiceovers added)
(First: Episode 2498)
Telly and Rosita appear over the film at the beginning, searching for their next item.

Muppets
Zoe has trouble saying the alphabet, and asks for an alphabet segment to be shown.

Film
A karate team punches out the alphabet.
(First: Episode 3421)

SCENE 3
Telly and Rosita still look around, when a beatnik Anything Muppet points them toward the following segment...

Film
A saxophone is made in a factory, while a solo saxophone underscores the process. (voiceover re-recorded)
(First: Episode 1446)

SCENE 3 cont'd
Telly walks to the screen and borrows a saxophone from the film. The monsters rush over to show Maria.

Animation
Cecille sings "I'm Gonna Get to You."
(First: Episode 2873)

Film
What sound does a baby chick make?
(First: Episode 3419)

Muppets / Celebrity
Béla Fleck performs a concerto for banjo and two chickens.

Cartoon
A pig sings "There Are Chickens in the Trees" until a rooster tells him that chickens don't live in trees.
Artist: Jeff Hale
(First: Episode 1394)

Muppets
Zoe has trouble counting, and asks for a counting segment to be shown.

Cartoon
A peacock counts 20 feathers on his tail.
(First: Episode 0406)

SCENE 4
The monsters present Maria with their saxophone. She shows them the next item on their list - the number 7 - and points out she's halfway through her toaster work.

Cartoon
The Alligator King
Artist: Bud Luckey
(First: Episode 0411)

SCENE 5
The monsters overhear Big Bird and the Birdketeers counting to 7 and interrupt the meeting. They see Big Bird has a number 7 and he lets them borrow it for their hunt.

Muppets
Zoe introduces a Grover sketch.
(First: Episode 3836)

Muppets
Grover demonstrates up and down by getting the curtain at the theater to raise and lower.
(First: Episode 3242)

Cartoon
"Up and Down with Captain Brown"
(First: Episode 2493)

SCENE 6
The monsters present Maria with their 7 and she checks it off their list. She helps them read the last item on the list: a Rubber Duckie. They wonder where to find one and realize...Ernie! Telly hears some quacking nearby and thinks they won't need to see Ernie after all...

Cartoon
A pencil tries to write the word DANCE.
Artist: Fred Garbers
(First: Episode 1966)




Film
Ducks swim and fly.
Music: Chopin's Valse Op. 64, no. 2
(First: Episode 2510)
Telly and Rosita appear over the movie and find there aren't any rubber duckies in it. They head off to Ernie's instead.

Cartoon
A story/song about a duckling who wants to join the others playing at the water's edge.
(First: Episode 2852)

SCENE 7
The monsters stop outside 123 Sesame Street and hear Ernie singing, meaning he's occupied with his Rubber Duckie at the moment...

Muppets
Ernie sings "Rubber Duckie." (re-filmed version)

SCENE 7 cont'd
With the song finished, Telly and Rosita go inside to ask him.

Film
Kids observe different kinds of bugs and flowers.
(First: Episode 3696)




SCENE 8
Ernie permits them to borrow his Rubber Duckie and they show it to Maria, who checks it off their list. Ernie immediately phones Maria to bring back his Duckie and the phone spits out bubbles (he's calling from the bathtub).

Film
Alphaboy: B - A bumpy bicycle ride.
(First: Episode 3401)

Cast
Ruthie, in a bee costume, flies around and presents the letter B.

Cartoon
Letter B/b (bouncing circles)
(First: Episode 2222)

Muppets
Bip Bipadotta sings about "Air."
(First: Episode 2568)

Film
Fay Ray moves clockwise and ticks, until an alarm sounds.
(First: Episode 2597)

SCENE 9
The monsters are ready to find their last item, until they see they've found them all. They tell Maria the scavenger hunt was too easy, so Maria adds a harder thing to find: a pig in a cowboy hat driving a motorboat. On cue, a pig (Joey Mazzarino) shows up to the shop in his motorboat, which is on the fritz.

Muppets
Elmo's World: Books
(First: Episode 3817)

SCENE 10
Telly and Rosita tell Maria how much they enjoyed the game and they all try to announce the sponsors, until the pig speeds by and beats them to it.
Community content is available under
CC-BY-SA
unless otherwise noted.