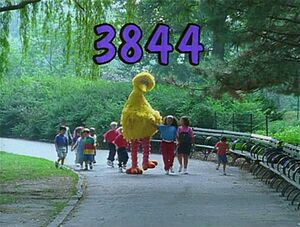 Picture
Segment
Description

SCENE 1
Baby Bear welcomes the viewer to Sesame Street, and Telly comes over to play with him, but Baby Bear is busy packing a suitcase, because he and his parents are going up to Bear Mountain for the Bear family reunion -- which means he won't be back for two whole days. They both go over the contents of his suitcase.

SCENE 1
cont'd
When Baby Bear finishes packing, Papa Bear shows up in his camper to pick him up ... and Baby Bear and Telly realize that they have to say goodbye to each other, which they aren't ready for.

Cartoon
A family goes over their camping checklist before they leave for the woods.
(First: Episode 3411)

Muppets
In a poem, Ernie shows his front and back, and introduces the next segment.

Animation
Y: Yuri, a yellow yak, eats yams and yogurt.
(First: Episode 3381)

Film
Y for yell, yellow, yodel
(First: Episode 3456)

Animation
Characters on a quilt form the letter Y.
Artist: Karen Aqua
(First: Episode 3381)




SCENE 2
Baby Bear and Telly are distressed at the thought of being away from each other for two whole days, especially since they wanted to sing the alphabet together. Papa Bear gives them time to do so, but when they're done, they still don't want to say goodbye, because Telly wants to show Baby Bear a triangle he recently got.

Muppets
Ernie asks Rubber Duckie what word he wants to see next. The answer, though long, is "Exit."

Animation
A Keith Haring mural comes to life after some kids EXIT.
(First: Episode 3006)

Muppets / Celebrity
R.E.M. sings "Furry Happy Monsters."
(First: Episode 3829)

Cartoon
A baby demonstrates 'happy,' 'surprised' and 'sad.'
(First: Episode 3396)




SCENE 3
Telly proudly displays his new triangle to Baby Bear. When they're done admiring it, Telly remembers that they wanted to count to 10 today, so they beg Papa Bear for more time.

Film
Looking for triangles in the city (Maria voiceover)
(First: Episode 2696)

Muppets
Ernie and Rubber Duckie are glad the viewer is here.
(First: Episode 3816)

Animation
Airplanes carve the capital and lowercase letter Y.
(First: Episode 3199)

Film
Jaws spoof with the letter Y.
(First: Episode 3323)

Animation
Planet Y / y
(First: Episode 2859)




SCENE 4
Their begging pays off, and they count to 10, dragging it out as long as they can. But now it's really time for Baby Bear to go, so he and Telly say goodbye ... in different languages.

Cartoon
Flash Gizmo, Space Cadet
Fast and slow
(First: Episode 3705)

Muppets
Rosita and Elmo answer the question: what is a friend?

Film
A girl draws a picture of her friend Amelia.
(First: Episode 2784)

Muppets
Ernie and Rubber Duckie introduce the number of the day.
(First: Episode 3786)

Film
Seven kids dance on a playground to the same beat.

Cartoon
Rap #7
(First: Episode 2506)

Film
Milo Counting: 7
(First: Episode 3595)




SCENE 5
Baby Bear and Telly run out of ways to say goodbye, and they part ways. Telly panics, but Alan tells him a story about being away from his best friend all summer when he was a kid. He missed his friend, but he did things to make himself feel better, which is what Telly should do. Telly usually has a bowl of porridge with Baby Bear around this time, but Alan suggests that the two of them could have one while Telly tells him stories about Baby Bear.

Cartoon
"Felines"
(First: Episode 3278)




Muppets / Celebrity
Big Bird and Slimey reminisce about the time Slimey went to the moon. In a flashback, Big Bird stands on the roof with Tony Bennett, who sings "Slimey to the Moon."
(First: Episode 3756)

Animation
Luxo Jr.: Heavy and light
(First: Episode 2860)




SCENE 6
At Hooper's, Telly finishes his porridge, and recalls fond memories of Baby Bear, including the times he taught Telly how to growl like a bear and fetch like a dog. He also taught Telly how to give bear-hugs, one of which he gives to Alan.




SCENE 6
cont'd
Just then, the phone rings. It's Baby Bear, calling from a gas station to check in on Telly! It turns out that Baby Bear is handling the separation in the same way Telly is -- by telling stories about Telly to his parents. They hang up, and Telly continues to tell Baby Bear stories to Alan.

Muppets
Elmo's World: Water
(First: Episode 3831)

SCENE 7
By night, it's time to close Hooper's, but Telly then remembers that Baby Bear usually announces the sponsors with him at this time.