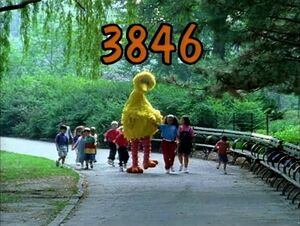 Picture
Segment
Description

SCENE 1
Maria catches Rosita trying to use her wings to fly like the birds. Rosita thinks that since everyone in her family has wings, she should be able to fly. But when Maria asks if any of Rosita's family members actually can fly, she realizes that none of them can. Rosita is upset about not being able to fly, so Maria takes her to someone who will understand how she feels ... someone who happens to be a big bird.

Cartoon
A determined little boy makes several attempts to fly, and eventually gets his dad to take him on an airplane. (new music added)
(First: Episode 1871)

SCENE 2
Rostia and Maria walk in on Big Bird conducting a Birdketeer meeting. Big Bird understands why Rosita is upset - after all, he and the Birdketeers can't fly either, no matter how much they flap their wings, but they still have fun flapping their wings.

SCENE 2
cont'd
After leaving the nest, Rosita is determined to find other things to do with her monster-wings.

Cartoon
Lillian is proud because she climbed a mountain all by herself.
Artist: Craig Bartlett
(First: Episode 2749)

Muppets
Zoe, in her Zoemobile, introduces the letter of the day.
(First: Episode 3819)

Film
Kid jungle explorers sight a wild letter S.
(First: Episode 3504)

Cartoon
The letter S grows on a vine.
(First: Episode 3278)

Muppets
Sesame Street Goes to Day Care
Telly and Vincent think of S words.

Animation
A white pipe-cleaner family is wary of their new green neighbors. When they see the two babies playing together, they warm up to each other.




SCENE 3
At Hooper's, Alan has become exhausted from moving boxes into the store. Rosita runs into him, and thinks about what to do with her wings while flapping them. Alan points out that her wings can generate a cool breeze which feels refreshing to him after all that hard work. Rosita feels proud of her newfound talents -- so proud that she flaps her wings faster and blows Alan away! "Maybe I'll just go buy a fan," he says as Rosita leaves.

Muppets
Monsterpiece Theater: "Gone With the Wind"
(First: Episode 2410)

Cartoon
Dr. Annie Eyeball looks at air.
Artist: Bruce Cayard
(First: Episode 2592)

Muppets
Zoe, in her Zoemobile, introduces an alphabet segment.
(First: Episode 3819)

Film
The letters of the alphabet are found in signs all over the city. (new soundtrack)
(First: Episode 3652)

SCENE 4
Rosita meets Tarah, and tells her about her quest for wing uses. It reminds Tarah of what she goes through, being in a wheelchair. She can't walk with her legs, but she can still race with her friends. Rosita can't run very fast, but Tarah suggests maybe she could go faster if she flapped her wings. She turns out to be right!

Song
"I'm a Little Airplane," with film of kids pretending to be airplanes.
(First: Episode 3266)

Muppets
Zoe, in her Zoemobile, introduces the number of the day.
(First: Episode 3819)

Cartoon
Number creatures 20
(First: Episode 2687)

Film
Growing Numbers #20
(First: Episode 2967)

Cartoon
The jungle creatures dance and form a 20.
Artist: Karen Aqua
(First: Episode 3835)

Muppets / Celebirty
Gloria Estefan sings "You Say Hola and I Say Hola."
cut from the Sprout version

Cartoon
A white boy hangs out with his Latino friend.
(First: Episode 1471)
cut from the Sprout version

SCENE 5
Big Bird and the Birdketeers give Rosita her own Birdketeer hat, and invite her to come "fly" with them. They all sing "We're Flying" as they pretend to do so.

Song
"See Like a Bird" (Robin)
(First: Episode 3682)

Cartoon
S for scribble, scrub, scrunch, splash, spring, spin, stomp, scream, stop, sorry
Artist: Fred Garbers
(First: Episode 3504)

Song
"S, You're the Best"
(First: Episode 3551)

Cartoon
Seymore the snail presents himself.
Artist: Mo Willems
(First: Episode 3756)

Muppets
Zoe introduces an Ernie and Bert segment.
(First: Episode 3840)

Muppets
Ernie & Bert — Bert is trying to read his book when Ernie starts singing a song about addition. As Ernie sings, he's joined by Cookie Monster and Grover, some cows, an elephant, and a Martian. At the end of the song, Ernie leaves Bert with a room full of singing monsters and animals.

Cartoon
The word OPEN is spelled out in jack-in-the-boxes.
(First: Episode 3561)

SCENE 6
A proud Rosita shows Maria the things she's learned she can do with her wings, including making wind, running faster, pretending to fly ... and giving hugs.

Muppets
Elmo's World: Balls
(First: Episode 3786)

SCENE 7
Maria likes hugging Rosita, but she has to get back to work soon. Big Bird announces the sponsors.
Alterations
Picture
Segment
Description

Muppets / Celebrity
On the stage at Birdland, Telly scats with Joe Williams. (beginning edited)
(First: Episode 2260)
This segment replaced "You Say Hola" in the Sprout version.

Cartoon
A St. Bernard helps Zork down a snowy hill, later finding out that Zork wanted to go skiing.
Artist: ArtistMike
(First: Episode 2738)
This segment replaced "Same and Different Friends" in the Sprout version.