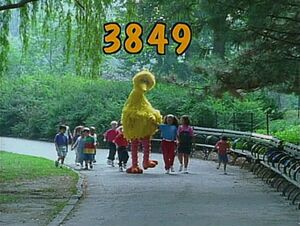 Picture
Segment
Description

SCENE 1
Maria welcomes the viewer to Sesame Street, announces today's sponsors, and reveals that Gabi will be babysitting Baby Natasha today. Gabi has gathered a few items for her babysitting job, including her favorite childhood book and toy. Humphrey almost forgets to drop off Natasha at the Fix-It Shop as he leaves, and Gabi takes her to the garden.

Song
"Mommy's Lap"

Cartoon
Geronimo 10-0: Instead of a parachute, she has a helicopter propeller.
(EKA: Episode 2363)

Muppets
Ernie and Rubber Duckie bumpers — Ernie and Rubber Duckie say hello to the viewer.

Animation
Flower pattern - what goes in the middle?
(First: Episode 3802)




SCENE 2
Gabi shows Natasha some of the flowers in the garden, and Stinky accidentally frightens Natasha when he greets her. Gabi shows Natasha that Stinky is not dangerous or scary, and that he's different from other plants yet he's also the same as Natasha in some ways. Natasha is no longer scared of Stinky, so they play a game of "Plant-a-Boo."

Muppets
Ernie and Rubber Duckie introduce the letter of the day.
(First: Episode 3813)

Cartoon
P, for peas
(First: Episode 3485)

Cartoon
P for Penguin (new music added)
Artist: Jeff Hale
(First: Episode 1190)

Animation
P for paper, point, poke, paint, pat, peel
(First: Episode 3066)

SCENE 3
Big Bird encounters Gabi as she's about to feed Natasha, and asks if he can help. Natasha refuses to eat her baby food, so Gabi and Big Bird try it themselves, and they like it. Suddenly she wants some, so Gabi gives it to her (and Big Bird as well!).

Cartoon
Kids see animals in their alphabet soup.
Artist: Michael Sporn
(First: Episode 1976)

Muppets / Celebrity
Garth Brooks, Herry Monster and the daycare monsters sing "Together, We'll Make Music."
(First: Episode 3814)

Muppets
Ernie recites a poem which introduces the next Wegman dogs segment ...
(First: Episode 3813)

Film
Wegman dogs: The Ten O'Clock Scholar
(First: Episode 3529)




SCENE 4
Gabi reads her book to Natasha, "Hear the Duckie." The first page reads "See the duckie"; the second reads "Pet the duckie" and the final page reads "Hear the duckie," with a button that makes a duck sound effect which attracts a real duck! Gabi reads the book again to Natasha, Big Bird, and the duck.

Muppets
Ernie loves and is tickled by Rubber Duckie.
(First: Episode 3786)

Film
"We have a nice school"... with ducks.
(First: Episode 3144)

Muppets
The inhabitants of "Telly's Aquarium" sing.

Song
"Letter P Menu"
(First: Episode 3558)

Film
P for party, picture and puzzle.
(First: Episode 3267)

Animation
The letter P is found on buildings.
(First: Episode 3329)

SCENE 5
Gabi continues to read the book to the group, while Maria observes them.

Cartoon
"Animal Books"
Artist: Steve Segal
(First: Episode 3396)

Cartoon
Ernie and Rubber Duckie introduce the number of the day.
(First: Episode 3786)

Animation
Abstract count to 13.
(First: Episode 2809)

Film
Milo Counting #13
(First: Episode 3553)

Cartoon
Alien parents tuck their child in at night, and he counts 13 spaceships.
Artist: Bill Davis
(First: Episode 3729)




Muppets
Monsters in Day Care
Herry witnesses a group of kids taking a nap, and does the same with his monster pals later.
(First: Episode 3793)

SCENE 6
Restless Natasha isn't ready to take her nap, not even with Gabi's toy horse. The duck sings a lullaby to her, which ends up putting himself, Natasha and Big Bird to sleep.

Cartoon
Noodles & Nedd make the bed.
Artist: John R. Dilworth
(First: Episode 3663)

Muppets
Grover sings "I Do Not Crawl Around Much Anymore."
(First: Episode 3536)

Animation
In a Van Gogh painting, a baby takes its first steps to Papa.
(First: Episode 3492)

SCENE 7
Gabi does her homework as the others continue to nap.

Song
Joe Raposo sings "Everybody Sleeps" (re-filmed version)
(First: Episode 3026)

Muppets
Even though Rubber Duckie didn't like the previous segment, he doesn't have to like everything.
(First: Episode 3845)

Animation
African quilt pattern #2
(First: Episode 3134)




SCENE 8
Humphrey arrives to pick up Natasha, and is happy that Gabi and Big Bird did such a good job babysitting her. The duck goes home with them in the baby carriage!

Muppets
Elmo's World: Shoes
(First: Episode 3791)

SCENE 9
Maria is proud of Gabi for being a good babysitter. They announce the sponsors.
Community content is available under
CC-BY-SA
unless otherwise noted.