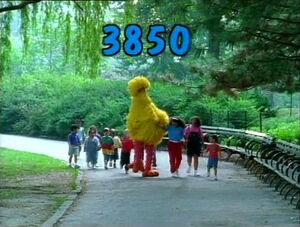 Picture
Segment
Description

SCENE 1
Zoe arrives in her Zoemobile for her playdate with Elmo. Elmo wants to play with it, since he's never done so before. Zoe starts a game of "Zoemobile Gas Station," where Elmo wants to drive the car. Zoe instead makes him play the gas station attendant, where he fills her tank, washes the windshield and fills the tires with air. She says she'll let him drive the Zoemobile...after she "drives to Alaska".

Film
The people in your neighborhood, as demonstrated by Wegman's dogs. Today, the auto mechanic, whose treatment of a customer's car is dubious.
(First: Episode 3801)

Muppets
Big Bird introduces the letter of the day.
(First: Episode 3827)

Animation
E / e (elephant / jazzy trumpet)
(First: Episode 2222)

Muppets / Cast
Opera singer Ruthie presents the letter E with an elephant.

Animation
E / e Gregorian chant
(First: Episode 3300)

SCENE 2
Zoe returns with a new game - the Zoemobile Stop & Go Game. Elmo still doesn't get to drive and is instead given the role of holding the "STOP/GO" sign. He makes Zoe STOP driving, but on the GO part, she continues her drive to Alaska.

Film
Kids make the city traffic "stop" and "go."
(First: Episode 3310)

Muppets
Ernie's Show and Tell
Ernie's friend Andrew shows him his pretend drum.

Film
A rhythm is made of breaking eggs, door slams, cans dropping, ice, and feet stepping.
(First: Episode 3682)

Muppets
Big Bird recites a short poem introducing the letter of the day.
(First: Episode 3834)

Animation
Writing utensils form the upper and lowercase letter E.
(First: Episode 2880)

Muppets / Cast
Ruthie and the Elephant remind the viewer the letter of the day is still E.

Song
Ornate E's go easing by to a song.
(First: Episode 2937)




SCENE 3
Zoe returns and tells Elmo he can drive, but only if he has a Zoemobile license. He can obtain one at her "Zoemobile Driving School." She uses a Honker to demonstrate how to honk the car's horn. Elmo learns well, but his next lesson involves dinging the car bell with a Dinger.

Film
Kids play loud and soft notes on the Shpritzer.
(First: Episode 3428)

Muppets
Big Bird sings a capella, "can you tell me how to count on Sesame Street?"

Celebrity
The Count (in voiceover) counts the number of times Angel Corella spins.
(First: Episode 3744)

Cartoon
Three scribbles exercise.
Artist: Fred Garbers
(First: Episode 1579)

SCENE 4
The next lesson is on the cup holder. Elmo watches as Patrick slips a cup in and out, despite Elmo's growing frustration. Zoe then cues up a driving's training film...

Muppets
An Anything Muppet family sings "Let's Go Driving."
(First: Episode 2095)

SCENE 4 cont'd
After the song, Zoe states the next lesson is knowing the alphabet and begins to recite it. Elmo already knows it and abandons the playdate, fed up.

Cartoon
A car drives by the water.
(First: Episode 3378)

Cartoon
Mr. Johnson wants to rent a car for going to Chicago, Grover shows him a variety for cars that he can choose from. When no car suits him, Grover gives him a piggy back ride to Chicago.

Film
A silent film about an automobile that can be either long or short.
(First: Episode 0520)




SCENE 5
Gina notices the two young monsters sitting by themselves. Zoe explains her side to Gina, saying no one's ever driven her special car but her. She explains her feelings to Elmo and the two agree they still want to play. Reluctantly, Zoe lets Elmo drive the Zoemobile.

Cartoon
Different emotions are drawn on a face, until the character grabs the pencil.
(First: Episode 3531)

Muppets
Big Bird and Radar introduce the Number of the Day.
(First: Episode 3827)

Animation
Clown Honking #12
(First: Episode 3210)

Film
Ornate 12s sail through the air.
(First: Episode 3274)

Animation
Twelve kids are counted.
(First: Episode 2998)

Film
People go under, over, through and around a hoop.
(First: Episode 3140)

Cartoon
Jill walks up a hill to pick a daffodil.
Artist: Jim Jinkins
(First: Episode 2538)

SCENE 6
Zoe gives Elmo something before he drives: his Zoemobile driver's license! He drives around for a bit, then leaves to feed Dorothy...

Muppets
Elmo's World: Transportation
(First: Episode 3840)

SCENE 7
Elmo returns, allowing Gina and Zoe to start a round of "Zoemobile Gas Station." Gina announces the sponsors.