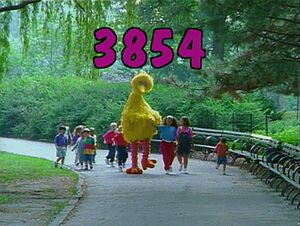 Picture
Segment
Description




SCENE 1
Maria finishes her work at the Fix-It Shop, and welcomes the viewer to Sesame Street. She's about to spend time with Big Bird, when he comes by and introduces her to Mr. and Mrs. Bird, and their Baby Bird. The Bird parents need a babysitter, and they're here because Big Bird recommended Maria to them. She adores Baby Bird, but isn't sure how to take care of one. Big Bird, who's only six years old, can't be the babysitter, but can help Maria ... so she obliges. The parents leave them with a long list of instructions.

Song
"Beautiful Baby" (remake)
(First: Episode 3549)

Cartoon
Suzie Kabloozie: Judge #17

Film
Kid mural painting #17
(First: Episode 3639)

Cartoon
Number creatures #17
(First: Episode 2745)




SCENE 2
The first thing to do on the list is to feed Baby Bird. Big Bird remembers eating the "Baby Birdseed" when he was little, and Maria gives him some. He starts to feel hungrier, so he goes over to his nest for something else to eat, and notices that Maria is paying an awful lot of attention to Baby Bird ...

Film
A baby messes around (literally) with a chocolate cookie, as Cookie Monster (in voice-over) wishes it were for him.
(First: Episode 0407)

Cartoon
Suzie Kabloozie is glad you're here.

Muppets
Ernie's Show and Tell
Sankarj shows Ernie his book about dinosaurs.
(First: Episode 3845)

Cartoon
Suzie comments, "That was great!"

Film
Kids sing the alphabet on an island.
(First: Episode 3154)

Cartoon
A baby and father illustrate up and down.
(First: Episode 2687)




SCENE 3
Big Bird comes into the arbor with a book for Maria to read to him, and accidentally wakes up Baby Bird. Big Bird feels sad that Maria's paying more attention to Baby Bird than to him, so he decides to nap too - only he's too big for Maria to rock him to sleep, and his snores awaken Baby Bird again.

Song
Joe Raposo sings "Everybody Sleeps." (re-filmed version)
(First: Episode 3026)

Cartoon
Suzie Kabloozie presents the letter of the day made of fudge, but Feff is too fast for her.

Animation
Planting Letters: E
(First: Episode 3009)

Animation
Planet E / e
(First: Episode 2840)

Animation
Computer E / e
(First: Episode 3071)

Cartoon
Jerry Nelson sings "In My Book."
(First: Episode 2983)

SCENE 4
Big Bird wants Maria to read his book, "Dump Trucks and Helicopters," but Maria has to read Baby Bird her favorite book, "The Bird Goes Peep." Disappointed, Big Bird leaves.

Film
"We have a nice school"... with ducks.
(First: Episode 3144)

Cartoon
Abstract count to 17
(First: Episode 2820)

Animation
Growing Numbers #17
(First: Episode 2975)

SCENE 5
At Hooper's Store, Alan gives a bag of baby Honker food to some Honkers, and notices Big Bird looking sad. Big Bird is upset because Maria was supposed to spend time with him today, but she's too busy looking after Baby Bird. He thinks Maria might not love him anymore, but Alan changes his mind by singing "Different People, Different Ways."

Animation
Two kids sitting on the grass look the same until they get colored with different skin, but they have the same reaction when a dog comes around.
(First: Episode 3745)

Muppets / Celebrity
Humphrey and Ingrid hire Fran Drescher as Baby Natasha's nanny. But instead of going to work, Humphrey and Ingrid don't want to miss all the fun -- so they stay home with Natasha and Fran.
(First: Episode 3786)

Cartoon
Lillian, the big sister.
(First: Episode 2746)

SCENE 6
Maria calls Big Bird over for help, because the next thing she has to do on the list is clean Baby Bird's feathers, which she doesn't know how to do. Big Bird knows how, so he lends a helping beak.

Song
Jerry Nelson sings "I'm the Big One Now."
(First: Episode 2876)

Film
A rhythm is made of breaking eggs, door slams, cans dropping, ice, and feet stepping.
(First: Episode 3682)

Film
Jaws spoof presenting the letter E.
(First: Episode 3300)

Animation
Writing utensils form the upper and lowercase letter E.
(First: Episode 2880)

Film
Wegman's dogs form a letter E.
(First: Episode 3267)

Cartoon
Suzie and Feff jump on a trampoline, and introduce a Grover segment.

Muppets
Grover climbs a tree and finds a bird's nest with some eggs in it. The eggs hatch, and the baby birds think Grover is their mommy. When the real mother bird arrives, she mistakes Grover for one of her babies. She gives them all a flying lesson, but Grover promptly falls to the ground.
(First: Episode 0570)

Cartoon
A determined little boy makes several attempts to fly, and eventually gets his dad to take him on an airplane.
(new music added)
(First: Episode 1871)




SCENE 7
Baby Bird's parents come by to pick her up, and thank Maria and Big Bird for doing such a good job. Now that they're gone, Maria is ready to read Big Bird's favorite book to him.

Muppets
Elmo's World: Babies

SCENE 8
Maria finishes reading the book for the sixth time, and she and Big Bird go over the list of other books by the same author. Alan announces the sponsors.
Notes
In the Sprout airing, the episode starts with the Sesame Workshop PSA included at the beginning of Sesame Street DVDs from 2004 to 2012.