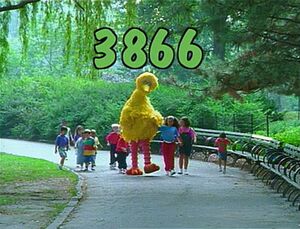 Picture
Segment
Description




SCENE 1
Oscar the Grouch receives a letter from a Grouch postwoman and notices the viewer. He explains that he received a letter from his mother, wishing him a happy birthday. Telly overhears him, and plans to help him celebrate. Oscar doesn't want a happy birthday, and bets him that not one person on Sesame Street can do something grouchy for his birthday. Telly makes it his goal to prove Oscar wrong.

Cartoon
An elephant tries to remember Nigel (a cat's) birthday, succeeding after stringing together a series of clues.
Artist: Fred Garbers
(First: Episode 3806)

Muppets
Kingston Livingston III sings "A Cat Had a Birthday."
(First: Episode 3331)
cut from the Noggin version

Film
Using sign language, a boy reads his poem, "The Hawk."
(First: Episode 3806)

SCENE 2
Maria has written a birthday poem for Oscar. He becomes irritated when he can't read it--it's in Spanish! Maria reads it, and Oscar catches her being nice: the poem contains the word "feliz", the Spanish word for "happy". He's surprised by how awful it is when Maria reads it in English: "Happy greeting to you, irritating Grouch. Have a rotten day from here on out!"

Muppets / Celebrity
Gloria Estefan and Rosita perform a duet rendition of "Sing," alternating between English and Spanish lyrics.
(First: Episode 3841)
cut from the Sprout version
cut from the Noggin version

Animation
Pencil box Y / y
(First: Episode 3043)

Film
Jaws spoof with the letter Y.
(First: Episode 3323)
cut from the Noggin version

Animation
Y: Yuri, a yellow yak, eats yams and yogurt.
(First: Episode 3381)

SCENE 3
Big Bird presents his gift: he holds his beak closed, and will not bother or say anything to him all day.

Cartoon
Number Guy sings "How Many Birds Can Fit on This Wire?" One bird provides the answer.
(First: Episode 3338)

Muppets
Monsterpiece Theater: One Flew Over the Cuckoo's Nest
(First: Episode 2674)

Cartoon
A girl's mom gives her a 1 from the shelf. "My 1 and only!"


Artist: Fred Garbers
(First: Episode 3469)
cut from the Noggin version

SCENE 4
Gina gives Oscar a birthday present concealed in a box. Oscar admires the box, thinking it's from Grundgetta, and opens it to see what's inside. The gift...is nothing! Gina reveals that she is the one that made it.

Song
John Pizzarelli sings about feeling "happy and proud" on your birthday.
(First: Episode 3421)

Muppets
Sesame Street Goes to Day Care
Big Bird and Veronica say the alphabet.
(First: Episode 3806)

Film
A visual representation of the nursery rhyme "Pat-a-Cake" with Wegman's dogs.
(First: Episode 3467)
cut from the Noggin version

SCENE 5
Alan gives Oscar a birthday cake he made: a triple layer cake made with chicken and mint, with sardine frosting! Oscar laments that it's the same kind of cake his mother used to make.

Song
"It's Fido's Birthday" - a song about a birthday party for a goldfish.
(First: Episode 3609)

Animation
Characters on a quilt form the letter Y.
Artist: Karen Aqua
(First: Episode 3381)

Film
Y for yell, yellow, yodel
(First: Episode 3456)




SCENE 6
Luis, Gabi, and Rosita let Oscar play a game: he tries to crack open a trash can-shaped piñata. He succeeds, and is buried by a pile of small junk pieces, torn newspaper, and fish bones.

Song
"We're Talking 'Bout the Number One"
(First: Episode 3154)

Cartoon
Kids count one duck in the pond
(First: Episode 3095)
cut from the Noggin version

Muppets
Zoe finds Elmo pretending to be a duck, and he shows her how to act like one. A real duck shows up, and mistakes Zoe for its mama.
cut from the Noggin version

Song
"Papermaking Song"
(First: Episode 3563)

Animation
Stop-motion representation of "Happy Birthday," with balloons, gummi bears, glitter, etc.
(First: Episode 3358)




SCENE 7
Oscar finds everyone (including Bob and the Grouchketeers) on the steps of 123 Sesame Street, and thinks that they're now going to sing Happy Birthday to You. Instead, they shout "Grouchy Birthday to You!" Oscar admits that he was wrong--everyone knew how to celebrate a Grouch birthday, until Telly gives him his present: hugs and kisses!

Muppets
Elmo's World: Dogs
(First: Episode 3852)

SCENE 8
Oscar finishes the cake and announces the sponsors. He notes the best thing about having a birthday: you have to wait a whole year until the next one!
Alterations