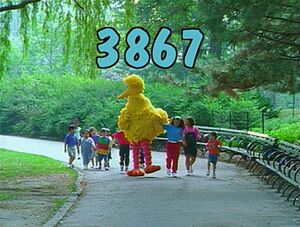 Picture
Segment
Description

SCENE 1
Elmo and Telly admire the flowers in the garden and want to pick some. Luis points out the sign - "Please Do Not Pick the Flowers," and explains why they shouldn't. The monsters realize they should leave the flowers where they are and invite Luis to smell them.

Animation
Flower pattern - what goes in the middle?
(First: Episode 3802)

Insert
Zoe drives by in her Zoemobile, introducing the word of the day.
(First: Episode 3819)

Song
"Open Song"
(First: Episode 3814)

Animation
Marco had a flower. When it wilted, he called his grandpa and told him exactly what the flower looked like. Grandpa told him to water the flower, and it grew again.
(First: Episode 0555)

Muppets
Zoe, in her Zoemobile, introduces a segment with the letter O.


Cartoon
A lady receives a letter O in the mail, which promptly rolls around her living room.
Artist: ArtistMike
(First: Episode 3348)

Animation
Planting Letters: O
(First: Episode 3010)

SCENE 2
Luis notices how dry the soil is and recommends they give the flowers some water. Telly is amazed to learn flowers are alive like them.

Cartoon
A caveman sits on what he thinks is a rock, not realizing that it's a dinosaur, which is alive.
(First: Episode 1737)




Muppets
Camp Wannagohoma: Grover tries to show the campers what is alive in the forest, but they keep correcting him.
(First: Episode 1791)

Cartoon
Number Guy: "How Many Pigs Will Jump Into This Mud?" The answer is 10.
(First: Episode 3390)

Film
The McDoubles (Batty and Crooky) count to 10 on their fingers.
(First: Episode 3224)

SCENE 3
Elmo and Telly wait for Luis to return with some water and pass the time by counting how many flowers are also waiting. Elmo counts 4 yellow flowers and Telly counts 6 red ones. While Telly fumbles over the math, Elmo counts all of them, which total to 10. The two then start singing the following song...

Song
Jerry Nelson sings "Don't Waste Water."
(First: Episode 2804)

Muppets
Zoe, in her Zoemobile, introduces the letter of the day.
(First: Episode 3819)

Cartoon
O for open, off, owl, ocean
(First: Episode 3091)

Animation
Sand O/o
(First: Episode 0621)

Animation
"Flowers on the Doorstep"
(First: Episode 3140)

SCENE 4
Luis still hasn't returned, so the monsters play a round of "Three of These Things" using Telly, the flowers, a butterfly and the cautionary sign.

Film
A boy recites his poem, "Rabbits, Trees and Water."
(First: Episode 3837)

Muppets / Celebrity
Garth Brooks, Herry Monster and the daycare monsters sing "Together We Make Music."
(First: Episode 3814)

Film
Carlos talks about how he helps his sister and abuela take care of their garden.

Cartoon
A pattern of daisies and tulips - can you tell what comes next? (new music added)
(First: Episode 2256)

SCENE 5
Elmo and Telly now pass the time by singing "The Alphabet Song."

Film
Kids observe different kinds of bugs and flowers.
(First: Episode 3696)

Cartoon
The word AGUA fills up with water.
(First: Episode 0523)

Muppets
Baby Bear plans on eating his bowl of porridge and sees Goldilocks is not around. Ernie wanders by and assures Baby Bear he won't eat his porridge. Baby Bear calms down, until he sees who Ernie has brought with him - Goldie-Duckie.

Cartoon
Two cartoon cacti sing "Here We Are".
(First: Episode 3153)

SCENE 6
Big Bird comes by and the monsters try informing about about everything that's happened, but he already knows; he ran into Luis not long ago. He also has an important message from Luis, which he forgets. He remembers just as Luis arrives: Luis will be here with the water soon.

Cartoon
On his way to the store, a boy gets distracted and remembers to buy different things. (new sting added)
(First: Episode 0768)

Muppets
Zoe, in her Zoemobile, introduces the number of the day.
(First: Episode 3819)

Film
Three girls do a "One Potato" rhyme.
(First: Episode 3271)

Animation
Rubber Stamp #10
(First: Episode 2880)

Muppets
Cookie Monster sings "Eating Cookie" -- there's another reason every season.
(First: Episode 3467)

Cartoon
A round red object and several pedals form a flower. (new music added)
(First: Episode 1895)

SCENE 7
Everyone admires the newly-watered flowers and start singing "Don't Waste Water" again, while Elmo heads off to feed Dorothy...

Muppets
Elmo's World: Water
(First: Episode 3831)

SCENE 8
Luis announces the sponsors while Big Bird and Telly smell the flowers.
Alterations
Notes
This episode aired during the week between Earth Day and Arbor Day in 2008 on PBS Kids Sprout. Described by the broadcast guide as an "Arbor Day Special," the episode was trimmed down to 30 minutes.
Community content is available under
CC-BY-SA
unless otherwise noted.