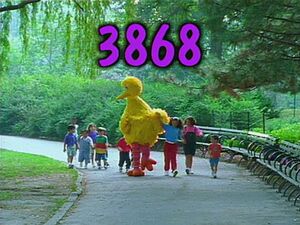 Picture
Segment
Description




SCENE 1
As soon as Maria welcomes the viewer to Sesame Street, Telly shows up with a book for her to read to him, "The King Who Told Everyone What to Do." In the story, the king's commands all rhyme with the word "you."

SCENE 1
cont'd
After reading the book with Maria, Telly wishes he could be king of Sesame Street, thinking it would be fun to tell people what to do. He rushes off to the library to look for a book on how to be a king.

Song
"In the Library"
(First: Episode 3423)

Muppets
Big Bird recites a short poem introducing the letter of the day.
(First: Episode 3834)

Cartoon
K - Key (new music added)
(First: Episode 0040)

Film
Kids in a park do karate kicks.
(First: Episode 3430)

Cartoon
A lion named Kent says that he gets a Kick out of being King of the Forest.
Artist: Bruce Cayard
(First: Episode 0463)

SCENE 2
Telly returns from the library with the book "How to Be a Real King in Three Easy Steps." The first step is to get a crown, which Telly isn't sure where to find, until he gets inspiration to get one made by someone with skilled hands ... Baby Bear.

Muppets
Ernie's Show and Tell
Rebecca shows Ernie the white wire-like crown she made. Ernie asks to try it on, and suggests that Bert will be envious.
(First: Episode 3826)

Cartoon
A boy draws a portrait of himself and calls it ME. (new music added)
(First: Episode 2085)

SCENE 3
Telly enlists Baby Bear to make a crown for him. First, he has to paint a picture of the crown so he'll have an idea of what it will look like.

Film
A girl recites her poem, "If I Were."
(First: Episode 3813)

Muppets
Big Bird says that Radar is ready to see the Number of the Day.
(First: Episode 3827)

Cartoon
The Alligator King
Artist: Bud Luckey
(First: Episode 0411)

Film
Milo Counting: 7
(First: Episode 3595)

SCENE 4
Baby Bear finishes designing the crown for Telly, and a variation of "Rule Britannia" is heard as Telly puts the crown on his head. He and Baby Bear think it looks good on him!

SCENE 4
cont'd
Baby Bear helps Telly read the next step, which is to get a throne. Baby Bear knows where to find one ...

Cartoon
A chair displays the word SIT, and a beast sits on him.
(First: Episode 0339)

Muppets
Worms in Space: Slimey and his fellow worm astronauts make a letter K.
(First: Episode 3743)

Film
Ornate Ks fly through the air to a song.
(First: Episode 2945)

Muppets
Big Bird asks Radar what he wants to watch next.
(First: Episode 3828)

Film
Wegman's Dogs: Old King Cole
(First: Episode 3448)




SCENE 5
Baby Bear fetches his Papa Bear's chair for King Telly's throne. The music is heard again as King Telly sits high atop the big chair. Now on to step 3: "Get a royal helper." What better candidate than Baby Bear?

SCENE 5
cont'd
Baby Bear's first duty as royal helper is to re-read the three steps in the book, and end with the final page - "Congratulations! You are now a king! Now just be a king and tell people what to do." King Telly feels hungry, so he and Baby Bear venture off to Hooper's.

Animation
In stop-motion, sandwich ingredients square-dance in a ring and arrange themselves into a sandwich, which gets a bite taken out of it in a refrigerator.
(First: Episode 3080)

Celebrity
Robin Williams demonstrates the uses of knees.
(First: Episode 2765)

Cartoon
Jake the Snake demonstrates body parts.
(First: Episode 2486)




SCENE 6
King Telly and his royal helper Baby Bear make a grand entrance into Hooper's. King Telly expects to be served immediately, but Alan tells him he'll have to wait his turn, because there are several other customers who got there first. Baby Bear thinks that's not a bad idea, but King Telly refuses to stand for it, and leaves.

Cartoon
Suzie Kabloozie: Judge #7

Film
Seven kids dance on a playground to the same beat.
(First: Episode 3844)

Cartoon
Seven rabbits
Artist: Owe Gustafson
(First: Episode 1493)

SCENE 7
Back on his throne, King Telly tries to boss around everyone he meets (including Tarah), but doesn't succeed. Not even Baby Bear is willing to take orders from a king, so he leaves King Telly alone.

Film
Kids sing the alphabet on an island.
(First: Episode 3154)

Cartoon
A dog-shaped television changes channels until it comes to a channel of itself.
Artist: Keith Haring
(First: Episode 3045)

SCENE 8
Baby Bear talks to Maria about his problem with the bossiness of King Telly. He approaches the Fix-it Shop, and Baby Bear confronts him about his attitude, saying he's no fun to be around anymore. Maria suggests that maybe King Telly could be a nice king instead of a bossy one, and King Telly agrees. He and Baby Bear run off to play, and Maria continues fixing the toaster.

Muppets
Elmo's World: Babies
(First: Episode 3854)

SCENE 9
The new and improved King Telly tells Tarah to have a great day, and says hi to the viewer. He announces the sponsors, and says he'll share his crown with Baby Bear.
Community content is available under
CC-BY-SA
unless otherwise noted.