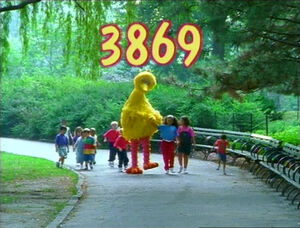 Picture
Segment
Description

SCENE 1
Baby Bear looks forward to a great play date with his best friend Telly today. Telly emerges, excited, and points Baby Bear's attention to the following segment ...

Film / Muppets
Alphaquest: S
A swimsuit, Grover as a silly surfer, a seagull, the sunset and a submarine.
(First: Episode 2729)

SCENE 1
cont'd
Baby Bear and Telly love the segment they just saw, and Telly explains that it's the basis of his idea of what they'll play today: Alphaquest (complete with its theme song)! Today, they'll be looking for S words.

Muppets / Celebrity
En Vogue sings "Adventure."
(First: Episode 2951)

Muppets
Big Bird asks Radar what he wants to watch next.
(First: Episode 3828)

Cartoon
Suzie Kabloozie and Feff appear to float around in outer space, but at the end of the sketch, it is revealed that they are just pretending to be astronauts.
Artist: Mo Willems
(First: Episode 3701)

SCENE 2
At Hooper's, Alan serves lunch to Wolfgang, when Telly and Baby Bear enter on their Alphaquest. Telly is quicker to find S words than Baby Bear is, since Wolfgang keeps calling attention to himself, which bothers Baby Bear. Baby Bear finally realizes that "seal" starts with S, and so does sardine and sandwich! He and Telly continue on their Alphaquest.

Song
A cowboy sings about S words.
(First: Episode 3649)

Animation
S for shadow, soccer balls, sand, and slide
(First: Episode 3639)




Muppets
The Adventures of Prairie Dawn
Prairie turns off the television to save energy.
(First: Episode 3002)

Cartoon
A fish appears under the boat, while a pelican appears over it.
(First: Episode 3768)

SCENE 3
At the Fix-It Shop, Maria uses a saw and a screwdriver. Baby Bear tells Telly to slow down, since he keeps finding all the S words before Baby Bear does. Maria suggests that they take turns, which means it's now Baby Bear's turn. He takes his time, as Telly tries very hard to stop himself from acknowledging an S-word-spewing monster named Suzy who shows up with a seashell sailboat that needs to be fixed. Baby Bear thinks he may be getting tired of Alphaquesting ...

Cartoon
S for Snail (new music added)
Artist: Jeff Hale
(First: Episode 1158)

Muppets
Big Bird and Radar introduce the Number of the Day.
(First: Episode 3827)

Film
Kid mural painting #16
(First: Episode 3625)

Muppets
The Martians discover a sparkly number 16.
(First: Episode 3387)

Cartoon
Rubber Stamp #16
(First: Episode 2959)

Muppets
Cookie Monster has a riddle: what do you get when you have one cookie between two cookies? A cookie sandwich!
(First: Episode 3209)

Song
"S, You're the Best"
(First: Episode 3551)

SCENE 4
Telly and Baby Bear walk into the post-roll of the previous segment, hoping to follow the kid who just snatched the S from the fountain. Baby Bear really wants to do something else by now, but Telly still wants to find S words, and thinks he spots a snake in the next segment ...

Cartoon
A snake has a knot in his middle, and he can't find his end. The detective helps the snake find his end ... playing drums in a band.
(First: Episode 2600)

Film
Wegman's dogs: Little Jack Horner
(First: Episode 3460)

SCENE 5
Baby Bear decides once and for all that he wants to stop Alphaquesting, and instead wants to go on a porridge quest. Telly is still finding S words, and so he and Baby Bear decide to go their separate ways.

Cartoon
"I'm Curious" (new sound effects added)
Artist: Sally Cruikshank
(First: Episode 3066)

Animation
Growing Numbers #16
(First: Episode 2996)

Muppets
Big Bird says, "Let's see that number one more time!"
(First: Episode 3247)

Animation
Sixteen TV sets are counted.
(First: Episode 2850)

SCENE 6
Telly explains to Gordon what an Alphaquest is.

SCENE 6
cont'd
Meanwhile, Baby Bear searches for porridge at Hooper's, but finds out that there's no porridge left. He starts to miss his best friend.

SCENE 6
cont'd
Telly slowly realizes that Alphaquesting is not as fun as it is when Baby Bear is with him. Gordon inspires him to go help Baby Bear on his porridge quest.

Animation
The word "LOVE" in various situations.
(First: Episode 3569)

Muppets
Muppet & Kid Moment — Chelsea tells Grover what love is.
(First: Episode 2397)

Cartoon
A gorilla outgrows his toy fire truck, and is about to throw it away, when he decides to pass it on to his little brother.
(First: Episode 2840)




SCENE 7
The Amazing Mumford approaches a sad Baby Bear, who still can't find any porridge, and misses Telly. Mumford offers to make him a porridge bowl with magic, but his spell literally turns Baby Bear into one! When Telly learns this, he begs Mumford to turn him back, and Mumford does so. Baby Bear reveals that he felt the same as Telly did, and the two best friends go on a lunch quest.

Muppets
Elmo's World: Dogs
(First: Episode 3852)

SCENE 8
As they enjoy their lunch, Telly and Baby Bear announce the sponsors. Suzy then comes in, asking for some sandwiches.
Community content is available under
CC-BY-SA
unless otherwise noted.