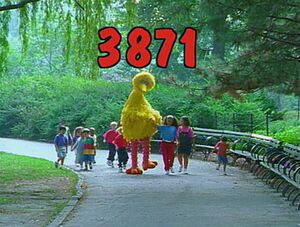 Picture
Segment
Description

SCENE 1
Luis welcomes the viewer, and finds Miles at the Fix-It Shop with a baby doll. He explains that he is learning how to be a good babysitter, and that Gabi is teaching him. Gabi tells Miles that babies like to be talked to in a nice, friendly voice. Miles tries it by asking the baby if it caught the basketball game last night.

Cartoon
A baby and father illustrate up and down.
(First: Episode 2687)

Muppets
Ernie's Show and Tell
Nelson shows Ernie the baby booties he got for his yet-to-be-born sister.
(First: Episode 3812)




SCENE 2
Gabi and Miles dress the baby doll when Elmo comes along. He wants to help by pretending to be the doll's big brother. Elmo names the doll "Shirley" and wants to hold her. He gets to, and Elmo decides to rock her. He finds that he needs more practice when he accidentally rocks her into a tree.

Song
Jerry Nelson sings "I'm the Big One Now."
(First: Episode 2876)




Muppets
A quartet of lambs do a daredevil act on stage, which involves the first two lambs balancing a chair on top of a pole, the third lamb firing a cannon, and the fourth lamb landing in the chair after being shot out of the cannon. When the act fails, vaudeville team Big Bird and Snuffy take the stage, and introduce the letter of the day with a joke.
(First: Episode 3859)

Animation
Airplanes carve the capital and lowercase letter Y.
(First: Episode 3199)

Film
Y for yell, yellow, yodel
(First: Episode 3456)

Cartoon
Y for yawn
(First: Episode 0301)

SCENE 3
Gabi brings a stroller to show Miles (and Elmo) how to take a baby for a walk. She decides to stay at the Fix-It Shop as Elmo and Miles takes the doll for a walk.

Film
A mom takes her son for a walk in the stroller, and he sees all he can see.
(First: Episode 3656)




Muppets
A magician attempts a suspension act, which fails. Big Bird and Snuffy then come back out to introduce the number of the day ...
(First: Episode 3859)

Cartoon
The lightning bugs at the Glowworm Jamboree display the numbers 1-14.
Artist: Fred Garbers
(First: Episode 3515)

Film
Girls dance and chant about the number 14.
(First: Episode 3014)

Cartoon
Abstract count to 14
(First: Episode 2811)

Cartoon
Parts of a face are drawn in black on-screen before forming a picture.
(First: Episode 3320)

SCENE 4
(Insert)
Muppet & Kid Moment — Baby Bear and Isabella teach "open" and "close" with their eyes, mouths, hands, and arms.

Song
"Open Song"
(First: Episode 3814)

Muppets
Three Honkers teach a newly-hatched baby Honker to honk. (new sound effects added)
(First: Episode 1616)

Animation
Characters on a quilt form the letter Y.
Artist: Karen Aqua
(First: Episode 3381)

Cartoon
Mary doesn't like the letter Y at first, but eventually finds it useful, especially for her name.
Artist: ArtistMike
(First: Episode 3347)

SCENE 5
Elmo goes off to play with Baby Bear and Isabella, while Miles considers himself ready to take care of a real baby. He sees Humphrey with a grumpy Baby Natasha. Humphrey has tried different games (the "Wubba Wubba" and "Ooky-pooky" games), but they didn't work. Miles suggests "Peek-a-boo", and Natasha loves it! Humphrey commends Miles on the game he "invented" and asks if Miles can babysit for Natasha right now.




Muppets
A rooster comedian bombs on stage, so Big Bird and Snuffy introduce an alphabet segment ...

Film
A karate team punches out the alphabet.
(First: Episode 3421)

Muppets / Celebrity
The Goo Goo Dolls and Elmo sing "Pride," which celebrates Elmo's achievements of tasks like dressing himself.

Film
Kid mural painting #14
(First: Episode 3613)

Cartoon
"Sing a Song of Fourteen"
(First: Episode 2670)




SCENE 6
After feeding Natasha, Miles reads "Tickle the Elephant" (by F.N. Jones), a simple interactive book.

Cartoon
Suzie Kabloozie reads about pirates.
(First: Episode 3460)

Muppets
Grover sings "I Do Not Crawl Around Much Anymore."
(First: Episode 3536)

Cartoon
A juggling bear helps a little girl learn to juggle. (new music added)
(First: Episode 1834)

SCENE 7
Gabi finds Miles taking care of Natasha. Miles thanks her for all the help, and the two of them play peek-a-boo with Natasha.

Muppets
Elmo's World: Babies
(First: Episode 3854)

SCENE 8
Miles, Gabi, and Natasha announce the sponsors.