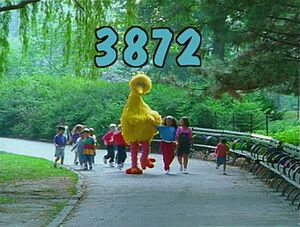 Picture
Segment
Description

SCENE 1
As Gina reads her "Zoology" book, Zoe creates a "Zoeology" book all about her. Gina is impressed with her book (despite the majority of it being composed of crayon scribbles). Gina attempts to read her zoology book, but realizes that "Zoeology" seems a lot more interesting.

Animation
"Animal Books"
Artist: Steve Segal
(First: Episode 3396)

Muppets
Baby Tooth and the Fuzzy Funk: Caribbean dance
Part 1
(First: Episode 3136)

Film / Animation
A class makes up a story about going to the zoo, which is told through animation based on the kids' drawings.
(First: Episode 3328)

Muppets
Elmo sings about "Emotion in the Ocean."
(First: Episode 3532)




SCENE 2
Zoe explains to Gina that her book contains many different stories. Gina decides to take a break and listen to one of Zoe's stories. Zoe reads "How Zoe Saved the Letter of the Day", where Zoe confronts a depressed letter C. He feels useless, until Zoe points out that he starts one of the most important words...

Muppets
Cookie Monster performs "C is for Cookie." (remake, Cookie's first line is cut.)
(First: Episode 3804)

SCENE 2
cont'd
The "C" from Zoe's book arrives on the Street, now wearing a crown and cape. He prouldly presents a cartoon...

Cartoon
"C in Space".
Artist: Gene Barretta
(First: Episode 3729)

Film
Girls do a hand-clap game about friends whose names start with C.
(First: Episode 3277)

Muppets
Baby Tooth and the Fuzzy Funk: Caribbean dance
Part 2
(First: Episode 3136)

Cartoon
Noodles & Nedd: The pair compete over the same blanket on a chilly night before reaching a compromise.

Muppets
Sesame Street Goes to Day Care
Big Bird and Dora recite the alphabet.

Animation
Arnold uses his imagination.
Artist: Craig Bartlett
(First: Episode 2754)




SCENE 3
Zoe reads another story: "How Zoe Found the Number One", about a crew of monsters panicking over a missing number of the day. Zoe becomes upset, but finds Elmo playing One of These Things with three socks...and the number one!

Song
"We're Talking 'Bout the Number One"
(First: Episode 3154)

Animation
A group of 1s chant, "We're the number 1!"
(First: Episode 3238)

Muppets
Mr. Johnson wants something to read, so Flight Attendant Grover suggests reading the EXIT sign, the safety manual and the tag on the collar of his shirt. After he informs Mr. Johnson that the airplane is out of newspapers and magazines, he sets the fat blue man on his lap and tells him to read his lips as he recites a story.
(First: Episode 3487)

Animation
A girl reads a book, a magazine, a newspaper, and a letter.
(First: Episode 3142)

SCENE 4
Zoe reads "Little Zo Peep", where Zoe helps Little Bo Peep find her lost sheep by adding the two groups of sheep they find. Gina asks if Zoe can write another story, but Zoe explains that she needs absolute silence.

Cartoon
"Animal Elevator" (1-10)
(First: Episode 2530)

Muppets
Baby Bear shows Big Bird his favorite painting at the Museum of Modern Art, "The Sleeping Gypsy". By imagining the sounds coming from the painting, they can almost hear them.
(First: Episode 3529)

Film
William Wegman's dogs show what a fisherman does.

Cartoon
Kids count one duck in the pond.
Artist: Lisa Crafts
(First: Episode 3095)

Cartoon
Number Guy sings "How Many Birds Can Fit on This Wire?" One bird provides the answer.
(First: Episode 3338)

SCENE 5
Zoe continues writing her story, but is interrupted by Gina.

Cartoon
"Beginning, Middle, End" (new sound effects added)
Artist: Sally Cruikshank
(First: Episode 2556)

SCENE 5 cont'd
Zoe continues writing her story.

Cartoon
A strange poem with C words.
(First: Episode 3729)

Film
Kid jungle explorers find a wild letter C.
(First: Episode 3519)

Muppets
Baby Tooth and the Fuzzy Funk: Caribbean dance
Part 2a
(First: Episode 3185)

Cartoon
A dinosaur tries to move around a rock.
(First: Episode 2744)

SCENE 6
Zoe reads her latest story: "Loe and Tina". Loe (Zoe) helps her friend Tina (Gina) locate her lost zoology book. They can't find it anywhere near Tina's table or chair, until Loe wonders if it's under her hat.
Gina applauds Zoe's work, and finds parallels of the story with real life.

Muppets
Elmo's World: Books
(First: Episode 3817)

SCENE 7
Zoe and Gina announce the sponsors. Now, Zoe wants Gina to read from her zoology book.
Community content is available under
CC-BY-SA
unless otherwise noted.