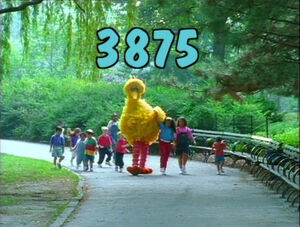 Picture
Segment
Description

SCENE 1
Big Bird is waiting for Snuffy to arrive; they plan to have a fun day together. Big Bird notes that something exciting always happens when Snuffy's around. Once he arrives, Snuffy tells Big Bird that he can't play--he has to help his mommy jar cabbages. Big Bird's distraught; he can't think of anything to do without Snuffy, but he understands that Snuffy must help his mother.

Film
A Caucasian boy narrates a film of himself hanging out with his African American friend Jamal.
(First: Episode 2787)

Cartoon
Leaves form R and r
(First: Episode 3110)

Film
The letter R is made out of rocks, painted, and found on the road.
(First: Episode 3602)

Song
"Letter R Menu"
(First: Episode 3526)

Song
Joe Raposo sings "Somebody Come and Play."
Snow leopards version
(First: Episode 2519)

SCENE 2
A line of vegetables march down Sesame Street for the annual Sesame Street Healthy Vegetable Parade, led by drill sergeant Captain Cabbage. He presents roll call and realizes that the drum-playing yellow squash is missing, but enrolls Big Bird (he's yellow, after all) to fill in. Big Bird still wonders what he'll do without Snuffy...

Animation
Masked March #13
(First: Episode 3378)

Animation
Growing Numbers #13
(First: Episode 2924)

Cartoon
The number 13 is seen as a birdhouse, in a tree, and in the sky.
Artist: Joey Ahlbum
(First: Episode 3363)

Song
"All The Vegetables": Three girls clap rhythms while naming vegetables.
(First: Episode 3051)

SCENE 3
The parade trots off, and Big Bird hears Stinky crying because he needs help reading a sign, leading to "ABC-DEF-GHI". Big Bird explains that he had the same problem, and tells him that the sign spells out the alphabet.

Film
Wegman's dogs show the job of a clothing store clerk.

Muppets
Ernie & Bert — It's cold outside, so Bert tries to ask Ernie to play a game with him. Ernie keeps bringing winter equipment into the room, thinking Bert wants to play outside. It turns out he just wants to play a game of checkers.
(First: Episode 1617)

Cartoon
A St. Bernard helps Zork down a snowy hill, later finding out that Zork wanted to go skiing.
Artist: ArtistMike
(First: Episode 2738)

Muppets / Celebrity
Denyce Graves sings a bug opera with the Sesame Street Bug Choir (Telly, Elmo, Zoe, Baby Bear, some kids and some bugs).
(First: Episode 3716)

Cartoon
A capital and lower-case R appear on sheets of paper.
(First: Episode 3127)

Song
"Big R and Little R" (Christopher Cerf)
(First: Episode 3273)




Muppets
Oscar narrates (and stars in) Grouch Moments in History, a re-enactment of his Grouch ancestors making loud noise and saying "SCRAM!" for the first time.

Animation
Elephants appear in the clouds as Vivaldi music plays.
(First: Episode 3627)




SCENE 4
Big Bird becomes bored, but soon meets a lonely elephant who's looking for his dance partner. Big Bird agrees to do the "Elephant Dance" with him and the kids. Once the elephant leaves, Big Bird laments that he wishes something exciting would happen.

Film
A girl dances a butterfly dance.
(First: Episode 3681)

Cartoon
Number creatures #13
(First: Episode 2691)

Film
Milo Counting #13
(First: Episode 3553)

Muppets
In a skit that capitalizes on the marketing of a certain doll, Zoe and Elmo play a game of "Zoe Says" with the viewer, and accidentally makes Elmo tickle himself.

Song
"Reach Your Hand Up High"
(First: Episode 2702)

Animation
Amelia likes to pretend she can fly.
(First: Episode 2902)

SCENE 5
Snuffy returns to play with Big Bird, who tells him about all the dull stuff that happened today: a vegetable parade, a singing stinkweed, and a dancing elephant. Both are glad that they can now do something exciting, but neither of them know what to do.

Muppets
Elmo's World: Shoes
(First: Episode 3791)

SCENE 6
Snuffy and Big Bird still can't decide what to do, while Stinky announces the sponsors.
Community content is available under
CC-BY-SA
unless otherwise noted.