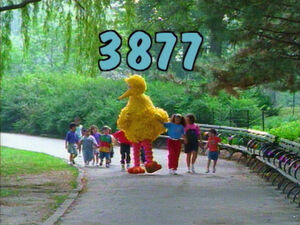 Picture
Segment
Description




SCENE 1
Big Bird (Matt Vogel) welcomes the viewer to Sesame Street. He and the Birdketeers display the letter of the day, B, and mention other words that begin with B. They start blowing bubbles, which attracts bubble-enthusiast Elizabeth. Big Bird leads her and the Birdketeers over to Gordon, who will show them how to make their own bubble liquid. On the way, they sing "B is for Bubble."

Song
"B is for Bubble" (remake)
(First: Episode 3266)

Cartoon
B for baker, bread, bagel, biscuit, etc.
Artist: Fred Garbers

Muppets
Grover recites a poem about a bubble.
(First: Episode 3155)

Film
A visual representation of the nursery rhyme "Pat-a-Cake" with Wegman's dogs.
(First: Episode 3467)

SCENE 2
Gordon shares the "homemade bubble recipe," which is 1/2 cup of dishwashing liquid and 4 cups of warm water. They all share a bubble wand, except Elizabeth, who has her own.

Animation
The word LOVE is formed on paper.
(First: Episode 3564)

Muppets
Elmo and Winston, a beluga whale, demonstrate the word LOVE.
(First: Episode 3526)

Film
Jerry Nelson, Roscoe Orman and Fran Brill narrate "Great Moments at the Sink," in which Timothy brushes his teeth.
(First: Episode 3689)

Muppets
Snuffy sings "Bubble on My Snuffle."
(First: Episode 3338)

SCENE 3
When everyone decides to stop blowing bubbles, Elizabeth becomes distraught - she loves bubbles so much that she decides to keep blowing them forever.

Film
18 glasses, 18 chairs, 18 socks
(First: Episode 3710)

Cartoon
An alien runs 18 laps around Saturn's rings.
(First: Episode 3681)

Film
Kid mural painting #18
(First: Episode 3582)

Muppets
Muppet & Kid Moment — Ernie's friend Tyler draws a picture of Rubber Duckie on the computer.

Animation
On a computer, a boy draws a sun setting between the mountains.
(First: Episode 3059)

SCENE 4
Elizabeth admits to Big Bird that she's starting to get exhausted from bubble-making - but even though her arm is tired, she still doesn't want to stop with the bubbles. When Big Bird leaves, she wishes she could have bubbles around her all the time without having to blow them. Suddenly, her Fairy Bubbleperson pops into view, and offers to grant her wish. With his tongue-twisting spell, her wish is granted!

Animation
Cecille sings "The Game of Make Believe."
(First: Episode 2864)

Cast
Ruthie, in a bee costume, flies around and presents the letter B.
(First: Episode 3842)

Animation
Pencil Box B / b
(First: Episode 3040)

SCENE 5
Elizabeth is glad to have bubbles floating all around her, and so is The Count, who invites the Countketeers to count the bubbles along with him.

Animation
Growing Numbers #18
(First: Episode 2933)

Cartoon
Suzie Kabloozie: Judge #18

Celebrity
Little Richard sings "Rubber Duckie."
(First: Episode 3263)

Film
What sound does a baby chick make?
(First: Episode 3419)

SCENE 6
The Count and the Countketeers are still counting bubbles, and follow some of the bubbles away. Big Bird and the Birdketeers come back to Elizabeth, and learn about her granted wish. They want to sing the alphabet song with her, and she offers to have them do it with bubbles (which is still fun for them). Elizabeth then runs off to fetch her favorite book, and Big Bird and the Birdketeers look for other bubbles on Sesame Street.

Animation
In Chardin's classic painting, a boy blows a bubble. It pops, and some kids yell "Surprise!"
(First: Episode 3311)

Muppets
Ernie plays Old King Cole and calls for his pipe and bowl. When he calls for his fiddlers three, they each appear one at a time allowing Ernie to practice his addition. (new music added)
(First: Episode 1951)

Cartoon
An alien asks a boy for directions to the baseball diamond.
Artist: Bill Davis
(First: Episode 1877)




SCENE 7
Elizabeth comes back with her favorite book, "All About Bubbles," but they find it hard to read the book with all those bubbles flying in their face. Elizabeth realizes that bubbles aren't necessary to have around all the time, and depends on her Fairy Bubbleperson to undo the wish he granted. She decides that it's better to make bubbles herself, like everyone else. The Fairy Bubbleperson is interested in her book, so he sits in and listens to her read it.

Muppets
Elmo's World: Exercise
(First: Episode 3853)

SCENE 8
Elizabeth finishes reading the book, and Gordon and Big Bird announce the sponsors. The Fairy Bubbleperson gives the show a slam-bang bubble finish, and everyone waves goodbye.