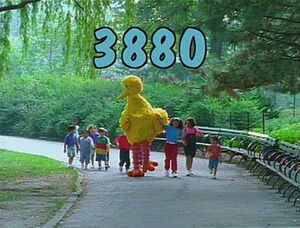 Picture
Segment
Description




SCENE 1
Big Bird observes some children drawing pictures in the arbor, then greets the viewers. He wanders over to the Fix-It Shop and notices Susan, Gordon and Maria looking at the shop's new computer, which Luis and Maria bought to increase efficiency for work. She explains that until they can make more room inside the shop, they're keeping it outside. Gordon and Susan head off to work, and Maria heads inside to clean out, while Big Bird checks out the bulky appliance. He discovers letters of the alphabet on the keyboard...the same letters they use on Sesame Street!




Animation
The alphabet is presented using many materials and writing methods.
(First: Episode 2210)
New graphics added for letters T through Z.

SCENE 2
Maria returns outside to see Big Bird fidgeting with the mouse. He's trying to find out more about the computer after discovering the letters on the keyboard. Maria points out there are numbers, too, and mentions all the wonderful things a computer can be used for - such as making pictures and playing games - before Maria leaves to answer the ringing telephone. Big Bird decides to play a game with the computer, and asks it if it wants to play, unaware that it's turned off. He tries asking again, when Devon tells Big Bird that a computer can't play a game unless it's turned on. Big Bird makes a couple of futile attempts to turn it on, such as using magic words and blowing.

Song
"My New Computer"
(First: Episode 2857)

Muppets
Bert asks Bernice how she knows the letter of the day, and they watch this segment ...
(First: Episode 3870)

Animation
Computer N / n
(First: Episode 3039)

Film
Alphaboy: Nibbling Noodles with Neighbor Nora
(First: Episode 3465)

Cartoon
Autumn leaves form a capital "N" and lowercase "n"
(First: Episode 3114)




SCENE 3
After his attempts at blowing don't work, Big Bird realizes he can ask Maria for help, and goes inside the shop. While Big Bird is away, the Martians mysteriously appear next to the computer, intrigued by the massive machine. They refer to their book and find out it has two power buttons, which they press, and the computer turns on. They suddenly hear Maria's voice and vanish. When she and Big Bird walk out of the shop, they discover the computer is on! Big Bird thinks that maybe martians from outer space turned it on, while a perplexed Maria looks at the camera.

Cartoon
An alien comes across a pair of tree trunks; one with multi-colored leaves, the other without. He finds and grows leaves to mount on the other tree, then strings a hammock between the two.
(First: Episode 1451)

Muppets
Bert: "Bernice ... you have wonderful form." They watch a segment about the number of the day ...
(First: Episode 3870)

Animation
The number 19 in space
(First: Episode 3720)

Film
Kid mural painting #19
(First: Episode 3601)

Cartoon
Masked March #19
(First: Episode 3391)

SCENE 4
Now that the computer is on, Big Bird decides to play a game of hide and seek with it. He counts to 10, but, unaware that computers are inanimate objects, sees the computer has not moved at all. He tries counting up to 20 this time, and once again finds that the computer is still there. Maria explains to him that a computer isn't alive, and can only play games that are run through programs by whoever uses it. Big Bird asks Maria to demonstrate how to draw a picture on the computer.

Song
"They're Not Alive"
(First: Episode 3661)

Muppets
Bert announces that Bernice will demonstrate front and back, then near and far ... but she doesn't have to do much.
(First: Episode 3870)




Insert
"Professor Television" (Bill Irwin) tries to demonstrate near and far, with help from Maria's voice.
(First: Episode 3617)

Animation
Nineteen kernels of popcorn pop.
(First: Episode 2855)

Cartoon
Characters on a quilt form the number 19.
Artist: Karen Aqua
(First: Episode 3775)

SCENE 5
As Big Bird and Maria begin to draw the picture, Mr. Snuffleupagus stops by to see what's going on. He learns that they're drawing a picture on the new computer, and asks if he'd like to try. The two decide who should go first, but Maria suggests that they cooperate - Snuffy chooses the colors and graphics, and Big Bird draws using the mouse, with Maria aiding him. The three have a blast creating the digital masterpiece.

Animation
Computer: tall / short
(First: Episode 3042)

Muppets
Elmo, Farley, Mrs. Turow and various Anything Muppets sing "The Computers in Your Neighborhood."

Film
A girl recites her poem, "If I Were."
(First: Episode 3813)

SCENE 6
Elizabeth, Zoe and Rosita do a cheer about a computer and printer.

Cartoon
A ball goes up and down a musical staircase.
(First: Episode 2151)

Animation
N/n paper fold
(First: Episode 3115)

Cartoon
N is for nose (new music and sound effects added)
Artist: Jeff Hale
(First: Episode 1206)

SCENE 7
With a few modifications (including adding the sponsors), Big Bird and Snuffy's picture is finished. Snuffy decides they should hang the picture up, except it's inside the computer screen. Maria comes out to see them disappointed, and she tells them they can print the picture instead. She moves the arrow to the print icon, and sends the picture through the printer. They eagerly await the copy.

Cartoon
A family of snakes makes shapes, and rolls away.
(First: Episode 1506)

Muppets
Muppet & Kid Moment — Ernie's friend Tyler draws a picture of Rubber Duckie on the computer.
(First: Episode 3877)

Cartoon
Suzie Kabloozie sings "Sing."
Artist: Mo Willems
(First: Episode 3794)

SCENE 8
The picture finally comes through the printer, and they compare it to the picture on the screen. Now the two decide where they should hang it: on the wall in Snuffy's Cave, or in Big Bird's nest? While the two argue, Maria (secretly) comes up with a better solution - printing another copy. She explains they can have as many copies as they'd like. They name various denizens of the street to make copies for, such as Gina, Bob, Alan, and even Oscar ("if you crumple it!").

Muppets
Elmo's World: Exercise
(First: Episode 3853)




SCENE 9
The camera pans across the street, now splattered with copies of the picture. Big Bird and Snuffy announce the sponsors, while Maria brings out more paper (to her annoyance).
Community content is available under
CC-BY-SA
unless otherwise noted.