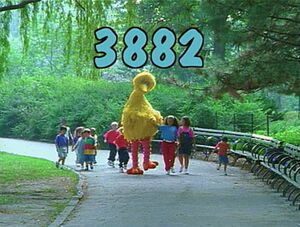 Picture
Segment
Description




SCENE 1
Oscar the Grouch is watching Slimey and his new friend Glo Worm play near his can. Oscar mentions that they are in love, even though they just met yesterday. In flashback Oscar explains how they met: Slimey was playing in the dirt when he notices Glo Worm. It was love at first squiggle. So today, Slimey is going to give Glo Worm a tour of Sesame Street.

Cartoon
A turtle recalls a time he fell in love with a seashell, before realizing it's not alive.
Artist: Fred Garbers
(First: Episode 3715)

Muppets
Ernie sings "Rubber Duckie."
(First: Episode 3842)

Film
A girl draws pictures of her mom and her big brother, and talks about what they do for fun on weekends.

SCENE 2
Big Bird wonders what's going on today around his nest, and meets Glo Worm on the wooden door of his nest. Slimey tells Big Bird about their tour, so Big Bird helps them to go to their next place, the Fix-It Shop (since it would take them days to walk there).

Muppets
Elmo and Winston, a beluga whale, demonstrate the word LOVE.
(First: Episode 3526)

Song
"I'm Holdin' Your Hand" (while crossing the street)
(First: Episode 3658)

Cartoon
Number creatures 15
(First: Episode 2693)

Film
Kid mural painting #15
(First: Episode 3649)




SCENE 3
Big bird drops the worms off to meet Maria at the Fix-It Shop. She's happy to see that they're in love, and gives Slimey his newly-repaired cannon, which surprises Glo. Slimey decides to go to Hooper's Store via cannon fire with Glo (and their crash helmets), so Maria counts down from 10 to 0 and fires the two of them past Hooper's Store and Alan...

SCENE 3
cont'd
... and into Baby Bear's bowl. "Alan, there's two worms in my porridge!"

Animation
Luxo Sr. examines a box. Luxo Jr. pops out of the box, demonstrating "surprise."
(First: Episode 2851)

Muppets
Muppet and Kid Moments: Grover and Karlena talk about the word "love" on a sign.
(First: Episode 2392)

Cartoon
Parts of a face are drawn in black on-screen before forming a picture.
(First: Episode 3320)

Film
Wegman's dogs: Batty and Crooky row a rowboat.

SCENE 4
Alan gives Slimey and Glo a mudpie shake at Hooper's. They're time together is cut short, however, because Glo has to go; her beeper is going off because she's a volunteer firefighter, and must put out a fire. Even though Slimey wants her to stay, he understands that she has to do her duty. A miniature firetruck picks her up, and Glo gives her beau a goodbye kiss. Slimey becomes sad, and is consoled by Baby Bear and Alan.

Song
"It's All Right to Cry"
(First: Episode 3154)

Muppets
Sesame Street Goes to Day Care
Herry Monster and Baxter pretend to be firefighters.
(First: Episode 3840)

Song
"Letter P Menu"
(First: Episode 3558)

Film
Two girls sing "My Picky Playmate" as they clap.
(First: Episode 3299)

Animation
A clay-animated man uses a palette and a paintbrush to paint the letter P.
(First: Episode 3400)

SCENE 5
Big Bird joins the group at Hooper's and notices how sad Slimey has become due to Glo's absence. Big Bird knows how he feels, and tells him that saying the alphabet helps pass the time. Slimey is reluctant at first, but eventually joins the group in their alphabet.

Film
The letters of the alphabet are found in signs all over the city. (new soundtrack)
(First: Episode 3652)

Muppets / Celebrity
Michael Jeter sings "Dance Myself to Sleep", accompanied by the Boogie-Woogie Sheep.
(First: Episode 3857)

Cartoon
P for Planet
(EKA: Episode 2173)

Film
Wegman's dogs form a letter P.
(First: Episode 3330)

SCENE 6
Slimey is still sad, but Baby Bear explains that drawing helps him feel better, and it passes the time. Alan gives Slimey worm-sized paper and crayons, which make him feel better.

Song
To the original Fats Waller recording of "I'm Gonna Sit Right Down and Write Myself a Letter," a group of kids act out the song in a throwback to the silent film era.
(First: Episode 3659)

Cartoon
"You know what it's like to be scared?"
(First: Episode 0547)

Muppets
Ernie & Bert — Ernie puts all his toys away and shows Bert how he remembers where Rubber Duckie is: it's under all his toys! He then proceeds to dig for his duckie, tossing all other toys aside and making a mess again.

Cartoon
"Mother Brown's Farm (Number Fifteen Song)"
(First: Episode 2693)

Film
Growing Numbers #15
(First: Episode 2971)

Animation
15 in space
(First: Episode 3740)

Film
A girl draws a picture of her friend Amelia.
(First: Episode 2784)

SCENE 7
Slimey has drawn a picture of himself and Glo being shot out of a cannon, but he's still a bit sad. Suddenly, he hears the worm firetruck's sirens and bells, and runs over to Glo to welcome her back.

Muppets
Elmo's World: Hats
(First: Episode 3796)

SCENE 8
Oscar tries to talk to Slimey, but he's too busy being with Glo. Sensing that he's being ignored, Oscar announces the sponsors.
Community content is available under
CC-BY-SA
unless otherwise noted.