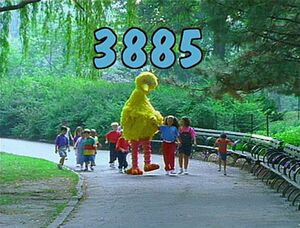 Picture
Segment
Description

SCENE 1
Zoe and Telly welcome the viewer to Sesame Street. Today is "Counting Monsters Day", the day where monsters count as many other monsters that they see, and indicate the ones found by yelling, "Monster!" Telly counts Zoe and yells, but when it's Zoe's turn, she fails to notice that Telly is a monster.

Song
"Count Me In"
(First: Episode 3738)




Muppets
A magician attempts a suspension act, which fails. Vaudeville team Big Bird and Snuffy then come out to introduce the number of the day ...
(First: Episode 3859)

Animation
Clown Honking #11
(First: Episode 3196)

Film
Milo Counting: 11
(First: Episode 3585)

Animation
Rubber Stamp #11
(First: Episode 2885)




SCENE 2
Ernie notices Telly jumping and tells Zoe that Telly is a monster, which makes it two monsters they've seen today. To help them attract more monsters, Ernie, Zoe, and Telly sing the alphabet song. (Telly: "Say the alphabet, and they will come.") As the group says the alphabet, Elmo joins in and the group yells "Monster!" Now three monsters have been counted.

SCENE 2 cont'd
Grover walks by with a guitar and Elmo counts four monsters they have seen today. Telly comments that he didn't know Grover could play the guitar.

Muppets
Grover annoys Mr. Johnson with his guitar playing in the park, mistaking his words "Go away and let me eat my lunch" for song requests.
(First: Episode 3198)

Song
"Elbows and Knees"
(First: Episode 2641)

Cartoon
Jasper thinks that he has lost his elbow, but Julius shows him his elbow by bending his arm.
Artist: Cliff Roberts
(First: Episode 0410)

Song
"Sharing Swing with Kids Song (Share in Your Fun with Another Someone)" (edited)
(First: Episode 0926)

SCENE 3
Zoe searches for more monsters and finds Baby Bear, and yells, "Monster!" However, Baby Bear explains that even though he's furry and cute (like a monster), he has other features that distinguish him as a bear. While explaining the differences, Baby Bear spots Lulu and Cookie Monster walking behind Zoe.

SCENE 3 cont'd
Zoe forgets know how many monsters she's counted altogether, so Baby Bear helps her add the monsters they counted and add Cookie Monster and Lulu to the group. Altogether, they have found six monsters.

Muppets
Cookie Monster notices he has one cookie left, and sings "What is Friend?" He ends up giving the cookie to Lulu, and remarks, "Me feel strangely okay about this."

Celebrity
The Count counts the musicians in the Tokyo String Quartet.
(First: Episode 3266)




Muppets
An operatic bird attempts to sing "Largo al factotum," but once again, the stage belongs to Big Bird and Snuffy, who feel a song coming on ...

Cast
"Between You and Me" (Gina and Savion)
(First: Episode 3133)

Cartoon
A mouse demonstrates between by squeezing between two elephants.
(First: Episode 2750)




SCENE 4
Baby Bear and Telly spot several monsters heading to their day care center and count them. They count two monsters...




SCENE 4 cont'd
... and two others entering the center...

SCENE 4 cont'd
... as Herry Monster walks out of it. That makes eleven monsters they've seen today!




Muppets
Monsters in Day Care
Nicole shows Herry Monster the letter M. Later on, he and the daycare monsters make a letter M of their own, sing "M-M-M Monster Meal," and eat their M.
(First: Episode 3791)

Animation
The letter M in various typefaces.
(First: Episode 2864)

Film
The letter M dances at the beach.
(First: Episode 3636)

Cartoon
A girl builds a sand castle at the beach, but the ocean keeps washing it away, so she builds one away from the waves.
Artist: Fred Garbers
(First: Episode 1452)




Muppets
A tuxedoed elephant dances to "Tea for Two," and ends up damaging part of the stage. Big Bird and Snuffy come out again to tell a joke and introduce a shape segment.
(First: Episode 3859)

Film
The floating kids form a square
(First: Episode 3132)




SCENE 5
Ernie presents the number of the day, 11, and counts the 11 monsters they've seen today.

Cartoon
A girl types the number 11 on a computer, matches it with another one, and sees 11 elephants.

Cartoon
Two people think they hear a BARK in the DARK.
Artist: John Korty
(EKA: Episode 2011)

Film
A veterinarian examines various animals, including a puppy and a rabbit.
(First: Episode 3787)




Muppets
A rooster comedian is yanked off stage, and Big Bird and Snuffy come back out to introduce the letter of the day...

Animation
M for monkey, mouse and macaw.
(First: Episode 3807)

SCENE 6
Herry, Elmo, Telly and Zoe search around for more monsters at the park, but find nothing but animals. Herry suggests they sing a song to attract monsters (Telly: "If you sing it, they will come!"), so they sing "M is for Monster." A whole chorus of monsters arrive to finish the song.

Muppets
Elmo's World: Water
(First: Episode 3831)

SCENE 7
Baby Bear and Ernie say the sponsors as all the monsters continue singing their song.
Community content is available under
CC-BY-SA
unless otherwise noted.