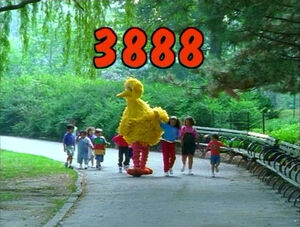 Picture
Segment
Description

SCENE 1
Ernie welcomes the viewer to Sesame Street in a very happy mood. He finds Rosita in the courtyard telling her that she has a good hat but doesn't reply in a happy mood until Ernie says that he and her can do anything that she wants so she picks Ernie to be a charro (a Mexican cowboy which he doesn't know). First, Ernie needs a hat which Rosita gives him. Secondly, Ernie needs a horse. When he gets it, he rides off Sesame Street…




Muppets
Big Bird's Video Postcards
In Arizona, Big Bird sees how kids help charros put on a rodeo, and rides a horse.
(First: Episode 3049)

SCENE 2
Rosita stops Ernie from riding the horse to watch the next segment about a charo and Spanish words.

Cartoon
A cartoon shows a few Spanish words - which are also English words. (w/ Rosita and Ernie voice-over)
Artist: Fred Garbers
(First: Episode 3011)
cut from the Noggin version

SCENE 2 cont'd
Ernie knows most of the words of the cartoon and Rosita says that those words are spanish words about cowboys and cowgirls. Before saying anything else, Ernie gets on his horse and rides away.
cut from the Noggin version

Film
What sound does a horse make?
(First: Episode 3277)

Muppets
Marshal Grover and Fred figure on making it into town by nightfall until they come across a fence with no edge in sight to go around. Grover tries getting past it in various ways: going under, over and through, but he's not successful. Deciding that they're stuck for the night, Grover starts to break out the marshmallows and asks Fred for his pajamas. But Fred has another idea that Grover hasn't been listening to: they can go through the gate.
(First: Episode 3449)

Cartoon
Suzie Kabloozie: Judge #19

Film
Kid mural painting #19
(First: Episode 3601)

Animation
Abstract count to 19
(First: Episode 2827)

SCENE 3
Rosita tells Ernie that riding horses is not the best part about being a charro but Ernie is still riding his horse. Rosita shows him a rope (what Ernie thinks) but is really a lasso to swing around while riding a horse. Rosita asks to show a film with a boy spinning his lasso making them both get it. But Ernie fools Rosita into thinking he can twirl a lasso, until she finds out it was a fake lasso.

Cartoon
Suzie Kabloozie presents the letter of the day made of fudge, but Feff is too fast for her.
(First: Episode 3854)

Film
T is for turning and tired. (Maria voiceover)
(First: Episode 3851)

Cartoon
Fish form capital and lowercase T's.
(First: Episode 3126)
cut from the Noggin version

Muppets / Celebrity
Tim McGraw and Faith Hill sing "Take a Turn."

Cartoon
A girl fantasizes what she could do without leaving her room if her nose, ears, legs, and arms got bigger.
(First: Episode 3285)
cut from the Noggin version

SCENE 4
Rosita tells Alan and Baby Bear all about Ernie not listening to her, instead riding his horse at Hooper's Store. Ernie comes in with his hungry horse and asks for lunch.

Film
A girl narrates a film of how pan dulce, Mexican bread, is made.
(First: Episode 3015)
cut from the Noggin version

Animation
Airplanes carve the capital and lowercase T.
(First: Episode 3230)
cut from the Noggin version

Muppets
Telly must think of a T word in 15 seconds, and just before time runs out, he remembers what letter his name starts with.
(First: Episode 3784)
cut from the Noggin version

Film
Kids dance with the letter T, which is for triangle.
(First: Episode 3271)

Cartoon
Suzie is glad you're here.
(First: Episode 3854)

Animation
Horses appear in the clouds as Vivaldi music plays.
(First: Episode 3637)

Cartoon
Suzie comments, "That was great!"
(First: Episode 3854)

SCENE 5
Gordon is about to walk up 123 Sesame Street's stairs until he sees Rosita gets angry at Ernie since riding his horse everywhere she goes without her info about being a charro. Gordon tells Rosita to tell Ernie how she feels about how he's acting if she can catch him. After saying stop, she tells Ernie that she is angry because she's trying to teach him all the best things that charros can do. Ernie tells her that riding a horse is fun too so together they will have fun riding horses on Sesame Street. Since riding all over Sesame Street, Ernie's horse needs a nap. She faints.

Cartoon
Suzie introduces an alphabet segment while she chases after Feff.

Film
Girls sing a jump-rope rhyme about naming a puppy.
(First: Episode 3279)

Cartoon
Suzie and Feff jump on a trampoline, and introduce a Cookie Monster segment.

Muppets
Monsterpiece Theater: "The Horse Whisperer"
(First: Episode 3848)

Cartoon
Characters on a quilt form the number 19.
Artist: Karen Aqua
(First: Episode 3775)

Film
19 glasses, 19 chairs, 19 socks
(First: Episode 3758)
cut from the Noggin version

SCENE 6
Ernie's horse is back and ready for action with two kids who need some help being a charro so Ernie thinks that Rosita can do it. She will teach them by singing a song.

Muppets
Elmo's World: Singing
(First: Episode 3851)

SCENE 7
As everyone dances to the music and the song, Gordon announces today's sponsors.
Community content is available under
CC-BY-SA
unless otherwise noted.