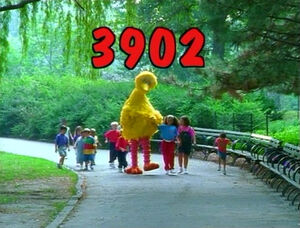 Picture
Segment
Description

SCENE 1
Oscar asks Gabi to watch his pet elephant Fluffy while he goes to the annual Grouch convention in Syracuse, New York. He tells her Grundgetta couldn't watch her, as she already is watching his other pets and had no room. He advises Gabi to feed Fluffy and play hide and seek with her. A helicopter arrives for Oscar and he leaves. Maria tells her daughter to come to her if she needs help.

Animation
The word AIRPORT (with photographs of such)
(First: Episode 3373)

Song
"I'm a Little Airplane"
(First: Episode 3266)
cut from the Sprout version

Muppets
Bert asks Bernice how she knows the letter of the day, and they watch this segment ...
(First: Episode 3870)

Animation
Airplanes carve the capital and lowercase A.
(First: Episode 3209)

Muppets
Muppet & Kid Moment — Cookie Monster asks Jawhara what letter they're holding.
(First: Episode 3234)

Cartoon
Soul A!
(First: Episode 3359)

SCENE 2
Gabi and Fluffy start playing hide and seek. She counts to ten, but Fluffy doesn't find a spot in time. She begins to count to 10 again, this time in Spanish.

Muppets
Bernice counts to 10, but has some help from Bert. How did she learn it? By watching the following film...
(First: Episode 3870)

Animation
Counting to 10 (Latin rhythm) (Spanish dub)
(First: Episode 3045)
cut from the Sprout version

Muppets / Celebirty
Gloria Estefan sings "You Say Hola and I Say Hola."
(First: Episode 3846)
cut from the Sprout version

Film
Three girls do a "One Potato" rhyme.
(First: Episode 3271)

Cartoon
Number Guy: "How Many Pigs Will Jump Into This Mud?" The answer is 10.
(First: Episode 3390)

SCENE 3
Gabi finishes counting and sees Fluffy's not behind Oscar's trash can, but she spots her behind the door to Big Bird's nest. Gabi complement's Fluffy's hiding spot, but believes she can find a better one. Gabi gives Fluffy more time to hide by counting to 20 this time.

Animation
Can you find the birds in this picture?
(First: Episode 3514)

Muppets
Big Bird accidentally knocks over some block towers, but he puts them back up through reverse footage.
(First: Episode 3407)

Film
Two sisters make their own buildings, both with paper and blocks.
(First: Episode 3686)




SCENE 4
Gabi finishes count and begins looking for Fluffy. She looks behind the wall in front of 123 Sesame Street and behind the fence in the arbor. Gabi is sure she'll find Fluffy, who's hiding in Oscar's trash can.

Cartoon
A boy gets lost in a mall, and a security guard shows him how to use a map.
Artist: ArtistMike
(First: Episode 2874)

Animation
Various demonstrations of near and far in the backyard.
(First: Episode 3766)

Muppets
Bernice and Bert recite the alphabet, although Bernice is slow.

Cartoon
Kids and animals alternate in passing letters over themselves, in an alphabet song.
Artist: Karen Aqua
(First: Episode 3740)




SCENE 5
Gabi continues her search and goes to her mother for help. Maria is shocked that her daughter lost an elephant and consoles her. They both (in fast-motion) run all over the street looking for Fluffy.

Cartoon
An elephant (voiced by Marshall Efron) asks Nesbitt (voiced by Don Arioli) for directions to the zoo, but won't listen to him long enough.
Artist: Janet Perlman
(First: Episode 1631)

Muppets
Bert: "Bernice ... you have wonderful form." They watch a segment about the number of the day ...
(First: Episode 3870)

Animation
Ten Dancing Kids


Animation: Karen Aqua

Muppets
Zoe is about to draw the number 10, but she only knows how to draw lines. Elmo doesn't know how to draw a 10 either, but he is good at making circles. An ominous voice advises them to cooperate.
(First: Episode 3390)

Cartoon
Ball-dribbling characters count the feet on a wall ruler.
Artist: Bill Davis
(First: Episode 3227)




SCENE 6
Maria and Gabi ask a girl if she's seen Fluffy, but gain no info. Just then, Detective Colambo arrives, overhearing their talk about a missing elephant and claims he can help. First, he begins asking them random questions. Next, he gets to questions about the elephant. As Gabi describes Fluffy, he sees her popping out from the trash can. Gabi turns around and finds Fluffy! Colambo makes sure that's really Fluffy then leaves to go tell his wife about his success.

Film
Kids demonstrate surprise by winding a jack-in-the-box, as "Pop Goes the Weasel" plays.
(First: Episode 3624)

Muppets
Ernie is tossing and turning in bed. He sings to the viewers how he feels "When Bert's Not Here."
(First: Episode 2208)

Film
Wegman's dogs form a letter A.
(First: Episode 3292)

Cartoon
A man is allergic to the letter A.
(First: Episode 3311)




SCENE 7
Gabi wonders when Oscar will get back, at which point Oscar falls from the sky. He and Fluffy embrace and go back into his trash can, without thanking Gabi of course, but Fluffy thanks her with a kiss and rubbing her trunk affectionately against Gabi's arm, which tickles Gabi a little bit. Gabi asks her mom to advise her not to babysit another one of Oscar's pets ever again.

Muppets
Elmo's World: Dogs
(First: Episode 3852)

SCENE 8
Oscar and Fluffy announce the sponsors.
Alterations
Picture
Segment
Description

Film
Two brothers make model airplanes, cars, and rockets with paper.
This segment replaced "I'm a Little Airplane" in the Sprout version.

Animation
Counting to 10 (Chinese imagery)
(First: Episode 3217)
This segment replaced the Spanish counting segment in the Sprout version.

Muppets
Big Bird introduces The Squirrelles, who sing "My Boyfriend's Back and Front."
(First: Episode 3249)
This segment replaced "You Say Hola" in the Sprout version.
Community content is available under
CC-BY-SA
unless otherwise noted.