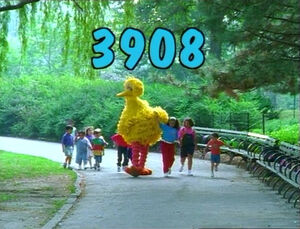 Picture
Segment
Description

SCENE 1
At the Fix-It Shop, Luis is helping Telly to type an e-mail on the computer. Telly is very excited about using the computer since he gets to send e-mails to his friends.

Song
"My New Computer"
(First: Episode 2857)

SCENE 2
Telly is excitedly waiting for someone to reply to his e-mail. Then, he gets responses from Oscar the Grouch and Cookie Monster. But then, he gets an email from a "mystery friend". Telly is curious to find out who this person is.

Film
Cookie Monster sings "What is Friend?" over scenes of kids playing with their friends.
(First: Episode 3886)

Muppets
Elmo asks Dorothy what the letter of the day is.

Animation
R / r (space paint)
(First: Episode 3227)

Animation
Find the R words on the computer.

SCENE 3
Telly is still wondering who the "mystery friend" is. He gets another clue that says that the mystery friend has brown hair.

Animation
On a computer, a boy draws a sun setting between the mountains.
(First: Episode 3059)

Muppets
Elmo hears that Dorothy wants to see a Suzie Kabloozie segment.

Cartoon
Suzie Kabloozie sings "Sing."
Artist: Mo Willems
(First: Episode 3794)

Muppets
Muppet & Kid Moment — Ernie presents Richie typing his name on the computer.

Muppets / Celebrity
Joan Cusack tries to explain the word "surprise," but Elmo and the Day Care monsters keep popping up and interrupting her.

Animation
R /r paper fold
(First: Episode 3127)

Cartoon
Leaves form R and r
(First: Episode 3110)

SCENE 4
Telly is still on the case for who the "mystery friend" is. He runs into Baby Bear and asks him if he's the "mystery friend", but he is not. Baby Bear suggests that he and Telly go to Hooper's Store since Alan has a computer there.

Film
A family loses their dog Lucy, so they use a computer to make "lost dog" signs.
(First: Episode 3884)

Muppets
Elmo asks Dorothy what the number of the day is.
(First: Episode 3907)

Animation
15 in space
(First: Episode 3740)

Film
A girl finds "15" on a computer.

Cartoon
Suzie Kabloozie: Judge #15

SCENE 5
Alan has a laptop computer and reads the next email from the "mystery friend". The clue says that the person speaks two languages. Telly thinks it's Rosita, but it is not.

Cartoon
I Love You, in American Sign Language
Artist: Steve Finkin
(First: Episode 1170)

Muppets
Elmo loves Dorothy and asks if she loves him.

Song
To the original Fats Waller recording of "I'm Gonna Sit Right Down and Write Myself a Letter," a group of kids act out the song in a throwback to the silent film era.
(First: Episode 3659)

SCENE 6
This time, Baby Bear and Telly go to the library since they have lots of computers there. Tarah finds another email that says the two are close to the "mystery friend".

Cartoon
A detective follows a path on the street which consists of a straight line, followed by dots. He finds out that the truck that paints the dividing road lines happens to sputter every few feet, which is where the dots come from.
(First: Episode 2248)

Muppets
Next, Dorothy wants to see an alphabet segment, so Elmo shows her one...
(First: Episode 3907)

Animation
Portraits of kids display the alphabet.
Artist: Lisa Crafts
(First: Episode 3203)

Muppets
Prairie Dawn shows Cookie Monster how to draw a picture of a cookie on a computer. He learns that he can't eat the computer screen, but he can eat a printed picture of the cookie.
(First: Episode 3889)

Film
15s on sticks cascade toward the camera as boats race by on a river on the background.
(First: Episode 3280)

Cartoon
Rap #15
(First: Episode 2567)

SCENE 7
After searching throughout the entire library, it turns out that Linda is the "mystery friend".

Muppets
Elmo's World: Drawing
(First: Episode 3859)

SCENE 8
Linda sends the group more emails, which recite the sponsors.
On the home video version, the emails are altered with a new message instead.
Community content is available under
CC-BY-SA
unless otherwise noted.