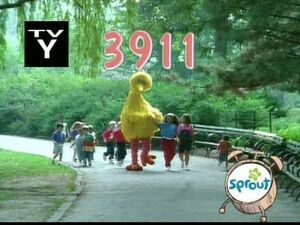 Picture
Segment
Description




SCENE 1
Prairie Dawn joins Big Bird and the Birdketeers (including Tyler) as they play the "Mystery Friend" game. Big Bird gives clues about his mystery friend (who only wears a mask), but Prairie and the Birdketeers already know that it's Snuffy. They remove his mask, and throw confetti.

Animation
A piece of paper floats down onto a table, then folds itself into a paper crane, which flies away.
(First: Episode 2892)

Muppets / Celebrity
Ernie and Rubber Duckie recite the alphabet with Christopher Reeve.

Film
What sound does a duck make?
(First: Episode 3298)

Cartoon
J ... a jumping, juggling jack-in-the-box.
(First: Episode 3896)

Song
"J, Just How Jazzy Can You Get?"
(First: Episode 3396)

Animation
Planet J/j
(First: Episode 2833)

SCENE 2
Big Bird plays another game with the Birdketeers, "Three of These Things" - but there are only three items on the table (all fruits), and for this game they need four things. To solve this problem, Big Bird recruits Snuffy again. Once again, Prairie Dawn thinks the game is too easy.

Song
"Banana Samba" (short version)
(First: Episode 2920)

Cartoon
One chef takes one of each vegetable to make one salad.
(First: Episode 3180)

Muppets
Harvey Kneeslapper asks, "Would ya like one?"
(First: Episode 0408)

Cartoon
Number Guy sings "How Many Birds Can Sing on This Wire?" One bird provides the answer.
(First: Episode 3338)

SCENE 3
The Birdketeers are ready for yet another game, this time hosted by Sonny Friendly. The name of the game is "What's Prairie's Problem?" which confuses Prairie, because she doesn't think she has a problem. No one else can think of an answer, so she answers the question herself by saying this very game show is her problem. To everyone's surprise, she's right! She wins a trip ... to Sesame Street.

Song
"We're Talking 'Bout the Number One"
(First: Episode 3154)

Cartoon
Hortense beats one drum.
Artist: Michael Sporn
(First: Episode 2570)




Cast
"Old MacRuthie had a farm" - Ruthie dresses in animal costumes.

Muppets
Muppet & Kid Moment — Megan shows Grover how to draw a face on the computer.

Animation
Counting to 10 (Chinese imagery)
(First: Episode 3217)

SCENE 4
Prairie leaves for her piano lesson, and the Birdketeers continue with their next game ...

Animation
Which legs belong on the tiger?
(First: Episode 3786)

SCENE 5
Big Bird congratulates the Birdketeers on their good job, and points to the next segment ...

Film
Feet wearing all different types of shoes dance.
(First: Episode 2601)

Cartoon
A dog, a girl and a lizard dance to a bongo beat.
Artist: Karen Aqua
(First: Episode 2795)




SCENE 6
Big Bird and the Birdketeers are about to start another game, when Alan brings them some sandwiches. Big Bird decides to turn it into a game, "Name That Food!" Of course, the sandwiches are pretty easy to guess when the kids get to see what's inside them. Alan serves them cheese-and-tomato sandwiches. Big Bird is hesitant to try one at first, but he likes it! He also looks forward to the next round: desserts!

Cartoon
Kids sing about the joys of celery.
Artist: ArtistMike
(First: Episode 2976)

Film
Kids observe different types of bugs and flowers.
(First: Episode 3696)

Cartoon
Consonant Sound: J, jaguar (new music added)
(First: Episode 1144)

Film
J, for jiggle, juggle, jump, joy.
(First: Episode 3396)




SCENE 7
Big Bird introduces the next game, in which they try to guess who's pictured in the slide puzzle. It's ...




SCENE 7
cont'd
... Ernie, who shows up as their next guest Birdketeer. Their next game is "Find Feff," in which they watch the clip of Suzie Kabloozie singing "Somebody Come and Play" (First: Episode 3786) and point out Feff whenever they see him. The clip is shown with commentary by the gang.

SCENE 7
cont'd
Ernie points to the screen, because he sees Suzie and Feff again ...

Cartoon
Suzie Kabloozie sings "Sing."
Artist: Mo Willems
(First: Episode 3794)




SCENE 8
The last Birdketeer game they play is "Sing After Me." Rubber Duckie also leads them in "*Squeak* After Me."

Muppets
Elmo's World: Farms
(First: Episode 3879)

SCENE 9
Big Bird, Ernie and the Birdketeers announce the sponsors and sign off.