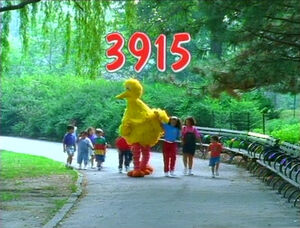 Picture
Segment
Description

SCENE 1
Baby Bear tells the viewer than he plans on drawing all day long. He shows off the things he has planned and even knows what he wants to draw - a superhero, just like Super Grover, whom he spots flying overhead...

Muppets
Super Grover: A fat blue girl loses her wind-blown hat in a tree, but she can't cross the street to get it. Super Grover comes to the rescue, and tries to call the cap back. The girl realizes that she needs a grown-up to cross the street, and with her Aunt Edna she gets her hat back. (intro cut, new music added)
(First: Episode 3133)

Cartoon
Egyptian #2
(First: Episode 3291)

Song
"2, 2, 2, Me and You."
(First: Episode 3690)

Cartoon
The Bellhop is told that there are two kids, Betty and Bobby Blobby, who are lost in the lobby, and he must help them find their parents.
(First: Episode 2503)

SCENE 2
Baby Bear wraps up his finger exercises and wonders how he should go about drawing his superhero. He starts with a head, then the face. Inspired, he starts adding more and more.

Cartoon
A girl fantasizes what she could do without leaving her room if her nose, ears, legs, and arms got bigger.
(First: Episode 3285)

Muppets
The Count sings "Baby, You Can Count on Me" to Baby Natasha.

Film
Counting 10 cars on a ferry boat.
(First: Episode 2925)

Cartoon
A woman visits a car dealer, looking for a small car. She will only take a car small enough to fit her clowns.
Artist: ArtistMike
(First: Episode 3079)




Muppets
Muppet & Kid Moment — Joey shows off his family picture to Ernie. Joey's family comes out and they take a picture with Ernie.

Animation
Ornate I's swing through the air to a song.
(First: Episode 2921)

Cartoon
CGI sheep graze out I and i.
(First: Episode 2896)




SCENE 3
Baby Bear finishes drawing his superhero, only now he needs a name. He settles on "Hero Guy" and even makes up his own theme song. Baby Bear believes his new character feels so real, he could just leap off the page. Suddenly, his drawing comes alive and Hero Guy zooms around the garden. "I sure have some wee, little imagination!"

Cartoon
Suzie Kabloozie sings about the things she can imagine herself doing "In My Head."
(First: Episode 3526)

Film
The McDouble twins display pairs of things.
(First: Episode 3217)

Cartoon
Super 2 solves problems by doubling things.
(First: Episode 1643)




SCENE 4
Baby Bear shows Luis his Hero Guy drawing. Luis mentions he has to mention the letter of the day, but Baby Bear claims Hero Guy can do it for him, so Luis heads back to work. Baby Bear imagines Hero Guy appearing once more, presenting the (very heavy) letter I.

Cartoon
"I in the Sky"
(First: Episode 0368)

Animation
Pencil box I/i
(First: Episode 2890)

Muppets
Bert, Cookie Monster and Oscar the Grouch sing about what they love: "Pigeons and Cookies and Trash."

Film
A girl narrates a segment about her friend, Billy, who swims with dolphins.
(First: Episode 3012)

SCENE 5
At today's Birdketeer meeting, Big Bird and the kids sing "The Alphabet Song."

SCENE 5 cont'd
Baby Bear points out that Hero Guy can say the alphabet too...but upside down!

Muppets / Celebrity
Robin Williams asks Elmo and the kids whether they would allow a nonsense talking, horned two-headed stranger to play baseball with them. The Two-Headed Monster shows up to play.
(First: Episode 2795)

Cartoon
"I Have a Purple Bucket"
Artist: Lisa Crafts
(First: Episode 3467)

SCENE 6
Baby Bear writes an adventure for Hero Guy, where he must find the missing porridge before lunchtime. It turns out to be in Hero Guy's pocket.

Muppets
Elmo's World: Drawing
(First: Episode 3859)

SCENE 7
Hero Guy shows off his super ability to announce today's sponsors.
Notes
This is the last episode (and season) to credit Children's Television Workshop. Starting next season, the company would rename itself Sesame Workshop.
Community content is available under
CC-BY-SA
unless otherwise noted.