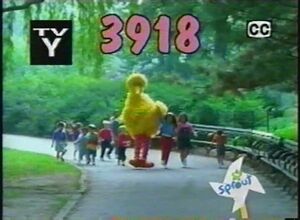 Picture
Segment
Description

SCENE 1
It's Gina's first day as a veterinarian, and Big Bird can hardly contain his excitement in telling Elmo about the big news. Alan, Gordon, and Miles bring her a sign to hang outside her office.

Film
A veterinarian examines various animals, including a puppy and a rabbit.
(First: Episode 3787)

Muppets
Bernice and Bert recite the alphabet, although Bernice is slow.
(First: Episode 3902)

Song
"The African Animal Alphabet"
(First: Episode 3396)

SCENE 2
Gina shows Big Bird and Elmo the waiting room and the examination room. Elmo brings Dorothy in as Gina's first patient.

Song
"I'm Pretty" (re-filmed version)
(First: Episode 2490)

Muppets
Bert: "Bernice ... you have wonderful form." They watch a segment about the number of the day ...
(First: Episode 3870)

Song
Rap Song #6
(First: Episode 2502)

Cartoon
Six pigs (Maria voiceover added)
Artist: Owe Gustafson
(First: Episode 1472)

Film
Six children dance in a colorblock grid.
(First: Episode 3122)

Muppets
Ernie's Show and Tell: Patrick shows Ernie his rubber duckie collection.
(First: Episode 3829)

Animation
Fred the fish needs water to swim in, and Betty the bird needs air to fly in. Vanessa the vacuum cleaner sucks up all the air and water, but can't hold it all in. (narration by Jim Thurman)
(First: Episode 2564)

SCENE 3
After Dorothy's check-up, Elmo says that Dorothy is going recommend Dr. Gina to all of her animal friends. Gina then decides to put up her sign, but before she's able to, more patients arrive (sent by Dorothy). This includes a lamb (whose owner explains that she's had trouble sleeping) and a chicken (who developed a headache trying to figure out "which came first, the chicken or the egg?").

Film
What sound does a duck make?
(First: Episode 3298)

Celebrity
"Rubber Duckie" with Little Richard.
(First: Episode 3263)

Animation
Three chickens divide up their corn.

Muppets
Bert asks Bernice how she knows the letter of the day, and they watch this segment ...
(First: Episode 3870)

Film
V for voice, violin, Victrola, etc.
(First: Episode 3429)

Film
Floating kids make the letter V.
(First: Episode 3133)

Cartoon
Consonant Sound: V, violin (new sound effects added)
(First: Episode 1157)




SCENE 4
By now, Gina's waiting room is full, with even more patients waiting outside in the Arbor. Her next patient is Barkley, brought in by Linda. Barkley is scared about getting his check-up, and doesn`t want to hop on to the examination table, so Gina and Linda decide to lift him up. After successfully giving him a shot, Gina's final diagnosis is that Barkley's "very healthy and very happy." As a reward, she gives him a doggie treat.

Cartoon
A plane makes Vs with its vapor trails.
(First: Episode 3857)

Cartoon
A poem about Vinnie the Vampire
Artist: Fred Garbers
(First: Episode 3800)

Film
Fay Ray moves clockwise and ticks, until an alarm sounds.
(First: Episode 2597)

Muppets
Bert announces that Bernice will demonstrate front and back, then near and far ... but she doesn't have to do much.
(First: Episode 3870)

Cartoon
Cab Callowmouse demonstrates near and far in song.
(First: Episode 3701)

Film
Six kids dance on a playground to the same beat.
(First: Episode 3819)

Cartoon
"Six Soccer Socks"
Artist: Paul Fierlinger
(First: Episode 1670)

Animation
Can you find the flamingos?
(First: Episode 2791)

SCENE 5
The animals sing a song about how much they love Dr. Gina, and all give her a hug (even Oscar's pet Slimey).

Muppets
Elmo's World: Pets

SCENE 6
Gina finally hangs up her sign, which attracts the attention of more animal patients. Big Bird announces the sponsors.