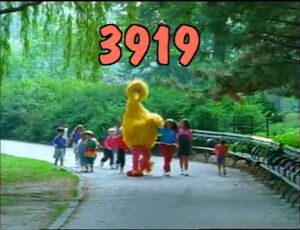 Picture
Segment
Description

SCENE 1
Today, Maria's mother is visiting from Puerto Rico and she's very excited, having not seen her in awhile. As she flips through some old photos with Rosita and Big Bird, she recalls a time when she and her mother sang "Los Pollitos." Rosita knows the song too and they sing it for Big Bird. Luis and Gabi then arrive from the aiport, brining Mamí with them. She and Maria share a heartfelt hug, which everyone else joins in on.

Song
A salute to M-O-M.
(First: Episode 3564)

Muppets
Dorothy wants to see an alphabet segment, so Elmo shows her one ...
(First: Episode 3907)

Animation
Portraits of kids display the alphabet.
Artist: Lisa Crafts
(First: Episode 3203)

Muppets
The Hispanic community of Anything Muppets sings "It Sure is Hot!"
(First: Episode 2601)
cut from the Sprout version

Cartoon
A map of Puerto Rico forms into the shape of animals and other things that are found there.
(First: Episode 3030)

SCENE 2
Mamí has brought gifts for everybody, including a doll for Rosita, some authentic Puerto Rican birdseed for Big Bird and a book about Puerto Rico for Gabi. She's also brought a toaster for her daughter to fix, then presents her gift - some Puerto Rican bread to make some toast with (once they've repaired her toaster). Maria now looks forward to spending some quality time with her mother, when Big Bird drags her off to today's Birdketeer meeting.

Muppets
Elmo asks Dorothy what the letter of the day is.
(First: Episode 3908)

Animation
The letter X in various typefaces.
(First: Episode 2862)

Film
Wegman's dogs form the letter X and demonstrate an X-ray.
(First: Episode 3535)

Cartoon
The Story of Cowboy X.
(First: Episode 0325)

Song
"Mom and Me" (new vocal track)
(First: Episode 2462)

Cartoon
How they say "good night" in Haiti and in India.
(First: Episode 1824)

SCENE 3
Big Bird introduces the club to Mamí and announces a special presentation just for her - they will count to 10 in Spanish. Mamí convinces them to sing it instead and leads them all in a special version of the "Conga Counting Song." They then present Mamí with her own Birdketeer headgear. Maria begins to lead her away, and Big Bird realizes he needs to tell Snuffy about how great Mamí is.

Animation
Diez máscaras

Muppets
Elmo asks Dorothy what the number of the day is.
(First: Episode 3907)

Cartoon
"Wall of Numbers" #4
Artist: Karen Aqua
(First: Episode 3904)

Muppets
Muppet & Kid Moment — Grover watches Matthew type a number 4 on a computer.
(First: Episode 3904)

Cartoon
Number Guy: '''How Many Elephants Can You Fit in a Room?''' The answer is 4.
(First: Episode 3358)

Muppets
Elmo loves Dorothy and asks if she loves him.
(First: Episode 3908)

SCENE 4
After giving a little tour of Sesame Street, Maria is ready to bring Mamí up to the apartment, when Snuffy appears. He greets her by saying "Hola," then launches into his "Hola Conga Song." Soon, Mamí, Maria (against her will), Alan, Big Bird and others join in. Maria tries to take Mamí home now, when Big Bird and Snuffy drag her off to see some more Sesame Street sights, such as Snuffy's cave and Ernie's Rubber Duckie.

Film
The letter X dances at the beach.
(First: Episode 3588)

Cartoon
Stamped and painted X animation.
(First: Episode 2934)

Muppets / Celebrity
Tim McGraw and Faith Hill sing "Take a Turn."
(First: Episode 3888)

Cartoon
A cartoon shows a few Spanish words - which are also English words.
Artist: Fred Garbers
(First: Episode 3011)

Muppets
Muppet & Kid Moment — Ernie talks to Vandy about families, and lets her keep Rubber Duckie for a day.
(First: Episode 3874)

Cartoon
"Island of Emotion"(new sound effects added)
Artist: Sally Cruikshank
(First: Episode 2822)

Film
Four kids dance in a colorblock grid.
(First: Episode 3149)

Cartoon
Suzie Kabloozie: Judge #4

SCENE 5
Mamí plays "Al Animo" with the young ones, while Maria confesses to the viewer that she's getting frustrated over everyone getting to spend time with her mother but her. Big Bird notices she's looking down and points out how she is always telling him to express how he feels, then suggests she do the same with her mother. Mamí agrees to put their game on hold to spend some quality time with her daughter.

Muppets
Elmo's World: Teeth

SCENE 6
Alan readies a family photo of everyone. Luis and Gabi announce the sponsors.
Alterations
Community content is available under
CC-BY-SA
unless otherwise noted.