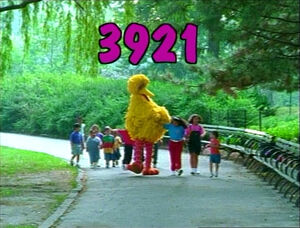 Picture
Segment
Description

SCENE 1
Elmo welcomes the viewer to Sesame Street, and invites the viewer to run with him. He shows the viewer how to run fast and slow, and runs with the viewer some more.

Cartoon
A caterpillar sings "Exercise, Exercise."
Artist: ArtistMike
(EKA: Episode 2839)

Film
A karate team punches out the alphabet.
(First: Episode 3421)

Muppets
Grover, on a surfboard, demonstrates near and far.
(First: Episode 2859)

Cartoon
Shoes dance to a square dance tune.
(First: Episode 3450)

SCENE 2
Elmo tells Gordon that he's running all day today. He invites Gordon to run with him, and they run 10 times around the block, as the viewer counts. Elmo still has some energy, but Gordon is exhausted.

Film
Feet wearing all different types of shoes dance.
(First: Episode 2601)

Cartoon
Suzie Kabloozie: Judge #18
(First: Episode 3877)

Film
Kid mural painting #18
(First: Episode 3582)

Cartoon
Number creatures 18
(First: Episode 2668)

Film
Kids dance around at gymnastics to "Rockin' Robin."
(First: Episode 3147)
cut from the Sprout version

SCENE 3
Elmo runs into the letter of the day, R, which is the first letter in the word RUN.

Cartoon
Gordon voiceover R/r (new sound effects added)
(First: Episode 2195)

Film
Jaws spoof with the letter R.
(First: Episode 3351)

Cartoon
Kids try to guess what a bunch of shapes will form; eventually they form a chicken.
(EKA: Episode 2838)




SCENE 4
Elmo is now running in a different way, pretending to be a chicken. Telly notices this, and shows Elmo another way he runs: like an airplane. Zoe also has a way to run: like a worm. Elmo points out to the viewer that they can run in different ways and still have fun.




Muppets / Celebrity
"A New Way to Walk"
Celebrity version
(First: Episode 3233)

SCENE 5
Elmo says he's the fastest monster runner in the world, but Telly and Zoe each think it's themselves who are faster than him. Elmo decides that they can all have a "Fastest Runner in the World" race. They don't know where to run yet, so Gordon helps them plan it out. They decide to run past Hooper's, past the courtyard, past Oscar's trash can, and then turn around and come back (Gordon will be the starting line and the finish line).

Cartoon
A dog chases a cat around, through, over, and under a doghouse.
(First: Episode 1020)

Animation
Growing Numbers #18
(First: Episode 2933)

Animation
The number 18 in space.
(First: Episode 3696)




SCENE 6
The race is about to begin, when an enthusiastic sportscaster shows up to cover the race on "The Wide World of Monster Sports." Twice, Telly accidentally starts ahead of them before Gordon says "Go," and when he finally does say "Go," Telly forgets to go.

SCENE 6
cont'd
The race begins, and Telly somehow takes the lead ... will he finish first?

Cartoon
Flash Gizmo, Space Cadet
Fast and slow
(First: Episode 3705)

Film
Cooperation: A girl gets a coconut handed down to her from a tree, by people on different-size stilts.
(First: Episode 3404)
cut from the Sprout version

Muppets
Big Bird talks to the viewer about the importance of listening. He listens to the radio to learn about the weather, finding out in advance that ping-pong balls will rain on him.
(First: Episode 3458)

Animation
Find the R words on the computer.
(First: Episode 3908)

Animation
R / r (space paint)
(First: Episode 3227)

Film
Kids talk about what a friend is.

Cartoon
Leanna and her best friend Sarah have a tea party which goes well at first, until they argue over which cupcakes are better.
Artist: ArtistMike
(First: Episode 3886)




SCENE 7
The race is about to finish, when suddenly, Elmo trips and falls over, getting a boo-boo. Telly and Zoe carry him over to the finish line, which makes the race a tie between all three of them.

SCENE 7
cont'd
They decide now to have a "slowest monster" race, when Elmo remembers that he has to feed Dorothy, so Telly and Zoe continue without him.

Muppets
Elmo's World: Exercise
(First: Episode 3853)

SCENE 8
The "slowest monster" race has been going on for 15 minutes now, when Elmo gets back in the race. The sportscaster announces the sponsors.
Alterations
Picture
Segment
Description

Cartoon
Uncle Ned likes to make a "Twenty Pickle Pie."
(First: Episode 1244)
This segment replaced the "Rockin' Robin" film in the Sprout version.

Film
Fireworks Alphabet
(First: Episode 1104)
This segment replaced the "Trinidad Coconut Cooperation" film in the Sprout version.
Community content is available under
CC-BY-SA
unless otherwise noted.