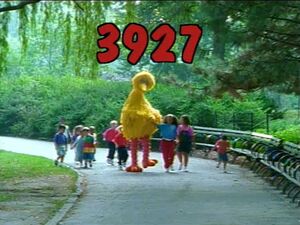 Picture
Segment
Description




SCENE 1
Baby Bear tells the viewer that today his cousin, Cousin Bear, will be visiting Sesame Street for the first time. As such, he wishes to introduce him to Telly, who has assembled other monsters (including the Two-Headed Monster) to greet Cousin Bear. Baby Bear's cousin arrives on the scene and the monsters all deliver the "Monster Greeting Song." Cousin Bear runs off in fear afterwards.

Cartoon
A girl overcomes her fear of scary things in the dark by singing with them.
Artist: Lisa Crafts
(First: Episode 3704)

Muppets
Bert asks Bernice how she knows the letter of the day, and they watch this segment ...
(First: Episode 3870)

Animation
A strange poem with C words.
(First: Episode 3729)

Muppets / Celebrity
Marilyn Horne sings an opera version of "C is for Cookie."
(First: Episode 3189)

Film
"C" for Circle
(First: Episode 3313)

Cartoon
A boy narrates a poem about how he met Eleanor, the monster under his bed.
Artist: ArtistMike
(First: Episode 2773)




SCENE 2
Baby Bear finds Cousin Bear cowering elsewhere. Cousin Bear admits he's afraid of monsters and doesn't want to play with them, despite how nice Baby Bear claims they are. Baby Bear goes to inform Telly of this heartbreaking news, as they now will all be unable to play together. Telly has a plan that he think might work.




Film
A girl named Maria and her family are having a Cuban barbecue. She invited her friend, Stewart, to enjoy in the fun and learn about Cuban culture.
(First: Episode 2760)

Muppets
Bert: "Bernice ... you have wonderful form." They watch a segment about the number of the day ...
(First: Episode 3870)

Cartoon
Rap #15
(First: Episode 2567)

Film
Kid mural painting #15
(First: Episode 3649)

Animation
Masked March #15
(First: Episode 3375)

Song
Joe Raposo sings "Somebody Come and Play."
Snow leopards version
(First: Episode 2519)




SCENE 3
Telly returns to the bears, posing as "Telly Bear." He leads the bears in a round of the "Porridge Song," which they all enjoy. Lulu passes by and greets them, causing Cousin Bear to flee.

Film
Kids talk about saying hello and making friends.

Film
Girls do a hand-clap game about friends whose names start with C.
(First: Episode 3277)

Animation
Letters on the Street: the letter C is found on a city street.
(First: Episode 3366)

Muppets
Bernice counts to 10 - but has some help from Bert.
(First: Episode 3870)

Film
Counting 10 cars on a ferry boat.
(First: Episode 2925)

Animation
Yellow drops don't want to play with a red ball at first, but they make a good flower together.
(First: Episode 1895)




SCENE 4
Cousin Bear still won't hear anything about how nice the monsters of Sesame Street are, insisting that bears need to play with bears. Telly Bear teaches Cousin Bear the "Wubba Wubba Up and Down Song," which Cousin Bear finds very fun. Telly is just about to reveal the true nature of the song (it's a monster song), when Herry Monster happens by and Cousin Bear ducks out once more.

Cartoon
"Mother Brown's Farm (Number Fifteen Song)"
(First: Episode 2693)

Film
A girl finds "15" on a computer.
(First: Episode 3908)

Cast
Linda shows a girl how to sign the word friend.

Song
Kevin Clash sings "Skin."
(First: Episode 2749)

Muppets
Bernice and Bert recite the alphabet, although Bernice is slow.
(First: Episode 3902)

Cartoon
Letters appear over a sky-view of a neighborhood.
(First: Episode 3267)




SCENE 5
Telly and Baby Bear find Cousin Bear, when Telly Bear reveals he's actually a monster and the song he enjoyed singing was actually a monster song. Cousin Bear sees that if he had fun playing with a monster all day, there's no reason for him to be afraid of monsters. Zoe comes past and he invites her to sing the "Wubba Wubba Up and Down Song." Soon, many more monsters join in too.

Muppets
Elmo's World: Computers
(First: Episode 3916)

SCENE 6
The monsters and bears continue singing their song. Cousin Bear is briefly taken aback by a passing Dinger, but Telly quells his fear and the Dinger joins in on the fun. Gordon announces the sponsors.
External links