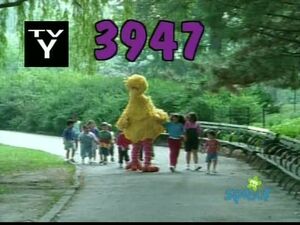 Picture
Segment
Description

SCENE 1
Big Bird and Snuffy are hosts of "The Alphabet Game," where contestants can win prizes for saying the alphabet. Gordon, the first involuntary contestant, has to say the alphabet with one hand behind his back and one eye closed, while dancing with a chicken ... in about 15 seconds. This is difficult for him, because he's carrying a grocery bag, but he takes on the task anyway, and wins dancing lessons with the chicken.

Animation
Portraits of kids display the alphabet.
Artist: Lisa Crafts
(First: Episode 3203)

Cast
Linda shows a girl how to sign the word dance.
(First: Episode 3945)

Cartoon
A pencil tries to write the word DANCE.
(First: Episode 1966)

Muppets / Celebrity
Dancers from the Alvin Ailey American Dance Theater act out feelings, and Elmo guesses which feeling they're acting out.

Cartoon
The story of Tommy LaPlaid, the painter so sad until he discovered the joys of kicking his paints on the canvas.
Artist: Mo Willems
(First: Episode 3208)




SCENE 2
Maria, the next contestant on the Alphabet Game, is on her way to fix Gordon's toaster, but the audience wants her to play, so she goes along with it. Her mission is to name five L-words, with one hand on her head and one finger on her nose, while being chased by the chicken! She makes good use of her 45 seconds, and wins a trip to the Fix-It Shop, complete with another chicken-chase.

Film
The letter L dances at the beach.
(First: Episode 3573)

Muppets
Ernie and Bert sing "La, La, La." (refilmed version using original soundtrack)
(First: Episode 3841)

Cartoon
African quilt pattern
(First: Episode 3145)

Cast
Linda shows a boy how to sign the word imagine.

Cartoon
Suzie Kabloozie sings about the things she can imagine herself doing "In My Head."
(First: Episode 3526)




SCENE 3
The next contestant, Zoe, would rather count than say the alphabet (which she already did with Elmo several times just now). Thus, the Alphabet Game is switched to the Counting Game, in which Zoe has to count to 20, with her hands over her head, without laughing, before the chicken (in a hospital maternity outfit) lays an egg! She does so, and wins!

Cartoon
Eight children dance in a colorblock grid.
(First: Episode 3115)

Cartoon
The Bellhop has to bring 8 steamer trunks down 8 flights of stairs.
(First: Episode 2511)

Film
Milo Counting: 8
(First: Episode 3554)




Muppets
Elmo introduces a segment where Zack tells a knock-knock joke to his little sister Kate.

Cartoon
L for Laugh (new music added)
Artists: Vincent Cafarelli & Candy Kugel
(First: Episode 2767)

Song
"L, You Ring My Bell"
(First: Episode 3580)

Cast
Linda shows a boy how to sign the word sing.

Cartoon
Edgar Turtle sings "Hey Diddle Diddle."
Artist: Jeff Hale
(First: Episode 2404)




SCENE 4
Big Bird and Snuffy look for the next contestant on the Counting Game, and Maria almost sneaks by them, but doesn't quite make it. She is in no mood for a game show right now, because she has to deliver Gordon's toaster, so they decide to make a game out of it - "The Maria Takes the Toaster Back to Gordon Show"! They call Gordon over, he gets his toaster back, and Maria gets showered with confetti.

Cartoon
Household appliances count 1-10 and 10-0.
(First: Episode 2840)

Cast
Linda shows a girl how to sign the word bird.

Song
"The Room is Full of Chickens"
(First: Episode 2971)

Cartoon
The big green balls and one little orange ball ride over the top of the hills. The little one can't make it over the big hill, but conquers the small hill.
(First: Episode 1896)

Muppets
The Rainbow Fish counts groups of 8 in the ocean.
(First: Episode 2909)

Cartoon
Clown Honking #8
(First: Episode 3224)

SCENE 5
Big Bird and Snuffy think the Maria/Gordon show will continue, but Maria and Gordon have to leave. Snuffy hears his mommy calling, so he has to leave too.




SCENE 5
cont'd
Now Big Bird is all alone with the chicken. He suddenly gets the idea to hand the whole show over to the chicken, making it "The Chicken Show," where anything can happen!

Muppets
Elmo's World: Farms
(First: Episode 3879)

SCENE 6
The chickens cluck the Sesame Street theme, and Big Bird announces the sponsors.